The Fifth Element, Luc Besson's cult-classic space opera featuring an actual alien opera singer, turns 20 this week. And to celebrate this milestone—as well as the release of Besson's Valerian And The City Of A Thousand Planets this July—the film soundtrack specialists at Mondo are giving composer Eric Serra's score, including the famous "Lucia Di Lammermoor"/"The Diva Dance" opera sequence, a deluxe vinyl release. "The Fifth Element is essential science fiction cinema," Mondo Record Label Manager Mo Shafeek says. "Not only is the soundtrack responsible for a wildly vast tonal spectrum – you'd be hard pressed to name another film that bounces from comedic montage to straight-faced opera to action-adventure in the span of 15 minutes–but he makes it feel and sound effortless. It is a truly unique listening experience."
The remastered Fifth Element soundtrack goes on sale this coming Wednesday, May 17 at noon on the Mondo website. You can see its two variants—an orange striped vinyl and a limited-edition "Super Green" vinyl limited to 500 copies—below, as well as the album's cover and gatefold art by London-based artist Shan Jiang.
G/O Media may get a commission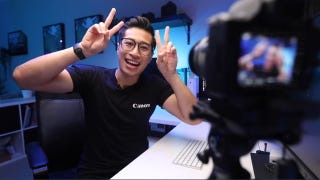 Up to 33% off
Canon Camera National Promotion
Webcam kits, lenses, & more
Since many of us adopted working from home, we've become accustomed to the crappy video quality output of our laptops' built-in webcams. Present yourself professionally with the help of a professional quality camera. Dress to impress now means set dressing and picture definition. Canon has made it easy to take your EOS camera and convert it to a webcam with the help of a variety of kits.
The Fifth Element soundtrack track listing
Side A
01. Little Light Of Love 4:50
02. Mondoshawan 4:02
03. Timecrash 1:50
04. Korben Dallas 1:43
05. Koolen 0:55
06. Akta 1:51
07. Leeloo 4:55
Side B
08. Five Millenia Later 3:15
09. Plavalaguna 1:48
10. Ruby Rap 1:56
11. Heat 2:55
12. Badaboom 1:14
13. Mangalores 1:08
14. Lucia Di Lammermoor 3:10
15. The Diva Dance 1:34
Side C
16. Leeloominai 1:41
17. A Bomb In The Hotel 2:16
18. Mina Hinoo 0:54
19. No Cash No Trash 1:07
20. Radiowaves 2:32
21. Human Nature 2:02
22. Pictures Of War 1:21
Side D
23. Lakta Ligunai 4:14
24. Protect Life 2:33
25. Little Light Of Love (End Titles Version) 3:33
26. Aknot ! Wot ? 3:32