Melania Trump sure has a way with words. At last night's Republican National Convention, she gave a speech that she swears she mostly wrote herself, and as Chelsea Peretti pointed out, she sounded a lot like a real first lady:
Yup, whoever wrote Melania Trump's speech straight-up plagiarized first lady Michelle Obama, and the side-by-side video comparison makes it perfectly obvious.

Melania, it turns out, is responsible for some of the most inspiring and influential quotes in history.

"Still I rise!" #FamousMelaniaTrumpQuotes

— Johnetta Elzie (@Nettaaaaaaaa) July 19, 2016
Here are some other quotes you might not know were totally, definitely first said by Melania Trump:

"You're a wizard Harry" #FamousMelaniaTrumpQuotes

— chicken chalupas (@MADBLACKTWINK) July 19, 2016
G/O Media may get a commission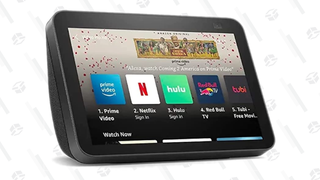 Jesse Williams is basically a connoisseur in Melania Trump quotes:

Anyway, no one's getting fired over the blatant plagiarism.