It doesn't speak highly of a comedy when one of its lead actors declining to do much actual comic shtick counts as a respite. Father Figures may be largely unfunny, in that few of its jokes work and they are given a vast, 113-minute expanse in which to not work, but at least Ed Helms isn't playing another aggressively striving, eager-to-please passive-aggressive dork. Peter (Helms) is more of a downbeat, unsatisfied, garden-variety dork, with an unimpressed young son and an overall ennui he unconvincingly chalks up to not knowing his own father.
Owen Wilson, as Peter's fraternal twin, Kyle, is more in his wheelhouse, playing a guy who has gotten rich by stumbling into a gig as a beach-bum model on a barbecue sauce label and—get this—maintains a laid-back attitude about what "the universe" holds in store for him. But Wilson's comic persona restrains itself, too: Kyle is introduced as committed (if not married) to a young woman rather than sleeping around, and he goes the entire movie without lying to anyone for personal gain. It's nice to see Helms dial it down, but kind of inexplicable to see Wilson do the same.
The two brothers are reunited at the wedding of their doting mother (Glenn Close), which is also when Peter finds out their father is not long dead of cancer, as his mom always said, but alive and well. Probably. Their mom claims uncertainty about who the dad really is, and Peter is determined to find out. Kyle is less fascinated by this question but agrees to accompany Peter on an investigation of their mom's first clue, which is: Eh, it's probably Terry Bradshaw.
It's easy to imagine a funny situation wherein two dopes are deeply convinced that Terry Bradshaw is their father and show up at his car dealership in Miami to hassle him over it. But Father Figures doesn't seem to fully understand its own premise. It has a farcical setup (it's a wonder that it wasn't based on a French comedy, especially given that it almost went out under the title Bastards) that takes the boys from Terry Bradshaw to Ving Rhames to J.K. Simmons and beyond as they search for their real father. (Alas, only Bradshaw plays himself.) The game of each sequence, then, is to figure out how and why each prospective guy can't actually be the dad Peter and Kyle are looking for. But Peter and Kyle become so pointlessly, confusingly convinced that each successive former suitor must be the guy (despite yuk-yuck jokes about their mom's promiscuity) that the movie torpedoes its sense of comic discovery. It's as if everyone involved can't wait for it all to be over and go home.
G/O Media may get a commission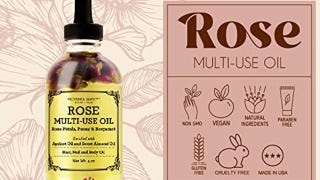 Provence Beauty Rose Multi-Use Oil
Viewers will know how they feel, especially when the movie decides, too frequently, that it's got too much heart to pursue its comedy with any zest. Its scenes aren't really long or improv-heavy enough to qualify as rambling, but they're often slow enough to qualify as excruciating. Director Lawrence Sher, making his feature debut after a career as a cinematographer, brings the skills he established shooting movies for Todd Phillips (including the Hangover trilogy, with Helms), which is to say he uses better lighting and more textured visuals than a typically overlit studio comedy while still neglecting to frame, cut, or pace scenes for actual laughs.

A broad comedy without many laughs is nothing new. But a broad comedy curiously light on zaniness, antics, gags, stunts, or any sustained sense of attempted mirth is a strange beast, especially when it refuses to outright give up and become a dramedy. Sher and screenwriter Justin Malen keep throwing out mind-bogglingly lame bits, to their own seeming indifference. In one scene, the guys encounter a hotel clerk who speaks very, very quietly. (That's it. That's the gag.) In another, a hitchhiker (Katt Williams) makes a joke related to the brothers not knowing his name after a long ordeal, then they calmly discuss the joke among themselves and drive away. Once in a while, the movie stumbles into a more inspired pairing—Simmons and June Squibb, Ali Wong and Christopher Walken—before returning to the tedious dynamic of laid-back Wilson and uptight Helms. The two leads seem to have been teamed simply because it hasn't happened before. As it turns out, it's barely happened now.