Now that the great TV reaping of 2016 has presumably passed, the networks are preparing to show us what wheat was separated from the chaff amid last week's flurry of cancellations. Fox has kicked off the week with the announcement of its 2016-2017 lineup, which remains laden with animation, sports, and dramas. But the network is also hawking its new original series, including its live-action/animation hybrid Son Of Zorn, the profane The Mick, and Mark-Paul Gosselaar's latest TV outing, Pitch.
Among Fox's other original-drama offerings are freshman dramas APB, about a financially-strapped police department and its billionaire benefactor, and the event series Shots Fired, which is Fox's foray into ripped-from-the-headlines territory. The sequel series 24: Legacy will have quite the lead-in when it debuts in February: The first part of its two-night premiere will follow the Super Bowl. Lee Daniels is expanding his music-industry drama empire with Star, which will feature Queen Latifah making or breaking the careers of three singing hopefuls.
The new lineup will also feature Adam Pally Making History in the new time-travel comedy series from Christopher Miller and Phil Lord, and another Prison Break with all the usual suspects/convicts. The network is also pairing something borrowed with all of that blue, adding its Lethal Weapon and The Exorcist adaptations to its Wednesday and Friday night schedules.
The complete schedule is below: The new series are denoted in bold italics, with air times in ET/PT. The midseason schedule also notes where established series will take over for new fall shows come spring. Fox's upfront presentation is scheduled for this afternoon, so you can look forward to this possibly being updated with video previews of the new offerings.
Mondays
8 p.m.: Gotham
9 p.m.: Lucifer
Tuesdays
8 p.m.: Brooklyn Nine-Nine
8:30 p.m.: New Girl
9 p.m. Scream Queens
Wednesdays
8 p.m.: Lethal Weapon
Damon Wayons, Sr. is poised to be too old for this shit as the Roger Murtaugh to Clayne Crawford's Martin Riggs in this adaptation of the movie franchise. Despite being a reboot, the series won't stray too far from the movies' odd-couple formula: Riggs will still be a loose cannon, damn it, while Murtaugh will adhere to procedure.
G/O Media may get a commission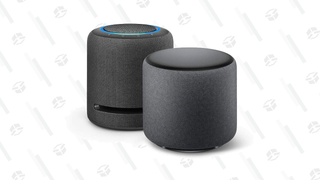 25% off - Prime Exclusive
Echo Studio + Echo Sub Bundle
9 p.m.: Empire
Thursdays
8 p.m.: Rosewood
9 p.m.: Bones
Fridays
8 p.m.: Hell's Kitchen
9 p.m.: The Exorcist
Based on William Peter Blatty's book and William Friedkin's subsequent film, The Exorcist series will follow two priests from very different backgrounds—one leads a small parish in Chicago, while the other is more of a Vatican-sponsored warrior. They'll unite to save a possessed girl and her family, which includes Geena Davis as a mom dealing with the worst case of teen rebellion.
Saturdays
7 p.m.: Fox Sports Saturday: Fox College Football
Sundays
7 p.m.: NFL on Fox
7:30 p.m.: The OT / Bob's Burgers
8 p.m.: The Simpsons
8:30 p.m.: Son Of Zorn
Jason Sudeikis voices Zorn in this live-action/animated series, a peerless warrior who's more frightened of tackling his domestic life than conquering the tribes of Agon. Zorn will move between the more fantastical animated world and suburbia, where he'll attempt to raise his teenage son Alan with his wife (Cheryl Hines).
9 p.m.: Family Guy
9:30 p.m.: The Last Man On Earth
Fox Midseason 2016-2017 Schedule (all times ET/PT)
Mondays
8 p.m.: 24: Legacy; Gotham (spring)
9 p.m.: APB; Lucifer (spring)
APB borrows its premise from the real-life story of a billionaire who bought a police department that was financially underwater. This "police drama with a high-tech" twist stars Ernie Hudson, Tyrant's Gideon Reeves, and Kingdom's Natalie Martinez.
Tuesdays
8 p.m.: New Girl; Brooklyn Nine-Nine (spring)
8:30 p.m.: The Mick
9 p.m.: Kicking & Screaming / Pitch (spring)
Wednesdays
8 p.m.: Lethal Weapon / Shots Fired (spring)
9 p.m.: Star / Empire (spring)
Thursdays
8 p.m.: Rosewood
9 p.m.: Prison Break
Fridays
8 p.m.: Masterchef Junior
9 p.m.: Sleepy Hollow
Saturdays
8:00 p.m.: Fox Sports Saturday
Sunday
7 p.m.: Animation encores
7:30 p.m.: Bob's Burgers
8 p.m.: The Simpsons
8:30 p.m.: Making History
9 p.m.: Family Guy
9:30 p.m.: The Last Man On Earth