Every two weeks, Comics Panel covers recent notable releases along the entire comics spectrum, from superhero/mainstream comics to graphic novels/art comics.
One reason comics were undervalued as an art form for so many years was because creators worked in non-artiste circumstances, generating content to fill holes, under deadlines. The Lynda Barry comics reprinted in The Freddie Stories (D&Q) were originally published in her alt-weekly strip Ernie Pook's Comeek, and then a good chunk of them were collected into a small-press book in 1999. Because of this, they don't have the cachet they might've, had Barry been given the freedom many cartoonists have now: the ability to work on one long story and then publish it when it's done, like a novelist. But make no mistake: The Freddie Stories is top-shelf comics literature, as vibrant and sublime as anything in the graphic-novel canon.
The Freddie in question is Freddie Mullen, the younger brother of Ernie Pook's usual main characters, Marlys and Maybonne. Freddie is a pensive, eccentric, most likely gay pre-teen, who rarely realizes—or cares—how strange he appears. In The Freddie Stories, Freddie repeatedly gets into trouble because of his kind heart, which leaves him open to bullies and shrewd operators. He also aggravates people because of his frequent breaks from reality, which are beyond his control. Freddie doesn't make friends easily, and he inevitably estranges the few friends he has, just as he drives his mother to distraction with his funny voices and propensity to stumble into drama. Barry threads a narrow needle in The Freddie Stories, writing in the voice of a boy who notices what others don't, but lacks an essential self-awareness. These strips are text-heavy, but in Barry's usual childlike art at the bottom of each panel, she draws both Freddie's way of seeing the world and the way his family and peers see him.
The Freddie Stories appends 30 pages of "lost stories" to the original 1999 edition, which might make the book feel more like a collection of loosely related strips than like the cohesive work it actually is. But even the original book—which follows a year in Freddie's life—is episodic, with the hero's journey through juvenile detention, sickbeds, and special-education classes connected primarily by Barry's way of contrasting Freddie's rosy disposition and dire circumstances. The antecedents to The Freddie Stories aren't other comics, really (outside of maybe Peanuts and Life In Hell); they're more a mix of Judy Blume and William Faulkner. Barry takes readers so deep inside the pains of being an adolescent outsider that at times, The Freddie Stories becomes free-associative, as though it's being dictated directly from the character's subconscious.
G/O Media may get a commission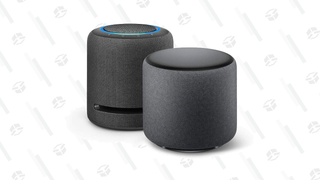 25% off - Prime Exclusive
Echo Studio + Echo Sub Bundle
Barry has always had a rare ability to recall the sensations of childhood, but she's never gotten enough credit for the way she conveys those memories, in the voice of a reporter and a poet, concerned with capturing a feeling without over-sentimentalizing. When Freddie says things like, "I did not know you could do something to a person and then being friends with them would end for all time," he may be trying to keep his own emotions out of it, but Barry freezes his heartbreak in the way she draws him at the bottom of the frame, trying to get the attention of a classmate who's ignoring him. That's Barry's genius. And The Freddie Stories is steeped in it… [NM]
Paul Pope burst into the comics industry with impressive skills and a unique style, and The One Trick Rip-Off + Deep Cuts (Image) is a great entry point into the work of one of the medium's contemporary visionaries. Reprinting Pope's Dark Horse Comics story "The One Trick Rip-Off" in color for the first time along with rare and unpublished early work from Pope's years in Columbus, Toronto, Tokyo, and New York City, this hardcover shows off Pope's incredible range as both a writer and an artist. "The One Trick Rip-Off" doesn't have the depth of Pope's later work, but his story of two young lovers who foolishly decide to rob a gang of thieves has an exhilarating energy that gives the action-packed narrative incredible momentum.
Pope's appreciation and understanding of manga techniques lends a dynamic fluidity to his fight sequences, while the influence of European comics translates to wonderfully expressive characters and impressionistic environments. From gritty drama to futuristic science fiction and poetic magical realism, Pope's stories reveal an artist who is constantly pushing himself to explore new dimensions of his work. Pope tries to bring a certain level of musicality to his projects, and each part of this collection has its own distinct rhythm, whether it's the pulsing rock beat of "The One Trick Rip-Off" or the wistful romantic melodies of the silent chapters "Yes" and "The Scarf." It's amazing what Pope was capable of at the start of his professional career, and this hardcover will have readers aching for more of his work after finishing. Thankfully, Pope's long-in-the-works superhero epic Battling Boy is set for release from First Second Books in October… [OS]
DC is celebrating Valentine's Day by reviving the Young Romance title for a new anthology spotlighting superheroes in love and lust; like most anthologies, Young Romance: A New 52 Valentine's Day Special #1 (DC) is a mixed bag. On the low end, Ann Nocenti continues her uninspired Catwoman run with a story recounting Selina Kyle's first encounter with Batman, and Andy Diggle offers a taste of his upcoming Action Comics run with a Superman and Wonder Woman date night that shows why no one but Brian Azzarello should write DC's Greek gods. Cecil Castellucci scripts a sappy but charming tale connecting Aquaman and Mera with a tragic 19th-century courtship, assisted by Inaki Miranda's graceful linework.
While it's nice that DC included a chapter starring gay Stormwatch couple Apollo and Midnighter, their relationship is underplayed, except for a small panel of them kissing at the end of the story. Simon Bisley is an inspired choice for Peter Milligan's script, illustrating intense superhero action with his signature exaggerated artwork. Stylized artwork is what makes Kyle Higgins' Nightwing short stand out, and Sanford Green has a keen eye for action-comedy that makes him an ideal fit for Higgins' bittersweet plot. The big surprise of this anthology is the Batgirl installment by Ray Fawkes, who had the misfortune of being announced as the incoming Batgirl writer when Gail Simone was briefly taken off the book. He's still writing a two-issue fill-in arc, and his work on this short story shows that he has a firm handle on Barbara Gordon's voice and her outlook as a superhero. If Simone ever does leave that title, Fawkes would be a smart choice for her replacement… [OS]
After the ambitious misfire of Century, writer Alan Moore and artist Kevin O'Neill return to their League Of Extraordinary Gentlemen universe with the significantly scaled-down Nemo: Heart Of Ice (Top Shelf), a one-off 56-page book starring Janni Dakkar, Captain Nemo's restless daughter. Actually, "scaled-down" may be the wrong term for a comic in which the submarine Nautilus journeys to H.P. Lovecraft's Antarctic "Mountains Of Madness," trailed by a pack of mercenaries hired by Charles Foster Kane at the behest of The Queen Of Kor (the "she who must be obeyed" from H. Rider Haggard's She: A History Of Adventure). But unlike the teeming casts of the past few LXG sagas, Nemo focuses on just a handful of characters. Beyond Janni's crew, the story is mainly about the team of inventors/adventurers racing across the ice and snow: a team led by Luis Senarens' characters Jack Wright and Frank Reade, plus a cocky young American who may be Tom Swift (though he's called "Swyfte" here). Moore also throws in a text piece at the end by "Hildy Johnson"—the His Girl Friday version, not The Front Page's version—which along with Kane's presence, ties Nemo to the world of the fast-paced pre-World War II newspaper movies.
Nemo still isn't up to the level of the first two excellent League volumes, but O'Neill's full-page renderings of the story's various lost worlds are suitably stunning, and Moore holds fast to a simple chase story, sprinkled with the occasional alien monster. And though Moore at times seems to be mainly amusing himself by dropping in the most obscure pulp characters he can recall (Broad Arrow Jack! Professor Augustus S.F.X. Van Dusen!), there is a connection between all these reporters, inventors, detectives, and entrepreneurs. Nemo is set in 1925, at a time of confidence and innovation, and these headstrong rogues and heroes are all headed toward an enormous hole in the world, housing ancient forces that will be their undoing… [NM]
Also…
Imagine Watchmen written in the most expository, inactive way possible. That's something close to Before Watchmen: Dollar Bill (DC), a book that's pure filler from beginning to end. Dollar Bill meets his end when he gets his cape caught in a revolving door, and this issue outlines his beginning with just as much grace. Narrated by Bill from the afterlife (groan), Len Wein's script is a bullet-point list of accomplishments that would be completely devoid of personality if not for Steve Rude's beautiful retro artwork. It's disappointing that Rude's return to superhero comics comes in the form of a lazy event tie-in spotlighting a character who's less popular than antiquated Watchmen villain Moloch; Rude is way too talented for this. His visuals on this book combine Golden Age superhero spectacle with classic Hollywood glamour, and if DC is smart, it'll find a new title for him that uses his full potential. There haven't been any new Before Watchmen titles announced after Dollar Bill, and with the quality of the event dipping with each new book, it's time for DC to leave Alan Moore and Dave Gibbons' classic alone… [OS]
Long before the alt-comics boom, Marvel and DC's dominance was challenged in the late '70s and early '80s by young writers and artists who either self-published or worked with small companies on quirky but accessible versions of fantasy fare. Mike Baron and Steve Rude's science-fiction/superhero series Nexus—first published by the short-lived Capital Comics, and then by the influential First Comics—was one of those titles that found a sweet spot between Heavy Metal and Green Lantern. Nexus Omnibus Volume 1 (Dark Horse) collects nearly 400 pages of Nexus comics, originally published between 1981 and '85, telling the story of troubled space-traveler Horatio Valdemar Hellpop, and his mission to assassinate killers on behalf of the ancient alien race that provided him with superpowers. Though raw, Rude's art in the early going shows the influence of Jim Steranko, Jack Kirby, Al Williamson, and Alex Toth in its emphasis on clean lines and dynamic action, while Baron keeps the planet-hopping adventure grounded by dropping references to Earthly sports and politics. The result feels casual and personal, but not amateurish. And while plenty of comics creators have followed up on—and surpassed—what Baron and Rude's generation pioneered, it's still a pleasure to read adventure comics so idiosyncratic, never run through the homogenizing mill of the big publishers… [NM]
Andy Diggle has done his best work when paired with artist Jock, and Snapshot #1 (Image) is the latest success for the pair, a stark black-and-white crime thriller with a captivating mystery at its center. On his way to work, comic-shop employee Jake Dobson finds a smartphone containing pictures of a murder scene, and he unknowingly enters a web of secrets and deception as he becomes the killer's next target. Diggle begins the issue with comic-shop banter, giving readers a sense of security that's shattered by the issue's end, and the stakes never stop rising once Jake looks at the cell phone's contents. Jock is a master of page design, and his layouts add variety to even the most casual of conversations. When the action takes off, Jock captures the violence with a blunt brutality that amplifies the terror of Jake's situation. Jock and Diggle have established strong creative chemistry over the years, and Snapshot takes advantage of both creators' strengths to create a satisfying story with striking visuals… [OS]
Fearless Defenders is one of two Marvel Now! team books starring an all-female cast, spinning out of Cullen Bunn's The Fearless miniseries to follow the Asgardian Valkyrie as she assembles a new group of shieldmaidens. With Valkyrie and Misty Knight as the main focus, Fearless Defenders #1 (Marvel) is a lackluster start, with ill-defined characters and uneven artwork from Will Sliney. Bunn doesn't provide much information on the leads or the threat they're facing, and the first issue lacks a strong hook; it tells a generic story about an ancient artifact that awakens hordes of undead Vikings. Will Sliney's artwork is serviceable, but his thick inks add extra weight that drags down the pencils' quality. His faces and body language are awkward at times, and he tends to spotlight Misty's behind during fight sequences, putting her in poses that just look uncomfortable. Bunn and Sliney have proven in the past that they're better than their work on Fearless Defenders, but this is the type of niche superhero title that needs a stand-out first issue if it's going to survive… [OS]
Before Joe Kubert settled in at DC in the mid-'50s and refined his style (while simultaneously defining how war comics should look), he was a pencil-for-hire who spent more than a decade bouncing from publisher to publisher, modifying his work to suit the needs of whatever horror stories, crime stories, Westerns, or romances were needed. For Weird Horrors & Daring Adventures: The Joe Kubert Archives Vol. 1 (Fantagraphics), editor Bill Schelly assembles a generous sample of those comics, which range from 1944's "The Racket Is Protection!" (a weird hybrid of film noir and space opera, starring "Star Pirate") to 1955's "Meet A Meteor" (featuring collegiate detective "Crime Buster"). As Schelly notes in his introduction, these comics are mostly "pre-code," and frequently as lurid as the bloodiest of EC's output. But they're more valuable as examples of an artist looking for ways to make his work interesting, for himself and for readers. Kubert didn't do these gigs halfheartedly; he experimented with layouts and design, always looking to do more than just show faces talking or fists flying. And while the art in Weird Horrors isn't as polished as the Kubert to come, it's clear that anyone with this degree of creativity was bound for something greater… [NM]
An oversized miniseries about the Day Of The Dead spearheaded by a single artist and featuring work by a diverse group of creators is the exact kind of off-kilter project readers should expect from Image Comics, and Dia De Los Muertos #1 (Image) is a fascinating experiment that avoids the failings of most anthologies. Under the supervision of Riley Rossmo, who had a breakout year in 2012 as the artist of Green Wake, Wild Children, Debris, and Bedlam, a rotating roster of writers delve into the mythology behind the Mexican holiday with Rossmo contributing to the artwork. Rossmo handles all aspects of the art for two of the stories in this first issue while providing colors for the third, and his involvement across the board gives the book a cohesive vision. The stories include one girl's annual journey to the afterlife, an abusive father paying for his actions during the holiday, and a tender romance on the streets of Mexico; each chapter is satisfying in its own way, proving that there's a lot of potential in Rossmo's concept. Dia De Los Muertos is a passion project that probably won't light up the sales charts, but it's worth a look from anyone searching for more diversity in their comics… [OS]
Even in the era when newspaper cartoonists were household names, and comic books routinely sold in the millions, the actual lives of comics writers and artists were rarely fodder for their own work. Rarely, but not never. The Craig Yoe-edited Comics About Cartoonists: Stories About The World's Oddest Profession (Yoe/IDW) compiles 200-plus pages of stories and strips by the likes of Jack Kirby, Ernie Bushmiller, Will Eisner, Winsor McCay, Steve Ditko, and Harvey Kurtzman, in which they either wrote and drew directly about their own experiences, or worked cartoonists into their fictions. This is such a good idea for an anthology that it's a shame it isn't not longer, or more focused. Too many of the stories here include cartoonists only tangentially, and there aren't enough strips like Milton Caniff's "Steve Canyon And Me" or Chester Gould's "Dick Tracy And Me," which are overtly autobiographical. But regardless of whether it does justice to its own premise, Comics About Cartoonists is still a good batch of fairly rare material, much of which dares to remind the reader of the magnificent artifice of art… [NM]
Since launching last summer, Monkeybrain Comics has become the premier destination for high-quality digital comics, and this past month saw two new releases that showcase the publisher's broad appeal. High Crimes #1 (Monkeybrain) is an engaging crime comic by Christopher Sebela and Ibrahim Moustafa set on and around Mount Everest, following a pair of climber escorts who make extra money by locating corpses on the mountain and selling them back to their families. It's a high concept executed with precision, and Sebela gives readers a thorough understanding of these morally ambiguous characters, particularly Zan Jensen, a former Olympic athlete trying to escape the biggest mistake of her life. Moustafa provides crisp artwork that captures the beauty of the mountain as well as the squalor of the town below; his style borders on photorealism. But he doesn't sacrifice fluidity for detail in his artwork… [OS]
While High Crimes is delivering real-world intrigue, Dalton Rose's Phabula #1 (Monkeybrain) offers bold fantasy action with a distinctly European influence. This introductory chapter is reminiscent of Brandon Graham's Prophet revival, throwing readers right into the action as a young girl slices her way through monsters on her quest to find a magical map. There isn't much substance at this point, but Rose's widescreen art has a lot of style, combining elements of Geof Darrow, Maurice Sendak, and Prophet's Simon Roy for visuals that are simultaneous grisly and adorable. He utilizes a bright pastel color palette that enhances the alien atmosphere, and his streamlined linework comes alive when combined with the vivid hues. Most importantly, Rose's panel layouts look great on both a tablet or cell-phone screen, and Monkeybrain has done admirable work creating comics that can be transferred to print but are easy to read digitally. [OS]