Here's what's up in the world of TV for Tuesday, September 13. All times are Eastern.
Top picks
Frontline (PBS, 9 p.m.): It's been much, much too long since we've been able to highlight a Frontline in these august online pages, but here we go: PBS' reliably excellent investigative news show is back with a look at for-profit colleges. While last week's shuttering of ITT Tech is likely too recent to get much coverage, the episode does promise an in-depth look at Corinthian Colleges, which shut down last year. As ever, if Frontline is on, go watch it.
Atlanta (FX, 10 p.m.): The episode description simply reads, "Earn is broke and tries to date." We hope those two facts aren't too closely related, because using dating as a way to relieve being broke is pretty much unethical at best, some sort of crime at worst. Joshua Alston will be monitoring the situation closely to make sure there's no moral turpitude afoot.
WWE SmackDown Live (USA, 8 p.m.): WWE has a long, weird history of looking at really obvious, satisfying payoffs to story and saying, "Nah, let's just piss off the fans for no particular reason." This past Sunday's Backlash pay-per-view bucked that trend in a big way, with crowd favorites Becky Lynch and the tag team of Health Slater and Rhyno taking their respective divisions' inaugural titles, and phenomenal heel A.J. Styles capitalizing on beating up John Cena by taking the WWE World Championship off of Dean Ambrose. LaToya Ferguson isn't even sure she's ready to live in a WWE Universe this well booked, but she'll give it a go. In the meantime, let's all just savor Becky Lynch's big moment, because does she ever deserve it.
Premieres and finales
The Contenders – 16 For 16 (PBS, 8 p.m.): In a series that mathematically promises to be slightly more than half as good as ESPN's 30 For 30, some of history's most intriguing presidential candidates will be profiled. Tonight's premiere looks at a pair of self-described independents and mavericks, with looks at Shirley Chisholm, who became the first black candidate of a major party when she ran in 1972, and John McCain, whose whole "maverick" branding really took off with his contentious race against George W. Bush in 2000.
G/O Media may get a commission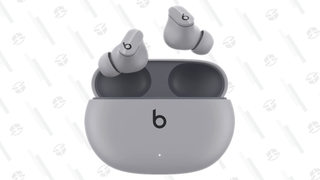 If Loving You Is Wrong (Own, 9 p.m.): The Tyler Perry-created soap opera returns for its third season, and "Alex comes across a grizzly scene" in tonight's premiere. We suppose that could just be a typo for "grisly," but we really hope this season just straight-up involves her and the other characters adopting a grizzly bear, who get just as caught up as everyone else in their infidelities and dirty dealings. Or it could just be that the show is using the lesser-known secondary definition of "gray or gray-haired," which sounds crushingly plausible.
Better Late Than Never (NBC, 10 p.m.): If you've ever found yourself pondering the eternal conundrum—"What do I want to watch tonight, William Shatner getting a Thai massage with Henry Winkler, or William Shatner having a Thai boxing session with former heavyweight champion George Foreman?"—well, know that you don't have to struggle anymore, because the finale of Better Late Than Never has both those things. Television in 2016 is a wonderful, terrifying place.
Taking Fire (Discovery, 10 p.m.): For those looking for something that isn't William Shatner doing things in Thailand, this show is the diametric opposite, as it follows a year in the life of the 101st Airborne in Afghanistan. At least, it better be the diametric opposite, because otherwise we've probably got some manner of international incident on our hands.
Regular coverage
Halt And Catch Fire (AMC, 10 p.m.)
Streaming pick
"April," Occupied (Netflix): This 10-episode miniseries, the most expensive in Norwegian history, looks at what happens when Russia—at the European Union's behest!—invades Norway to restore the continent's oil production. We now feel all countries should go ahead and make shows that are just sort of imagining what would happen if their real-life scariest neighbor went ahead and invaded. Hey, if Norway did it with Russia, what's your excuse, Canada?