Netflix and the CW have struck a new agreement that will lower the wait time between when a season ends and when people can jump into a binge-watch. According to an official press release from Netflix, the streaming service and the network have formed a new multi-year content licensing relationship that maintains Netflix's exclusive U.S. rights to previous seasons of the CW's scripted series. But the CW and Netflix are taking their relationship to the next level—remember waiting far too long for Jane The Virgin to finally hit Netflix? That will no longer be the case. Starting with the 2016-2017 television season, Netflix subscribers will be able to stream full seasons of all of the CW's scripted programming just eight days after a season airs its finale. Why eight days and not an exact week? Who knows. Streaming rights are such a fickle and seemingly arbitrary business.
The new agreement includes the CW's upcoming series Frequency, No Tomorrow, and Riverdale as well as returning series Legends Of Tomorrow, Arrow, The Flash, Jane The Virgin, Crazy Ex-Girlfriend, The 100, iZombie, The Originals, The Vampire Diaries, Reign, and the recently relocated Supergirl.
"Netflix members in the US love the great lineup of series from The CW, and we are thrilled to extend the relationship and bring those shows to our members exclusively now, just eight days after their season finales," said Netflix's Chief Content Officer Ted Sarandos. "This is a great step forward with a valued network partner to give fans exactly what they want, when and how they want it."
Here's what he neglects to mention in his fluffy description of the new CW/Netflix romance: It means Hulu has been dumped, and viewers who wish to stream CW shows in-season for free will no longer be able to do so on Hulu. In the past, episodes of CW shows were available next-day on Hulu (but only five episodes at a time, so if you were six weeks behind on something, you were out of luck). Now everyone's out of luck, because the only place to watch in-season episodes of CW shows for free will be CWTV.com, which, as anyone who has ever tried to watch anything on CWTV.com knows, is a total shitshow of a streaming site that makes watching television more like a chore. Maybe some of the site's user-unfriendly aspects will be addressed as the new streaming deal unfolds, but in most cases, the in-season streaming will still be limited to that rolling-five basis. So, again, no six-week vacations from television for you.
So binge-watching full seasons may have gotten a little more convenient, but in-season streaming will pretty much suck even more than it used to. In the meantime, just do something that decidedly doesn't suck: Go watch season one of Crazy Ex-Girlfriend, now available on Netflix.
G/O Media may get a commission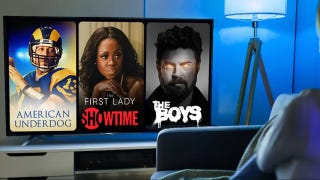 UNDER $1
99¢ Prime Video Channels