From my inbox:
MTV MEGA STAR J-WOWW TO SPEAK TO MEDIA TOMORROW REGARDING SECURITY ISSUES OF HER HOMECOMING CELEBRATION ON LONG ISLAND AFTER ALMOST RIOT
It's always a good sign when your press release opens with what could either be a headline or a stream-of-consciousness rant transcribed directly from inside the head of a living Bratz doll.
But, please, yell on.
MTV mega star J-Woww will be available for media commentary on Long Island reguarding security issues based on her last appearance which almost resulted in a riot.  She will be talking about the over 200 security officers that will be working with the local police department to ensure eager fans safety at her upcoming homecoming celebration taking place this week on Long Island.

Last week J-Woww, at a appearance in New Jersey, was flooded by over 5,000 people at a local nightclub causing police dressed in riot gear to take charge for the health, safety, and well being of fans.
Writing a press release is an art form. Not only does the beleaguered publicist have to promote the event or product their client is selling, but they also have to capture the spirit, the very essence of that client. Since looking at J-Woww of The Jersey Shore always feels like someone is yelling nonsensical information about Long Island, riots, and security directly into your eyes, obviously this publicist has done an amazing job.
Also, "J-Woww will be available for media commentary on Long Island reguarding security issues"? That statement is so perfectly, beautifully Jersey Shore it deserves an award, specifically The Jersey Shore Award (an empty bottle of Stacker 10 dipped in bronze and mounted on a base of Hormel deli ham, still in the package).
G/O Media may get a commission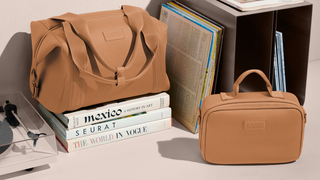 15% off
Dagne Dover Travel Kits
But wait there's more:
When: Wednesday, January 27, 2010, 2pm

Where: Glo nightclub; 37 Merrick Ave,
             Westbury, NY
Where else would a cast member of the Jersey Shore have their "media commentary" except in the middle of the afternoon at a  nightclub called Glo on Long Island? It'll just be J-Woww, the guy who has to come in early to replenish the beer taps, the scent of stale liquor, and a profound sense of palpable desperation (possibly due to the recent loss of cheeseballs).