(As the headline implies, this post discusses plot points from last night's episode of Game Of Thrones.)
In case you haven't heard, the final scene of last night's episode of Game Of Thrones delivered something that fans of the show have been dreading since actress Sophie Turner, who plays Sansa Stark on the show, teased it in December: yet another traumatic incident involving the last—as far as anyone in Westeros knows, anyway—living Stark. Perhaps growing weary of the show's many rape scenes, certain corners of the internet have expressed disgust with the scene, with one pop-culture site going so far as to suspend its Game Of Thrones coverage as a result.
A "Behind The Episode" featurette that aired after "Unbowed, Unbent, Unbroken" touched on several story lines from the episode—including the wedding of Sansa Stark to newly legitimized sadistic psycho Ramsay Bolton—without mentioning the controversial wedding-night scene that takes place after. Series creator George R. R. Martin doesn't seem to want to talk about it either: "I have been saying since season one that this is not the place to debate or discuss the TV series…There have been differences between the novels and the television show since the first episode of season one," he says on his LiveJournal page, adding, "David and Dan and Bryan and HBO are trying to make the best television series that they can. And over here I am trying to write the best novels that I can. And yes, more and more, they differ. Two roads diverging in the dark of the woods, I suppose…but all of us are still intending that at the end we will arrive at the same place."
Turner, on the other hand, is willing to talk about it, and she did at length in an interview with Entertainment Weekly conducted last fall. She says that, as an actress, she was intrigued when she first read the scene, saying, "When I read that scene, I kinda loved it. I love the way Ramsay had Theon watching. It was all so messed up. It's also so daunting for me to do it." Asked about her character's arc throughout the season, she says,
I love the fact she's back home reclaiming what's hers. But at the same time she's being held prisoner in her own home. When I got the scripts, it was bit like, dude, I felt so bad for her. But I also felt excited because it was so sick, and being reunited with Theon too, and seeing how their relationship plays out.
G/O Media may get a commission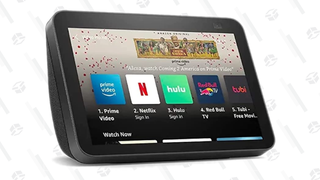 Turner also joked about showrunners David Benioff and Dan Weiss deliberately making her character suffer in order to make her more sympathetic, saying, "[They] must have been like, 'Okay, let's do everything we can to make her the most abused, manipulated character!'" after the anti-Sansa backlash of season one.