In Hear This, A.V. Club writers sing the praises of songs they know well—some inspired by a weekly theme and some not, but always songs worth hearing.
The increasing diversity and sophistication of modern ambient music seems to have resonated with Boozoo Bajou, a German duo whose work has often felt as kitschy—if still breezily enjoyable—as its silly name. Since 2000, the duo of Peter Heider and Florian Seyberth have released albums that often traffic in the kind of downtempo electronica you'd find on some "comedown" compilation with a name like Blue Sky Lounge Vol. 27 (or whatever), mixing space-age jazz with tropicalia flourishes in a way that slots easily between tracks from groups such as Kruder & Dorfmeister and Thievery Corporation. Often, it's resembled the sort of aural wallpaper made for lazy baristas to pop in the CD player and leave on repeat.
But 4 is a far more intricate work than the usual coffeehouse trance. The duo's first album since 2010's Coming Home is also its first for Apollo Records, the long-running label behind milestone releases by the likes of Aphex Twin and Locust. In keeping with that estimable company, Boozoo Bajou has incorporated many of the evolutionary leaps the ambient genre has made beyond the chill-out tent. 4 is an album that draws on some increasingly common signifiers—Brian Eno's Ambient series; brooding, deep-bass dubstep (V.I.V.E.K. comes to mind); Harold Budd's avant-classical compositions—while also retaining the duo's world music leanings with its bits of strings and smoky trumpet and Far East woodwinds, plus new bursts of guitar distortion, R&B samples, and synth noise. Hearing it from start to finish is, like the best ambient records, a cinematic experience, evoking so many varied tones and moods that, while it's all structured cohesively, I often forget I'm listening to the same record—a far cry from aural wallpaper.
Take "Kodiak," which builds off a krautrock rhythm and an angry-sounding synth pulse that grows more and more insistent, until suddenly the song sweeps into a space-age groove that Air fans should dig, carried aloft by whirling fragments of vibraphone. As it crashes, that sense of strutting confidence dissipates until we're left again with just that urgent pulse, which takes on a new sense of danger under some enigmatic, far-off howls. It's like a miniature spy drama, creating a sense of narrative mystery that the best ambient composers strive for—and that 4 has throughout. And it's a mystery I've found myself revisiting frequently, even when I'm not just looking to "chill."
G/O Media may get a commission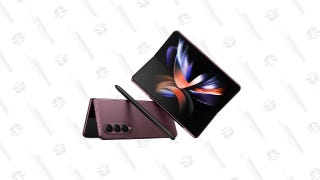 Save Up to $300
Galaxy Z Fold4