Watching Get A Life two decades after its enormously influential—though little-watched—run, it's remarkable that a show so strange ever made it onto the air, let alone lasted two seasons and 35 episodes. Then again, the upstart Fox network had taken huge gambles on unconventional, boundary-pushing fare like The Simpsons and Married… With Children and hit big, so there was at least some level of calculation behind the risk of green-lighting such an unusual show. Nonetheless, Get A Life had the misfortune of being both a product of its era and defiantly ahead of its time. Decades before Community, Get A Life deconstructed both the sitcom genre and entertainment as a whole in ways both silly and surreal. And well before the rise of Curb Your Enthusiasm, Eastbound & Down, and other sitcoms featuring sociopathic antiheroes, Get A Life featured a protagonist who wasn't just goofy or a little misguided, but completely insane, a horrible, narcissistic human being. Yet Get A Life also featured blindingly bright lighting, a braying laugh track, and its share of groaning sitcom clichés. Shout! Factory's collection of the complete series, which has previously only been released piecemeal in greatest-hits collections, features an invaluable special feature that allows audiences to play the vast majority of the episodes without a laugh track, and what's lost in historical authenticity is gained in tone and tolerability. Get A Life doesn't need a laugh track any more than the many of the single-camera sitcoms it inspired, and without the distracting guffawing of an unseen audience, the film's casual surrealism feels even more transgressive.
Chris Elliott, who created the show with Adam Resnick and David Mirkin, stars as a 30-year-old who never grew up. He lives at home with his parents (Elliott's real-life father Bob, of the famed comedy duo Bob And Ray, and Elinor Donahue of Father Knows Best), works as a paperboy, and exists in a demented fantasy of his own creation that bears only the fuzziest resemblance to the mundane world his long-suffering friends and family inhabit. To everyone else, Elliott looks like a quintessential loser, but in his own delusional mind he's stunningly handsome, incredibly gifted, and utterly irresistible.
Get A Life's weakest elements are those rooted in sitcom conventions, most notably Elliott's weak-willed best friend (Sam Robards), a boring, bored accountant in a stifling marriage to a shrew (Robin Riker) who serves as Elliott's primary antagonist. Robards was clearly designed as a responsible counterpoint to Elliott's defiant adolescent shenanigans, but the show quickly outgrew both his character and Riker's as it reached new heights of inspired lunacy.
At its best, Get A Life broke not just from sitcom tradition but also from reality itself. In the gloriously preposterous "The Big City," Elliott leaves the show's '50s-style sitcom suburbia and sets out for "The Big City," an amalgam of every bustling cinematic metropolis of golden-age Hollywood created largely through purposefully unconvincing rear projection. There, he becomes a populist hero to the public after his wallet is stolen and the media, particularly a fast-talking dame reporter, lionizes him as "Wallet Boy." The episode plays as a brilliant parody of the screwball comedies of Frank Capra and Preston Sturges, only Elliott isn't a good-hearted rube whose innocence and sweetness wins the hearts of jaded city-dwellers, but rather an oblivious idiot who becomes a hero for completely nonsensical reasons. Get A Life delighted in simultaneously loving and scathing pop-culture parodies, like "Zoo Animals On Wheels," a spoof of both regional theater and the musicals of Andrew Lloyd Webber that highlights Elliott's genius for physical comedy, and "Bored Straight," a riff on message movies about wayward youth that finds Elliott molding a group of street toughs (who all appear to be in their mid-30s) in his own image.
Fox wanted Elliott's character to be more independent after the show was renewed, so Get A Life acquiesced in the most passive-aggressive manner possible by having Elliott move out of a room above his parent's garage and into the garage of a drunken, belligerent ex-cop (Brian Doyle-Murray) who Elliott is deluded enough to see as a loving father figure. Thanks in part to new writers Bob Odenkirk and Charlie Kaufman, both of whom wrote two second-season episodes apiece, the second season of Get A Life somehow manages to be even more outlandish than the first, with episodes revolving around time travel, male prostitution, and a disgusting space alien.
G/O Media may get a commission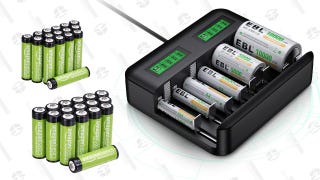 Get A Life's unavailability has only fueled its legend, but this painstakingly thorough release justifies the hype. One of the cornerstones of contemporary comedy, Get A Life danced a spastic jig on the grave of the conventional sitcom while heralding the arrival of a new form of TV comedy that acknowledged and played up the artificiality of the medium—and show-business as a whole—while still delivering laughs.
Key features: The exhaustively complete set includes compelling commentaries on nearly episode from co-creator/executive producer David Mirkin, and more.