Most people remember Disney's endearing Aladdin as a showcase for Robin Williams' Genie, a near-perfect vehicle for harnessing the comic's freewheeling id to an affectionate and sentimental character. But in the wake of the live-action remake, a number of folks are remembering that, in addition to that iconic performance, Gilbert Gottfried was also part of the cast—including Gottfried himself. And to judge by his recent actions online, he's a little miffed that no one asked him back for the new version.
"Where's Gilbert?!" you might imagine the comedian shrieking in his signature vocal delivery range, perhaps while gesticulating wildly. "Where's Gilberrrrrrrt?!" This fictional rejoinder comes in response to the recent announcement that actor and genial American treasure Alan Tudyk has been cast as the voice of Iago, Jafar's avian assistant, in director Guy Ritchie's reimagining of the classic animated film (which he somehow failed to rename Lamp, Scamp, And One Smoking Genie). Coolly resisting the urge to complain himself, Gottfried is instead employing the now-traditional "retweeting of fans" tactic to voice his displeasure. As Uproxx notes, since Disney made the latest casting news public, the comic has taken to mashing the retweet button in earnest:
G/O Media may get a commission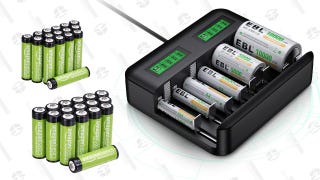 And of course, what would online outrage be without someone's plan to misguidedly boycott a business that has nothing to do with this casting?
It's possible that Gottfried, who is still a very funny comedian the last time anyone checked, isn't actually pissed, that he's more just happy people are so passionate about his performance in the original movie, and that this is merely his way of saying "thank you" to the fans clamoring for more of a talking bird that sounds like a pinched New Yorker. Of course, if that was the case, he could just like those tweets, rather than retweeting over and over anyone denouncing this decision, including those adorably trying to get a "#NotMyIago" hashtag trending. He could also do that.
Or maybe he's as amused by this as the rest of us. That tracks, too.