One week a month, Watch This offers staff recommendations inspired by a new show coming out that week. This week, we're looking at teen dramas, as The CW's Riverdale prepares to throw the subgenre's greatest hits in a high-speed blender.
Gossip Girl, "Victor/Victrola" (season one, episode seven; originally aired 11/7/2007)
Gossip Girl was always dressed in adult drag. Sure, its characters went to high school, but they looked like twentysomethings and acted as if they were pushing their mid-30s. New York's ritzy private schools contain the extremely rich, but even those kids are allowed youths, not forced to impress their fathers with nightclub investment opportunities.
Gossip Girl's decline and unforgivable ending clouds the memory of what was initially deliriously amusing entertainment. It had all the hallmarks of its genre—the love triangles, the backstabbing—coated in a glitzy sheen that put Sex And The City to shame. Viewers of all ages could be alternately envious of and repulsed by the glamour and wealth that Serena, Nate, Blair, and Chuck possessed. When the show was at its best, creators Josh Schwartz and Stephanie Savage recognized and embraced the ridiculousness of their endeavor, giving us simple adolescent concerns through the rosy prism of Blair Waldorf's designer frames.
"Victor/Victrola" understands this. It hinges on the ludicrous idea that Chuck would gain unfettered access to a burlesque joint, but the core is all about parents being assholes and hormones raging. To that latter point, it deals with a classic teen predicament: virginity loss. Former lonely boy Dan and former party girl Serena are trying to solidify their relationship, but his anxiety about disappointing the sexually confident Serena is getting in the way.
But the coital anxieties of the golden pair take a backseat to the troubles of Blair, who has been trying desperately to orchestrate her first time with the mopey Nate. She wants his mother's diamond ring, a Cornelius Vanderbilt hand-me-down that symbolizes her status goals, but is coming to the realization that the man that comes with it isn't a good fit. So she heads to Chuck's speakeasy where she drinks champagne, takes the stage, and ends up having sex with the bad boy in a limo. In that moment the show had found both its perfect couple—two oversize brats just evil enough to be a match made in hell—and its groove.
G/O Media may get a commission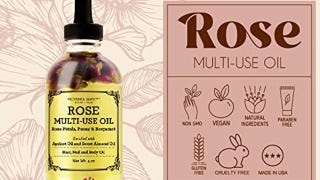 Provence Beauty Rose Multi-Use Oil
It's not just a romantic fantasy, it's all-around fantasy. To buy that these two underage scions are able to put on an impromptu striptease, you must opt completely for suspension of disbelief. Yet the show both winks to forgive this absurdity, and is rooted in such strong performances that it doesn't really matter anyway. Because mostly this episode is a showcase for the wonder that is Leighton Meester as Blair. Take the scene where she gets the news from her underling Jenny that Nate confessed that he still holds a torch for Serena. In an instant her eyes well up and her nose starts burning—you can see her breaking inside—but she retains her regal bitch exterior through force of will. She captures Blair's aching need to be worshipped by all, but shrouds it in a fuck-all confidence. Watching her is almost as intoxicating as a trip to Victrola.
Availability: Gossip Girl is available streaming on Netflix and on DVD from all major rental and purchase sites.