There's a simple rule in political discourse: As long as you don't invoke Hitler, you can pretty much make whatever reprehensible claim about the opposition that you wish. But country star Hank Williams Jr. showed Monday that at least a little bit of good can come out of Hitler analogies, when comments he made on the Fox News morning show Fox & Friends lead to ESPN removing Williams' "All My Rowdy Friends" from that night's Monday Night Football telecast.
When speaking on Republican Speaker Of The House John Boehner playing golf with "the enemy" President Obama, Williams likened the friendly game to "Hitler playing golf with (Israeli Prime Minister Benjamin) Netanyahu." (Psst, Obama is the Hitler one in this analogy.) Said ESPN in a statement: "While Hank Williams, Jr. is not an ESPN employee, we recognize that he is closely linked to our company through the open to Monday Night Football. We are extremely disappointed with his comments, and as a result we have decided to pull the open from tonight's telecast." Hitler analogies are offensive and insensitive to the suffering of millions at the hands of one of history's worst despots. But if this is what it took to get "Are you ready for some footballlll?!" off the air for the first time since '91, well, at least this Hitler-y cloud has a silver lining, no?
Williams later tried to clarify his comments in a statement, conceding that "my analogy was extreme—but it was to make a point. I was simply trying to explain how stupid it seemed to me—how ludicrous that pairing was.  They're polar opposites and it made no sense.  They don't see eye-to-eye and never will. I have always respected the office of the President." He also expressed dismay that Tea Party members are depicted in the media "as racist and extremists"—a point whose legitimacy seems undermined by Williams aligning himself with the party right after making an Obama-is-like-Hitler analogy.
As for Fox & Friends, the idea behind bringing an not-noted, non-expert like Williams to talk about politics would appear to be the likelihood that he'd say something stupid. But the hosts' shock and discomfort is palpable—if also somewhat deliberate and theatrical—in reaction to the whole Hitler thing. Check out the video below. [Via Entertainment Weekly]
UPDATE: Hank Williams III tells TMZ.com that his dad probably should've kept his mouth shut on Fox & Friends, because musicians are "not worthy" of talking about politics publicly. "The only person out there worthy of mixing political views and music is Jello Biafra," he said, referencing the famously outspoken Dead Kennedys singer.
G/O Media may get a commission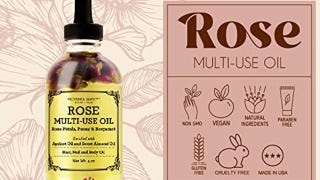 Provence Beauty Rose Multi-Use Oil