Here's what's up in the world of TV for Friday, March 28, and Saturday, March 29. All times are Eastern.
TOP PICK
Helix (Syfy, 10 p.m., Friday): At one time, we were super excited for Ron Moore's return to the network once known as the Sci-Fi Channel, whose finest years neatly coincided with his own Battlestar Galactica. Then we realized that Moore was just sort of putting his name on something to get it on the air and actually seemed to be investing more of his time in Starz's Outlander. Hey, no problem, Ron. Sonia Saraiya, however, reviewed a full season of this because she's a BSG super-fan, and what does she have to show for it? A rapidly disintegrating belief in televised science fiction, that's what!
---
ALSO NOTED
Enlisted (Fox, 9 p.m., Friday): Yeah, Fox yanked this from the schedule for the foreseeable future after tonight, so this could be your last chance to catch up on one of TV's best new shows and hope it doesn't turn into future One Season Wonders fodder. Les Chappell salutes you, brave show.
Hannibal (NBC, 10 p.m., Friday): With the loss of its Grimm lead-in (in favor of, uh, a two-hour Dateline) and increased competition from the NCAA tournament's Sweet 16 round, things could be grim for our favorite cannibal, but Molly Eichel hopes the show has momentum from last week's cliffhanger.
Saturday Night Live (NBC, 11:30 p.m., Saturday): Louis C.K. returns, after the show was seemingly off for over a year. Dennis Perkins doesn't quite understand why the show took so much time off after an already lengthy Olympics hiatus, but he'll forgive and forget if you will, SNL.
G/O Media may get a commission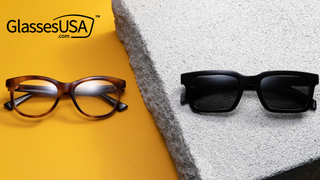 60% off frames
GlassesUSA.com Back to School Sales
---
REGULAR COVERAGE
Raising Hope (Fox, 9:30 p.m., Friday)
---
TV CLUB CLASSIC
The X-Files (Saturday, 1 p.m.): With only three weeks left, Todd VanDerWerff is battening down the hatches for a full-throated defense of "Sunshine Days," possibly his favorite season nine episode. It also continues an unofficial "Michael Emerson week" here at The A.V. Club, thanks to that Lost roundtable.
---
ELSEWHERE IN TV CLUB
Back in October, Todd VanDerWerff checked in on the first two episodes of season four for his TV Review of The Walking Dead. Now, he's seen everything but the season finale, and he thinks this might be the show's best season yet… but in a way that completely underlines how the show's not very good.
If it's Friday, that means it must be time for Will Harris to talk to an actor and ask them about all of their Random Roles. This week, Jeremy Piven attempts to explain to us just what's the deal with Mr. Selfridge. We're not reviewing season two, so this is as good as you're gonna get!
And every so often, our AV Q&A feature dovetails with TV Club's purview. This week is one of those times, as we ask our writers—and, by extension, you—what their favorite TV Intros are. Yet somehow nobody responded with The Mary Tyler Moore Show. C'mon, guys! Love is all around!
---
WHAT ELSE IS ON
The Diamond Collar (OWN, 8 p.m., Friday): We feel sort of sorry that we haven't reviewed this show, because it sounds wackadoo. A former enforcer for John Gotti now runs an upscale dog grooming parlor where he pampers pooches with the love of his life. Oh well. Tonight, there's a pig!
Worst Weather Ever? (National Geographic, 8 p.m., Friday): Nat Geo wants to make you think about how bad it could be if global climate change flooded all of the coasts and changed weather patterns, creating superstorms. Truly, it would be the worst weather ever. Or would it question mark?!
Live From Lincoln Center (PBS, 9 p.m. Friday): Patina Miller, a Tony Award winner for her work in the revival of Pippin, offers up an evening of song and dance for all of you rubes out in the sticks, who never got a chance to catch up with her show. What were you even thinking?
Kids' Choice Awards (Nickelodeon, 8 p.m., Saturday): The kids' choice for all of you is death. You can see it in their seemingly innocuous smiles.
Zoe Gone (Lifetime, 8 p.m., Saturday): In this week's all new Lifetime movie, a baby is taken from a playground when her teenage mother is more interested in checking her text messages than she is in looking after her child. No, seriously. That is the premise of this movie.
When Calls The Heart (Hallmark, 9 p.m., Saturday): Are you guys super-excited for the season finale of this one? Do you have any guesses how it will all wrap up? We'll have our usual Newbies review for those of you who are Jeanette Oke ignorant, then an Experts review for the true Oke-folks.
Babette's Feast (TCM, 8 p.m., Friday): This austere and beautiful Danish film is the perfect antidote to the bluster of God's Not Dead, as a lovely little film about what it truly means to be a Christian believer. It's also the first Danish film to win the Best Foreign Film Oscar!
Green Lantern (FXX, 8 p.m., Friday): This movie is also an austere and beautiful film about what it means to believe in the charisma suck that is Blake Lively's performance in this movie.
The Princess Diaries (Oxygen, 8 p.m., Saturday): It's time for another controversial statement: We really like that Anne Hathaway, and we were glad when she didn't drown.
NCAA Basketball Tournament, Kentucky vs. Louisville (CBS, 9:30 p.m., Friday): There's basketball on all day today, but if we're picking the one game to watch, it would be this one, featuring two rivals battling out for a shot at the Elite Eight.
Supercross: AMA Supercross in St. Louis (Fox Sports 1, 8:30 p.m., Saturday): Supercross: It's still not Excitebike, no matter how much we might want it to be.
---
IN CASE YOU MISSED IT
Scandal (Thursday): With Sonia Saraiya otherwise occupied, Ryan McGee returns to his old stomping grounds to weigh in on whether this season has been a disaster or underrated. We're pretty sure which side he will take, but one never knows.