Chris Stapleton extends a superlative run on From A Room: Volume 2, while War & Leisure finds Miguel in more radio-friendly territory. These, plus Neil Young & Promise Of The Real in this week's notable releases.
---
[RCA]
Grade: B+
If you need to know precisely how Miguel has changed since 2015's Wildheart, take note: On the cover of War & Leisure, he is fully clothed—and in a silk suit-green beret combo, no less. That shift from oiled-up flesh and piled-high pompadour to what you might call bowling-alley chic represents not only War & Leisure's relatively tame sense of sexuality, but also its creator's move away from vulnerability and toward a radio-friendly stoned sweetness. As "Sky Walker" and the latinized G-funk of "Caramelo Duro" show, though, Miguel is still a phenomenally creative songwriter and producer, and his success here is partly owing to the way he allows his songs' moving parts to wander around the party and mingle for a while before he passes them all off in search of something fresh. As he does with his assortment of expensive-looking robes, Miguel wears War & Leisure's looseness well, and even if he doesn't reveal much of himself, he still has the charisma to pull the whole ensemble off.
RIYL: Prince (of course). Jeremih. Waking and baking. The cowabunga lifestyle.
Start here: The squirting beat and slap-bass funk of "Told You So," if only to remind yourself that it's a crime this dude never got to produce for Prince. [Marty Sartini Garner]
G/O Media may get a commission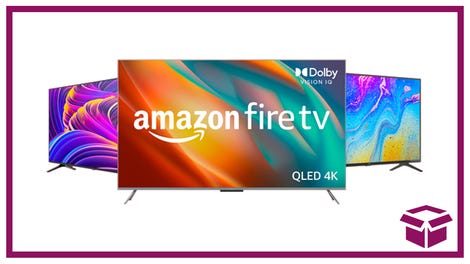 Ooh. stunning.
New Amazon Fire TVs
---
[Decca/Mercury Nashville]
Grade: A-
Chris Stapleton just cleaned up at the CMAs, winning Album Of The Year for From A Room: Volume 1 and Best Male Vocalist for the third year in a row. This continues a Nashville Cinderella story that kicked off with his successful 2015 debut album, Traveller, resulting in his leap from behind-the-scenes songwriter to country-music superstar in his own right. Stapleton's gravelly vocals sell his own openly emotive songs like no one else could, the poetic imagery in tracks like "Scarecrow In The Garden" transcending typical beer-and-babes fodder: "The fields were green as dollars / 'Cause the dirt was black as night." The lighter "Millionaire" praises love over lucre, as harmonies from Stapleton's wife, Morgane, underline its sweet message—which is about as sappy as Stapleton gets. Still, he runs the gamut of emotions and genres, traveling from the hard-rocking rumination on the difficulties of "Hard Livin'" to the minimalist blues of "Nobody's Lonely Tonight."
RIYL: Pickup trucks. The softer side of Waylon Jennings. Nashville episodes that focus on Deacon.
Start here: The infectious guitar riffs of "Midnight Train To Memphis" expertly ride the rails between country and rock. [Gwen Ihnat]
---
Neil Young & Promise Of The Real, The Visitor
[Reprise]
Grade: C-
Can Neil Young change anyone's mind about politics at this point? That's a rhetorical question whose obvious answer is "no," but that clearly hasn't stopped the grizzled rock godfather from trying, yet again, with The Visitor. Once again backed by Promise Of The Real—the young, basic, bluesy outfit led by Willie Nelson's son Lukas that also played on 2015's The Monsanto Years—Young rails against the awful state of American politics but also declares his love for his adopted country: "I'm Canadian, by the way / And I love the USA," he begins right at the top, with Young ham-handedly reacting to "Make America Great Again" with "Already Great." The Visitor continues in that vein, and there's not much to recommend it. Young and the youngsters he's playing with here sound like they wrote and jammed these songs out in a few days, relying on the strength of his sentiment to carry them through. But a jam session with some cranky speak-singing on it doesn't make for a great album, and it's not going to make any new converts, unfortunately—either to Neil Young's politics or his music.
RIYL: Validated opinions, only crotchety. Neil Young at his speak-singiest.
Start here: "Already Great," the album's first song, pretty much tells the whole story. It's no "Ohio." [Josh Modell]
---
Purchasing via Amazon helps support The A.V. Club.