October is a spooooooky month, and HBO has reacted accordingly. For Halloween, subscribers will be able to watch The Descent, Predator, The Silence Of The Lambs, From Hell, Hannibal, The Fly II, The Hand That Rocks The Cradle, and other spine-chilling (or attempted spine-chilling) affairs. But if purportedly scary movies aren't your thing, there are plenty of other top-tier films headed to the service, including Inherent Vice, the unrated version of Taken, The Thin Red Line, and Fantastic Mr. Fox, to name a few.
One of the titles in among that number is also one of the year's best comedies: The Jason Bateman and Rachel McAdams-starring Game Night, which is stylish, sharp, and surprisingly suspenseful.
Subscribers will also be able to welcome the gentlemen of Pod Save America into their homes—the podcast, like 2 Dope Queens before it, is getting a series of specials on the network. Camping, the Jennifer Garner-fronted series from Jenni Konner and Lena Dunham, also debuts.
Sadly, this will also be your last chance to watch (on HBO) both versions of The Beguiled, the absolutely bonkers The Book Of Henry, Nine To Five, and Girls Trip, so if you've yet to experience Tiffany Haddish teaching the world about grapefruiting, there's no time like the present.

The full list of what's coming to (and going from) HBO Go and HBO Now in October is below.
G/O Media may get a commission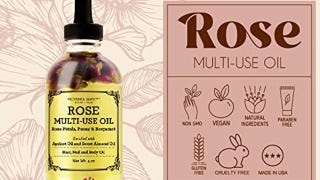 Provence Beauty Rose Multi-Use Oil
Available October 1:
HBO First Look: First Man
Queen Of The World
Early Man, 2018 (10/1)
Lowriders, 2017
El Abogada (AKA The Lawyer), 2016
A Perfect Getaway, 2009
Analyze That, 2002
The Cooler, 2003
Dances With Wolves (Extended Version), 1990
The Descent (Extended Version), 2006
The Descent: Part 2, 2010
The Devil's Rejects (Director's Cut), 2005
Fantastic Mr. Fox, 2009
Fifty Shades Darker, 2017
The Guru, 2003
House Of 100 Corpses, 2003
House Of D, 2005
The Human Stain, 2003
Inherent Vice, 2014
The Lost Boys, 1987
Man On Fire, 2004
The Midnight Meat Train (Unrated Version), 2008
Public Enemies, 2009
Romeo Must Die, 2000
The Singing Detective, 2003
Starter For 10, 2007
Taken (Unrated Version), 2009
Taking Woodstock, 2009
The Thin Red Line, 1998
Underworld (Unrated Version), 2003
Available October 2:
Student Athlete
Available October 5:
Entre Nos: A Stand-Up Comedy Special

Available October 6:
Flight Of The Conchords: Live In London
Game Night, 2018
Available October 8: 
RX Early Detection: A Cancer Journey with Sandra Lee

Available October 12:
Pod Save America
La Gran Promesa (AKA The Big Promise), 2017
Available October 13:
Maze Runner: The Death Cure, 2018
Available October 14:
Camping, Series Premiere
Magnifica '70, Season 3 Premiere
Available October 15:
The Sentence
Available October 16: 
HBO First Look: Hunter Killer
Available October 19: 
Las Giretas de jara (AKA Dark Buildings), 2018
Available October 20:
My Dinner With Hervé
Available October 22: 
Stolen Daughters: Kidnapped By Boko Haram

Available October 25:
HBO First Look: Bohemian Rhapsody
Available October 26:
Gente De Zona: En Letra De Otro
Available October 27:
The Post, 2017
Leaving October 21:
Runaway Jury, 2003
Leaving October 31:
Absolute Power, 1997
Avatar, 2009
The Beguiled, 2017
The Beguiled, 1971
The Book Of Henry, 2017
Crazy Heart, 2009
E.T. The Extra-Terrestrial, 1982
Eurotrip, 2004
Garfield, 2004
Girls Trip, 2017
Good Will Hunting, 1997
Ice Age: Dawn Of The Dinosaurs, 2009
In The Cut, 2003
Julia, 1977
Kill The Messenger, 2014
Man On The Moon, 1999
My Life Without Me, 2003
Nine To Five, 1980
O, 2001
The Postman, 1997
The Theory Of Everything, 2014
A Very Special Scary Movie Section For Halloween (Leaving October 31):
AVP: Alien Vs. Predator, 2004
Alien: Covenant, 2017
Damien: Omen II, 1978
The Final Conflict, 1981
The Fly II, 1989
From Hell, 2001
The Hand That Rocks The Cradle, 1992
Hannibal, 2001
Incarnate, 2016
The Last House On The Left, 2009
The Mummy, 1999
The Mummy Returns, 2001
Omen IV: The Awakening, 1991
The Omen, 1973
Predator, 1987
Predator 2, 1990
The Scorpion King, 2002
The Silence Of The Lambs, 1991