Walking along the freshly scrubbed, gleaming streets of Main Street USA in Disney World, Robert James Montgomery III (aka Violent Jay of the Insane Clown Posse) smiled brightly. The warm September sun shone on his bare face, and it felt so nice, for once, not to have to worry about his evil clown makeup melting and running into his eyes. He looked around at the tidy faux-Olde-Tyme storefronts and colorful awnings. There wasn't a dirty tarp in sight. As far as he could tell, there were no "Show us your tits or your dick for a free drink" signs. Nothing was on fire. It was, in a word, nice.
Harrison Smeaton (aka Shaggy 2 Dope) ambled over, funnel cake in hand. Montgomery smiled at him and said, "You know, I thought I would hate this place, but it's so.."
"Wholesome," Smeaton said, completing the thought.
"Yeah. I just wish there was a way to merge our two worlds: the Juggalos and the Magic Kingdom," Montgomery said hopefully. "It doesn't always have to be dirty braids and wrestling matches near port-o-potties, you know?"
Just then, a beaming Andrew Greenan Jr. (aka Monoxide Child) ran up to Montgomery and Smeaton. "Guys, they have the most amazing store over there!" Greenan said, pointing to a shop on the other side of Main Street. "It looks like so much fun!"
Mongomery and Smeaton looked over to where Greenan was pointing: Ye Olde Wild West Portrait Studio.  In the window, families and groups of friends in Western garb smiled out from their sepia-toned, "antique" photos. "Hey," Montgomery said, "That does look like fun."
G/O Media may get a commission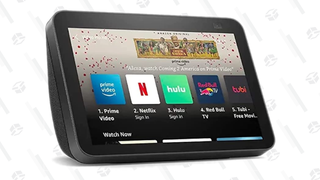 Two years later, The Insane Clown Posse's Olde-Tyme Western, Big Money Rustlas finished filming.
Not that logic applies to anything Juggalo, but shouldn't this movie be called Clowns n' Cowboys?