Like every good pop star, Britney Spears has perfected the art of appearing transparent while not actually revealing much about her true self at all. Really, who can blame her? The sweet Mouseketeer from Louisiana became a sex symbol, a global superstar, and (eventually) tabloid fodder thanks to marriage(s), motherhood, custody battles, sleazy boyfriends, and a very public head shaving. For Spears' musical and personal self-preservation, it made sense to do some reputation rehab and play it safe. Naturally, this meant she retreated into her comfort zone: frothy electronic dance music, public displays of coquettishness (e.g., a remix on Rihanna's "S&M"), and feel-good TV appearances on Glee and X Factor.
I Am Britney Jean, which boldly promotes "an intimate look at one of the most overexposed yet under revealed stars of today," finds Spears decidedly not in her usual element: The documentary explores the creation and execution of the stage, show, and intricate choreography for her extravagant Las Vegas residency, which begins on December 27. Woven into this storyline are clips of Spears doing her pop star thing—filming videos for singles "Work Bitch" and "Perfume," going to England to do press, appearing on The Ellen DeGeneres Show—and confessional-style, interstitial shots of her doing self-analysis about everything from sex and love to stardom and sisterhood.
The latter moments live up to I Am Britney Jean's promise of vulnerability. Spears appears luminous and delicate—an appearance enhanced by the fact this footage is black-and-white or washed-out pastels—and she's refreshingly candid. At one point, she admits, "I love sex—I think sex is great. But I feel a little different about it now that I'm older." During an admission of how nervous she can be, she observes that her anxious mannerisms are rather familiar: "Oh my God, I'm turning into my f***ing father right now, this is horrible." There's zero trace of attitude or cynicism to Spears as she's reflecting on her life; she comes off as eminently likeable and warm.
In the documentary's less formal moments, Spears is also relatable, whether she's awkwardly making small talk with the actor hired to make out with her in the "Perfume" video, or munching on Skittles during a lull in an interview. Several times, she emphasizes how shy she is—a fact reinforced later by her petrified look and whimper as she's walking to face a rowdy crowd at an event, or how she nervously twists her hands while doing interviews. Spears comes across as exceedingly normal, with the same anxieties and insecurities as everyone else, despite the absurd situations in which she's placed. For someone who grew up in the spotlight and under immense pressure, her reactions are refreshingly unsullied by fame.
G/O Media may get a commission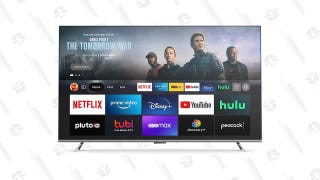 Save 46%
Fire TV 55" Omni Series 4K UHD Smart TV
I Am Britney Jean's touching scenes between Spears and her family explain this down-to-earth demeanor. A Thanksgiving gathering with her parents, boyfriend, two sons and assorted relatives is utterly unpretentious; she goofs around at the piano and, in one of the film's most touching moments, is caught curled up on the couch with one of her sons. At other times, these familial interactions provide welcome comic relief: Spears' dad Jamie is a genial jokester who embarrasses her by fashioning a makeshift air conditioner using duct tape and makes faces at her on a video shoot. A brief appearance by younger sister Jamie Lynn Spears is also memorable. Besides saying sweet things about her sibling, she does a dead-on imitation of her sister and admits with a straight-face that she could kick Britney's ass.
These moments aside, I Am Britney Jean places a surprisingly heavy emphasis on the circus surrounding her impending Vegas production. Boring minutiae about the residency and behind-the-scenes glimpses of the process dominate the narrative and make the movie drag; worse, these scenes are often tedious displays of strategy and inside baseball. Does anyone really care that everything about the stage construction is always running behind, or that Spears isn't into a space-age, blue-and-silver costume? (Answer: no and no.) In fact, I Am Britney Jean's conflicts are the very definition of first-world problems: whether Spears' new song "Alien" makes the final cut, whether her stage will be finished on time, whether an injured dancer will be well enough for opening night. These bursts of drama are so mundane, it's difficult to muster up any interest in them. The documentary's attempts to humanize her backup dancers also largely fall flat, as there's never much more than surface insights into their personalities.
At the same time, there's plenty of (admittedly impressive) footage of Spears and her dancers working out the show's choreography. Curiously, however, we never actually hear her sing. The omission doesn't feel nefarious or done with malicious intent, but it is notable; after all, I Am Britney Jean is about one of the biggest singers in the world, and while studio versions of her music are present, Britney's own voice is absent. This silence not only clashes with the self-confident, strong woman seen elsewhere in the movie—it does nothing to quell the lip-syncing accusations that have plagued Spears for years now.
In the end, I Am Britney Jean feels torn between fluffy promotional obligations and Spears' desire to portray her true self. Sadly, the former wins out; the documentary ultimately ends up feeling like one big ad for the Vegas residency. It's disappointing—if not a little cruel—that a film purportedly meant to let Spears get up close and personal is overshadowed by the business-minded aspects of her career. The inadvertent message of I Am Britney Jean is that Spears and her work persona are inseparable, which is exactly what she's been trying to escape for years now. For someone who has worked so hard to get healthy and establish her own personality, she deserves better than a shallow platform.