Sometimes, even The A.V. Club isn't impervious to the sexy allure of ostensible cultural garbage. Which is why there's I Watched This On Purpose, our feature exploring the impulse to spend time with trashy-looking yet in some way irresistible entertainments, playing the long odds in hopes of a real reward. And a good time.
Cultural infamy: Untraceable really brought nothing to the culture, other than adding to the slushpile of Se7en/Saw rip-offs—albeit with a cyber-age twist, which puts it in the distinguished company of movies like Virtuosity and Dee Snider's StrangeLand. (Or as I call the latter, Dee Snider's SearingGasPainLand.) It opened to middling business and mostly unkind reviews (34 Metacritic score, 15 percent Tomatometer rating), with critics lashing the film as "a repugnant example of the voyeurism it pretends to condemn" (Stephen Holden, The New York Times) and "dressing up sadism in a moral message that condemns the very weakness it is exploiting." (Richard Corliss, Time) Our own Keith Phipps called it "that rare movie that agrees with the killer." So reaction ran the gamut from disgusted to appalled to revolted to aghast.
Curiosity factor: Stratospheric. There are two very specific types of movies that always pique my interest: Movies about underdogs conquering Wall Street (I've seen The Secret Of My Success a dozen times or more, and I hate that movie) and alarmist movies about the evils of the computer age. The more clueless and hysterical they are, the better: Remember The Net, when Sandra Bullock was made to seem like a freakish shut-in for ordering goods and services off the Web? How about Dee Snider's SearingGasPainLand, which made the very act of turning on a computer seem akin to jamming your tongue into an electric socket? Or the "virtual reality" duel between pasted-on Photoshop versions of Michael Douglas and Demi Moore in Disclosure? The passing of time only adds to the fun, not just because technology looks that much more hilariously dated, but also because you can see what the crotchety, sky-is-falling, Andy Rooney-types were up in arms about a decade or so ago. Could Untraceable be the next FearDotCom? Or would it be LameDotNet?
The viewing experience: Instant deflation. Any movie that opens with an adorable kitten getting tortured and killed faces a steep uphill climb to get back into my good graces. Right off the bat, Untraceable announces itself as an ugly movie—not the silly escapist technophobic romp that some viewers (okay, this viewer) might crave, but something grim, scolding, and prudishly sadistic. It aims to titillate us with webcam voyeurism and Saw-like homemade killing machines, then call us a bunch of sickos for getting off on it. "Are you enjoying yourselves?", the filmmakers seem to be asking. "Well then, J'accuse America! This is the movie you sick fucks deserve!"
For my purposes, the main problem with Untraceable is that it's more a serial-killer movie than a technology movie, though obviously the two aspects are intertwined. The gimmick here is a doozy: The killer in question runs a website called killwithme.com. He straps his victims to various apparatuses, sets up a webcam, and kills them at a rate that corresponds to how many users are logging on at any given time. The higher the number of page views, the more accelerated the rate at which, say, the hydrochloric acid will be dispensed. (I believe this is analogous to how Gawker Media currently pays its writers.) So even though he's abducted the victims, jerry-rigged elaborate torture-and-killing machines, and presumably promoted his site on various message boards and e-mail blasts, it's really YOU, random Internet person, who's responsible for all these deaths. Or, as one of the FBI honchos says at a press conference, "Any American who visits this site is an accomplice to murder!"
G/O Media may get a commission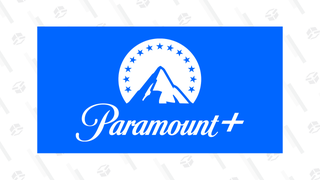 One month free
Paramount+ One-month Free Trial
(Side note: If more page views mean an accelerated murder rate, wouldn't logging onto the site serve as a relief to a victim who's going to die anyway? I know if I were sitting in a tank of water with hydrochloric acid seeping in through a jet—Holiday Inn calls it a "whirlpool"—I'd be begging for killwithme.com to be a viral sensation, because I'd want the flesh to peel off my bones as quickly as possible.)
Anyway, it's up to Diane Lane, a cyber-cop with the Federal Cyber Crimes Task Force, to do whatever cyber-stuff is necessary to track this twisted moralist down. And here is where Untraceable presumably starts to pay techno-babble dividends, as we learn about the "backdoor Trojans," mirror sites, and "rolling IP's" that would leave casual web surfers scratching their heads like lice-infested primates. In this scene, Lane and her nerdy colleague (Colin Hanks, son of Tom) explain to the boss why killwithme.com can't just be turned off, and why it's going to be so difficult to track its webmaster down:
Sounds convincing enough to me, but then, I'm neither cyber-cop nor cyber-criminal. So I asked The A.V. Club's web producer, Paul Reda, to help sort out all this mumbo-jumbo. Should potential techno-savvy copycat killers be taking notes? Here's what he had to say:
Implausible though his methods may be, the killer remains extremely elusive—some might say… well, you know the title—which mostly takes the film out of the technological realm and into the realm of a generic serial-killer movie. (Though you do get to learn some texting shorthand: HHOS means "ha ha only serious," TYFAYS means "thank you for all your support," and MTC means "more to come." TYVM, Diane Lane, for interpreting them for me.) As such, Untraceable offers a handful of unintentional laughs, including one of the clumsiest examples of foreshadowing I can remember: When Hanks watches the first victim bite the dust, he says, "Too bad this guy wasn't a Boy Scout. He could just blink in Morse Code and tell us where he is." Gee, what an odd thing to say. Too bad the guy wasn't Jean-Dominique Bauby, either—he could have dictated his memoir while getting boiled alive by heat lamps!
I'm also disappointed Untraceable wasn't a whodunit, either, because I was certain that Beardy, an otherwise totally superfluous cyber-division lackey, would be the killer, or at least a red herring. Just look at how shifty he is:
In the end, Untraceable is a dim, risible enterprise, sleazily embodying the things it's pretending to condemn. Like a lot of cautionary tales about technology, it has a silly "You kids get off my lawn!" quality, but it would be easier to laugh it off if it didn't feature things like cat torture for our supposed edification. If you want a quick window into the film's ethos, I'd encourage you to visit its official website, killwithme.com. Presented with the same interface as site visitors in the movie, you're given a final out after pressing "Enter": "Warning: Visiting this site could cause harm to innocent people. Do you still want to enter?" Being the morally upstanding type, I naturally said "No," which leads to a screen that says, "11% of you heeded the warning. Thankfully some of you have morals."
I have morals. Therefore, I hated Untraceable. The other 89% of you can rot.
How much of the experience wasn't a total waste of time?: About eight minutes or so. The clip explaining the killer's technical wizardry is just the sort of abstract-sounding gobbledygook that keeps bringing me back to the cyber-thriller, despite the Paul Reda buzzkill. And the following clip, in which Lane's OnStar system betrays her, is about as raw an expression of irrational techno-phobia as you'll ever see.