This election season has often felt like one long farce, so it's only natural that some new election-based comedy would emerge in its wake. Enter: D4VE. The robotic lead of two past miniseries is back for a third with the debut of D4VEOCRACY in January, and after saving the world multiple times, D4VE is planning to use that heroic reputation to become Commander-In-Chief. The original D4VE creative team of writer Ryan Ferrier and artist Valentin Ramon reunites to chronicle D4VE's wacky sci-fi high jinks on the campaign trail, and this week's final issue of their Hot Damn miniseries teases D4VE's return in this new title.
"Yes, it's true…we're back," says Ferrier. "After a quick excursion to hell in Hot Damn, Valentin and I are back on 34RTH to rejoin D4VE, his son, 5COTTY, his ex-wife, 54LLY, and other familiar robot faces. Joining the cast are two new characters so wild, we wouldn't dare spoil it. I guarantee, however, that D4VEOCRACY will take everything we know and love about D4VE—the heart, the humor, and the action—and amp it up to a vajillion."
Ferrier and Ramon's creative chemistry gets stronger and stronger with each new project, and it will be exciting to see how they approach D4VE's world after spending some time away to work on Hot Damn. The central character has already gone through a significant personal journey in past stories, but as this real-world election cycle has revealed, running for office represents a whole new set of challenges. "[D4VE's] thwarted alien invasions, survived a plunge into fatherhood, endured the worst possible mid-life crisis, and travelled back in time to face his inner demons," says Ferrier. "Moving into a brand new story arc, Valentin and I were committed to taking D4VE somewhere he's never been, while building him into the hero he knows he can be, all while telling a relevant, relatable, hilarious story. So D4VE's running for president."
"We're beyond excited and indescribably thrilled to continue D4VE's story with IDW," says Ferrier. "No punches will be held, no limits are in sight, and every vote counts. This is the D4VE story we were destined to make. Hold onto your butts." Reader curious about D4VE and company can check out the first two miniseries, D4VE and D4VE2, in collected editions, but reading those isn't required to enjoy D4VEOCRACY. The new book hits stands in January, and IDW has provided The A.V. Club with covers and promo art to whet readers' appetites for the winter release.
G/O Media may get a commission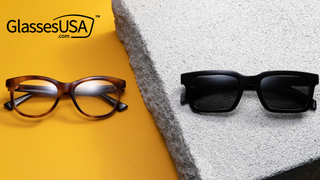 60% off frames
GlassesUSA.com Back to School Sales