Remember when Scarlett Johansson was this close to starring in a film called Rub & Tug, where she would have portrayed the story's trans subject, Dante "Tex" Gill? It may have been a few ScarJo controversies ago, but the resulting backlash from that near-catastrophe was significant. Amid protests from LGBTQ+ advocacy groups and a general public that understands the multiple issues surrounding cisgender actors usurping transgender roles, Johansson ultimately removed herself from the project. But she didn't bow out before making at least one snarky remark, responding to critics, "Tell them that they can be directed to Jeffrey Tambor, Jared Leto, and Felicity Huffman's reps for comment." Because nobody vocally expressed any dissent when it came to those award-winning actors, you see.
But that was more than a year ago, and while Johansson has stepped her foot in it numerous times since then, she's beginning to feel that maybe—just maybe—being so dismissive of the issue in the beginning wasn't the best call. In an interview with Vanity Fair's Chris Heath, the Marriage Story actress addressed her reaction to the backlash:
"In hindsight, I mishandled that situation. I was not sensitive, my initial reaction to it. I wasn't totally aware of how the trans community felt about those three actors playing—and how they felt in general about cis actors playing—transgender people. I wasn't aware of that conversation—I was uneducated. So I learned a lot through that process. I misjudged that… It was a hard time. It was like a whirlwind. I felt terribly about it. To feel like you're kind of tone-deaf to something is not a good feeling."
When Heath attempted to to make the connection between this instance and her vocal support of Woody Allen, that her willingness to speak to one irresponsible moment might cause people to bring up all the others, Johansson responded,"It feels like a snake eating its tail, doesn't it?" Well, sure. It may also feel a lot like a call for consistent accountability from those with long enough memories, but we suppose that depends on your outlook. She does end up expounding on her support of Allen—that is to say, she doesn't walk it back in any way, but she understands how it can make folks uncomfortable. Heath writes:
"I don't know—I feel the way I feel about it," she says. "It's my experience. I don't know any more than any other person knows. I only have a close proximity with Woody…he's a friend of mine. But I have no other insight other than my relationship with him."
We talk on about this, and I suggest that, as much as there is an argument for the validity of her voicing her own experience, one of the things that makes some people uncomfortable with an opinion like that being expressed is that she is also effectively saying, in 2019, to a woman who has spoken out: "I don't believe you."

"Yeah," she says, and that single word hangs there for a while. "I do understand how that is triggering for some people. But just because I believe my friend does not mean that I don't support women, believe women. I think you have to take it on a case-by-case basis. You can't have this blanket statement—I don't believe that. But that's my personal belief. That's how I feel."
G/O Media may get a commission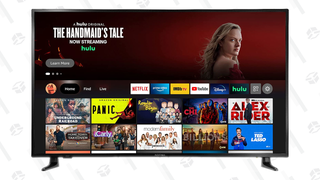 38% Off
Insignia 50" 4K UHD Smart TV
In any case, she deeply regrets the way she navigated that one specific instance. As for the whole Allen mess or standing by her choice to play the Japanese lead in Ghost In The Shell, well... maybe she'll find the time to reflect on both situations by next awards season.
Update: Additional passages regarding Johansson's current stance on her friendship with Allen were added for additional context.