[Spoilers for Game Of Thrones season eight, episode five below.]
While the eighth and final season of Game Of Thrones has been a visual marvel, it's been skewered, Euron-style, by the Valyrian steel pens of its critics. Last night's penultimate episode, "The Bells," is currently the worst-reviewed episode in the show's history, its shoddy storytelling failing to match Miguel Sapochnik's thrilling direction. A cursory scroll through Twitter will reflect a viewing populace surprised by this arguable dip in quality, but one wonders if we shouldn't have been more prepared. The performers, after all, seem as if they were trying to warn us.
One YouTuber has compiled a solid three minutes of interviews with cast members and author George R.R. Martin himself, all of which can be viewed a bit differently now that we're nearly finished with the final season. Emilia Clarke's pained delivery of "best season ever" in the below clip, for example, reads not as run-of-the-mill awkwardness now, but rather a valiant attempt to swallow the frustration swirling behind her smiling grimace.
Others didn't even offer that much. When asked to sum up the finale in one word, a straight-faced Kit Harington called it "disappointing." Presumably remembering all the zeroes on his paycheck, he half-heartedly course corrects: "Epic, I dunno, one of those." Liam Cunningham, who plays Davos Seaworth, responded to a similar question with an awkward, knowing bit of laughter. Joe Dempsie, who's shined as Gendry this season, bagged on the latter season's lack of character development before saying, "I really need to shut up now."
And then there's Peter Dinklage, whose annoyance can't be masked while discussing Tyrion's choice to put women and children in the crypts during an army with the undead. "Tyrion, he's smart but I guess not that smart," he cracks. We couldn't agree more.
Martin, meanwhile, laments the foreshadowing and clues layered into early storylines that, when rejiggered, turn into nothing more than "dead ends." For any example, tune into your local Game Of Thrones message board to watch fans lose their shit over the show's defanging of nearly every prophecy. Or just wait until Martin finishes his books—Melisandre will probably make a lot more sense there.
G/O Media may get a commission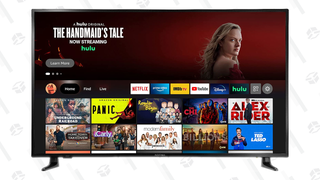 38% Off
Insignia 50" 4K UHD Smart TV
At least one person will come out and say it: Conleth Hill, whose Varys perished on last night's episode, admitted in an interview with Entertainment Weekly that "the last couple seasons weren't my favorite."
"Last season and this season there were great scenes, and then I'd come in and kind of give a weather report at the end of them—'film at 11,'" he continued, speaking of his character. "So I thought he was losing his knowledge. If he was such an intelligent man and he had such resources, how come he didn't know about things? That added to my dismay. It's now being rectified with getting a great and noble ending. But that was frustrating for a couple seasons."