Here's what's up in the world of TV for Friday, April 24, and Saturday, April 25. All times are Eastern.
Top pick
Other Space (Yahoo): Sure, sure—this sci-fi comedy series premiered on Yahoo last week, but we've needed time to gather ourselves from the collective comedy geek coma Other Space sent us into. Seriously, the creator of Freaks and Geeks (Paul Feig) teams up with two of the guys from Mystery Science Theater 3000 (Joel Hodgson and Trace Beaulieu)—and Beaulieu (that's Crow T. Robot to you) is voicing another weird space robot? Even the gleefully low-rent sets look like the Satellite Of Love! Our own Molly Eichel has taken a knee, caught her breath, and banged out the first of her weekly reviews of this eight-episode series about the inexperienced and hilariously dysfunctional young crew of a ship lost in an alternate universe, just for us. Why, it's almost like some sort of puppet-based space holiday around here!
Also noted
Grimm (NBC, 8 p.m., Friday): Nick and Hank investigate a homicide supposedly linked to a monstrous coming-of-age ritual. Les Chappell suggests checking the body for $30 checks from the victim's grandma with the memo line "For murder!"
Comedy Bang! Bang! (IFC, 11 p.m., Friday): Lil John stops by to rap with Scott and Reggie. "Rap," meaning "talk informally." It's Lil John—just wanted to be clear. Also, Tom Green is in there somewhere, so LaToya Ferguson imagines this episode could be a huge, sloppy mess. Or genius. She'll let us know.
Childrens Hospital (Adult Swim, 11:59 p.m., Friday): Ken Marino's Dr. Glenn Richie plays Cyrano to help Rob Corddry's clown doctor win over a woman. LaToya Ferguson hopes the lady likes greasepaint and medical incompetence.
G/O Media may get a commission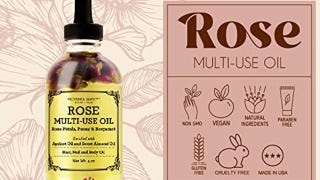 Provence Beauty Rose Multi-Use Oil
Orphan Black (BBC America, 9 p.m., Saturday): Caroline Framke was impressed with how last week's premiere laid out all the sometimes-tangled storylines from last season with clarity, as Sarah and the clone gang delve deeper into the mystery of their mysterious male counterparts. Can the show keep juggling its labyrinthine conspiracies straight? Well, it certainly has enough Maslanys to do the job.
Outlander (Starz, 9 p.m., Saturday): Saturday's reputation as haven for kickass female protagonists (and kickass female reviewers) continues as Kayla Kumari Upadhyaya tracks the progress of Caitriona Balfe's Claire Randall as she copes with being a modern woman displaced in time to the land of kilts, hunky Scotsmen, and serious misogyny. This week, Claire and Jamie head for Jamie's ancestral home, only for his resentful sister to ruin their plans for rustic romance.
Elsewhere in TV Club
If you know one thing about us here at the A.V. Club, it's that we are an ornery bunch o' so-and-sos. So there should be no surprise that some of us have stubbornly refused to check out some undoubtedly respectable pop culture out of sheer spite. Check out this week's AVQ&A to see what we're denying ourselves for reasons that some people know quite well, thank you very much. Then, because we're also a morbid bunch, Jesse Hassenger's Watch This continues this week's focus on the last films of actors who died too young, giving another look to Brandon Lee's ill-fated turn as The Crow. After that, let Ryan Vlastelica disillusion your mom, exploring the complicated, troubling, downright racist Gone With The Wind in his For Our Consideration.
What else is on
NBA Playoffs:

Rockets at Mavericks (ESPN, 7 p.m., Friday)

Raptors at Wizards (ESPN2, 8 p.m., Friday)
Clippers at Spurs (ESPN, 9:30 p.m., Friday)
Hawks at Nets (TNT, 3 p.m., Saturday)
Bulls at Bucks (TNT, 5:30 p.m., Saturday)
Warriors at Pelicans (ESPN 8 p.m., Saturday)
Grizzlies at Trail Blazers (ESPN, 10:30 p.m., Saturday)
Stanley Cup Playoffs:
Most matchups are still up in the air. You know how to find ESPN, right? Good.
Parks & Recreation (Esquire, 8-10 p.m., Friday): Maybe after a few drinks, these mini-marathons will look like new Parks & Rec episodes all over again. "Oh, that nice Mark Brendanawicz—can't wait to see what he gets up to as this great new show goes on, etc."

Bruce Jenner: The Interview (ABC, 9 p.m., Friday): Wherein the delicate question of gender identity is turned grotesque public spectacle through the taint of all things Kardashian. Diane Sawyer is your ringmaster for the evening's entertainment, interviewing former Olympian turned reality show punchline Jenner.
The Messengers (The CW, 9 p.m., Friday): After discovering that they're actually angels, the five survivors of that mysterious energy pulse find out they have to defeat the horsemen of the apocalypse. Tough day.
Bitten (Syfy, 9 p.m., Friday): "Both the pack and the coven suffer heavy losses," according to the synopsis, meaning only one thing—werewolf/witch war!
Jim Norton: Contextually Inadequate (Epix, 10 p.m., Friday): New standup special from the irascible Norton, whose fearless honesty about himself (and everything else) is equal parts uncomfortable and endearing. A.V. Clubber Daniel Berkowitz is suitably impressed—and maybe a little uneasy.
Lost Girl (Syfy, 10 p.m., Friday): The two-part fifth season premiere continues as succubus Bo tries to suck enough life force to keep the forces of evil from simply sucking.

The Grace Helbig Show (E!, 10:30 p.m., Friday): Comedian Helbig continues to pull in her cool pals, bringing in Paul Scheer and Abby Lee.
Vice (HBO, 11 p.m., Friday): This week on the humorless Daily Show: the misery wrought by both anti-immigration law in Alabama and squandered earthquake relief in Haiti!
Andrew Dice Clay Presents The Blue Show (Showtime, 11 p.m., Friday): Noted "I'm only kidding" racist, sexist, homophobic standup Clay presents a handful of potty-mouthed comics who, presumably, worship him as their god.
The White House Correspondents Dinner (CNN, 7 p.m., Saturday): Cecily Strong says, "Oh, I'm not good enough to deliver watery political material next to that smirky little Jost guy on Weekend Update, huh? That's cool—I'll just do political material as the guest of honor of the President of the Freaking United States! Strong out!" [mic drop]
When Calls The Heart (Hallmark, 8 p.m., Saturday): Second season premiere of this Canadian series about Erin Krakow's schoolteacher adapting to life in a 19th century coal town.
'Til Death Do Us Part (Lifetime, 8 p.m., Saturday): Keeping its proud tradition of empowering women by teaching them that all relationships are secret deathtraps and all happiness is a cruel lie, Lifetime brings us Haylie Duff as a dreamy-eyed newlywed whose perfect doctor husband may—hold on for this—have dark secrets. And, just because it never gets old:

Lake Placid Vs. Anaconda (Syfy, 9 p.m., Saturday): On Syfy's newest mashup of bargain-basement monsters, it's lake against snake! Wait, but if it's a clash between the monster from Lake Placid, then it's crocodile vs. anaconda. Unless—do the filmmakers think that the crocodile's name was "Lake Placid the crocodile?" Because that was not the case at all. Could someone watch this and report back—there are just so, so many questions going on here.
Tatau (BBC America, 10 p.m., Saturday): Cook Islands-set mystery series continues, as one of the British tourist heroes tries to determine the meaning of his new tattoo by tracking down a beautiful woman with a mysterious tattoo. It's a whole tattoo thing.
World Championship Boxing: Klitschko-Jennings (HBO, 10 p.m., Saturday): These guys are a combined 82-3, professionally, which leads us to believe they are very good at beating people up without being beaten up themselves.
In case you missed it
The Vampire Diaries: In the latest episode, people are becoming vampires, vampires are becoming humans, dogs and cats, living together! Carrie Raisler gives all the chaos a B+.
Louie: Michael Rapaport's appearance makes for another Louie guest star Emmy bid as Louie's long-avoided cop ex-almost-brother-in-law. Brandon Nowalk calculates the odds.