The cast of Jane The Virgin is on the job hunt in "Chapter Seventy-Five," but before they can move forward, they need to decide on what they really want. Jane wants to be a writer, but when her lifestyle book with Petra is shelved because of Petra's murder charges, she gives teaching another shot. Rafael is looking to get back into real estate, but shady dealings in that sector force him to find another way to take advantage of his strengths. Xiomara's career confusion inspires her to check out some classes at the local community college, but academia isn't especially welcoming for a middle-aged woman who hasn't been in school for decades. And then there's Rogelio, who is desperately trying to get the American adaptation of The Passions Of Santos greenlit without River Fields as his costar.

Jane's always had this dream of publishing her first book, but her life hasn't changed the way she thought it would when she hit this milestone. Now what? She quit her job at The Marbella because she had the lifestyle book in the works, and she doesn't want to go back, especially if it means taking a job away from the person who took her position. She decides to fall back on her teaching experience, and she reaches out to Professor Donaldson about some potential leads. Turns out there's a job opening at Southern Miami University, but Donaldson's connection is Jonathan Chavez, Jane's former teacher and advisor. The last time they saw each other, Jane broke down in tears at the prospect of losing her virginity to him, but her conversation with Chavez isn't awkward. He's a professor who wants to help a former student, and he's eager to give Jane a new opportunity.
Jane's story takes a twist when she discovers that Chavez is in a romantic relationship with one of his grad students, which completely changes how she looks back at their past. She learns that Chavez has a history of being romantically involved with his students, and Jane doesn't know how to proceed with this information. Jane wants to tell the student about Chavez's history, but she also doesn't want to get involved in this situation given that a potential job is wrapped up in it. This is an important storyline for the #MeToo era, looking at the challenges women face in communicating about sexual misconduct. Jane is concerned about how this could affect her job placement so she tries not to engage, but she can't stop seeing herself in Marissa's shoes. There's also not a firm policy about student/teacher relationships at the university, and without institutional support, Jane has to decide for herself whether or not this a predatory situation.
G/O Media may get a commission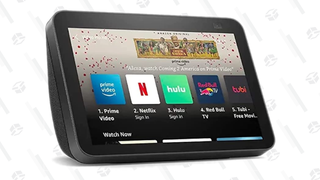 In typical Jane fashion, things go very wrong when she gets involved, and her attempt to warn Marissa comes across as flirtation. Things go from bad to worse when Jane's leg cramps up and she falls forward, accidentally grabbing the student's breasts. Jane ends up in the office of a university administrator with Chavez, where she defends herself while giving Chavez hints that she knows what he's been doing and doesn't think it's OK for him to use his position of power to attract students. This experience reinforces Jane's disinterest in being a teacher, and she decides to commit to the things she's sure about. She loves writing and she loves Rafael, which is why she's done keeping their romance a secret at the end of the episode.
After directing "Chapter Forty-Seven," Eva Longoria returns to Jane The Virgin to play herself in Rogelio's storyline this week. Of all the women on Rogelio's list of dream costars, Longoria is the only one that gets network executives more excited than his new nemesis River Fields, and after discovering a distant familial bond, Rogelio is able to secure a meeting. The very pregnant Longoria has a lot of fun in her guest appearance, and she fits right into the world of this series. She gets to play a more exaggerated version of herself, and matches Jaime Camil's diva levels. Their collaboration prospects peter out when they find out that they're direct cousins rather than five times removed, and they can't play a convincing couple in their screen test.
There's a lot of meta commentary in this episode about adapting telenovelas, framing narratives, and the use of a narrator to sell magical realist stories. I appreciate a good wink—which is why I loved Eva Longoria's literal wink to the camera—but this aspect of the script feels like the show patting itself on the back by calling attention to the craft behind storytelling decisions. It does tie in well with the story, though, and the show is engaging in the type of academic analysis that Jane and Xiomara are dealing with on campus. Jane fares much better as a teacher than Xo does as a student, and an art history class makes Xo feel inferior and ignorant when she's called upon to comment on a subject she knows nothing about. College isn't right for her, and she wants support from Rogelio that she's just not getting. He's so wrapped up in his work and Baby that he's forgotten about Xo, and his behavior may have pushed her into the arms of another man given this episode's cliffhanger.
A lot happens off-screen in this episode, and while this might be the writer reinforcing the frame narrative theme, it does feel like important plot points are getting glossed over to progress a larger story. We see Rafael's interview with a grimy seller of timeshares, but his experience with the investment group of a new hotel is never shown. At the end of the episode we find out that he was cut out of a deal and the venture capitalists took advantage of him, and it's hard to be invested in this plot when it's pushed into the background. At the same time, I don't know if I want to watch a bunch of scenes of Rafael trying to appeal to investors, but if this is going to be his plot, it should be more developed.
The Petra/JR story also suffers in this regard, although there's much more there for the viewer to latch on to. JR comes clean about her duplicity when Petra is arrested, and she reveals that she's being blackmailed for tampering with evidence on a previous case. Petra is furious and threatens to have JR disbarred, but she eventually realizes that the only way to find out the blackmailer's identity is to use JR's connection. To prove her loyalty, JR has to find a way to make the planted balcony screws inadmissible in court, and JR does all of that off screen. With both Rafael and Petra, there are interesting plot elements that are introduced and then quickly dismissed. The screws don't feel important, and while I'm sure they'll come back into play later, this episode could have mined more tension from this plot point (and shown us more of JR on her own). This chapter packs in a lot of story, but it doesn't have the fullness I expect from this series.
Stray observations
Gina Rodriguez was so good in Annihilation and it makes me very sad that this movie wasn't a bigger success. A smart, beautiful, personal sci-fi story with an amazing cast of actresses. Rodriguez's character is a severe departure from Jane, and while she gets the opportunity to play a range of types in this show's fantasy sequences, it's exciting to see her commit to such a different character in a more substantial way.

I would watch Rogelio with any of the Desperate Housewives, but especially Alfre Woodard, which is why it's a bummer she has no interest.

Alba doesn't do anything this week except make it very hard for Jane and Rafael to keep their romance a secret.

Jane should turn the keyboard clicking off her phone when she's hiding in a closet.

"I'm going to get you off, Petra."

Rafael: "Maybe I'll start putting out some feelers." Rogelio: "No, don't! Fillers are a terrible idea. They've disqualified half the actresses on my list."

"First of all, there was no bippity boppity. Secondly, no one has ever called it that."

"I assure you, I will explode with any of the ladies on my carefully curated list."

"Did she just call her unknown relative a 'relative unknown'?"