Although he's among the most prolific, successful songwriters of his generation, Jimmy Webb has remained something of a cult figure as a solo artist. Raised by a Baptist minister and former Marine in rural Oklahoma, Webb studied to be a church organist while sneaking out to play in rock 'n' roll bands at night; his dual life fed into the psychedelic classicism of "MacArthur Park." That seven-minute, multipart single, orchestrated by Webb and sung by Irish actor Richard Harris, broke barriers when it charted in 1968, earning Webb a lifetime of ridicule for its orchestral ambition and oblique lyrics. Within a few years of landing his first song on a Supremes Christmas album, Webb wrote hits for the pop-soul vocal group The 5th Dimension ("Up, Up and Away") and country crooner Glen Campbell ("Wichita Lineman," "By the Time I Get to Phoenix"); "MacArthur Park" and "Phoenix" were hits twice over when they were rerecorded by Waylon Jennings and Isaac Hayes, the latter turning Webb's poignant ballad into a sultry oratorio. Webb's career as a recording artist began in 1970, but none of the albums he released over the next four decades came close to equaling the success of the songs he'd written for others. Even so, his songs new and old continued to be recorded by major artists, from Linda Ronstadt to Joe Cocker to Donna Summer, whose disco-fied "MacArthur Park" gave Webb his first No. 1 hit.
Sharon Stone made a fraction of what Michael Douglas did for "Basic Instinct"
For his new album, Just Across The River, Webb joined forces with artists who've recorded his songs over the years to present a new take on his own back catalogue. Willie Nelson drops in to share vocals on "If You See Me Getting Smaller," originally recorded by Waylon Jennings; Lucinda Williams lends her mournful croak to the anti-war ballad "Galveston." Ronstadt, Campbell, Vince Gill, and Jackson Browne add their voices as well, the latter on a version of the meta-pop meditation "P.F. Sloan." While the album is unlikely to return Webb to the top of the charts, the group-effort approach crystallizes Webb's skills as a writer who can span many genres without losing his sense of musical identity, and one who still attracts some of the world's most mellifluous voices. On the phone from his home in Oyster Bay, New York, Webb recently talked to The A.V. Club about pulling Linda Ronstadt out of retirement, why he doesn't care what people think about cake in the rain, and why he's talked to all of America's 4 million amateur songwriters.
The A.V. Club: You were raised by a Baptist minister. Were there restrictions on the kinds of music you were exposed to as a kid?
Jimmy Webb: We were Southern Baptists. This was the right wing, the Baptist Church in the South. Among other things, we weren't allowed to dance. As you know, the rock 'n' roll music of the '50s and '60s—what was it about? It was about dancing. Even the schools had dances. After school, we had—and I'm sure you may have heard this rather archaic word from some other geezers like me—we used to have things called sock-hops. This was almost your only chance to really get up close to the opposite sex. Otherwise, life was fairly well regimented. So being close to girls was a rather difficult thing to accomplish. But at a sock-hop, you could do it right there in front of everybody, hold hands and dance. I wasn't allowed to go. My father informed the school that I wasn't allowed to go to sock-hops. As we grew up, I watched my sisters sit on the porch and languish, listening to the music from Teen Town blasting down the main street of Cheyenne, Oklahoma and realizing that there was, unfortunately, a real void in their lives that would never be filled. There was nothing unhealthy about a kind of introductory flirtation with members of the opposite sex. It was the other thing that was unhealthy.
G/O Media may get a commission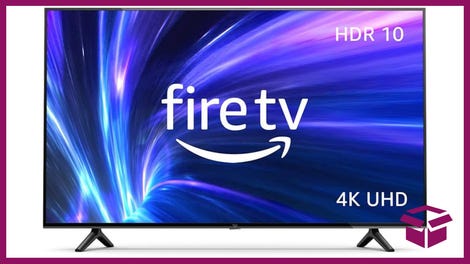 42% Off
Amazon Fire TV 50" 4K Smart TV
I grew up actually sneaking out the back door of the Baptist parsonage to go play with the band down at Teen Town, and everyone was sworn to secrecy to not reveal that I had been there. There was one night in particular at First Baptist Church Colton when I moved out to California, when I had my secret, my covert rock 'n' roll band in the church rehearsing at about 1 or 2 o'clock in the morning, and my excuse was to say I was spending the night with a friend. And we even had—horrors!—girls there, and we had the Hammond organ cranked up, and we would do some funky music. We covered records: Otis Redding, Sam & Dave. Some of the neighbors around there called the cops, and the cops came down to see who was having a jam session in the Baptist church. It turned out to be the preacher's son. That, they did not believe. So they called my dad. My dad came down there in the middle of the night in a bathrobe. And he was pissed, man. To say that we disagreed on musical issues would be a gross understatement.
AVC: What was Teen Town, exactly?
JW: Teen Town was something that was put together by local churches and people a little bit higher on the food chain. The Methodists, the Presbyterians, and some of the social organizations like the VFW had put together a statewide program of little nightclubs for teenagers to go to. You had a Teen Town card. There was no alcohol. You went in. There was rock 'n' roll, and you could cohabit, as it were, with the opposite sex. You could speak to them. You couldn't do anything to them, but you could spend some time with them, which I think was a very, very good thing.
AVC: So how were you exposed to music? Did the music you heard in church have an influence down the road?
JW: I got it any way I could get it. I loved church music, actually, and my father listened to music incessantly. He listened to big-band records, which were kosher for some reason, even though they were all about kissing and hugging and smooching and "I'm In The Mood For Love." I mean, that's got to be one of the most overtly sexy songs ever written. All those things were cool, but not Elvis. And he listened to a lot of white gospel music. He listened to Thomas "Fats" Waller, who was a great jazz piano player. Tommy Dorsey: He was a big fan. In fact, my brother Tommy and I—I'm pretty much sure of this, even though he's never officially admitted it to me—I really have a conviction that Tommy and Jimmy Dorsey were the namesakes for my brother Tommy and I. They were very popular at the time. The only person as popular as them was Mickey Mouse. I think I had a narrow escape with "Mickey." [Laughs.] Not to offend any Mickeys out there, but it wouldn't have been my choice. It was a strange environment, because it was full of contradictions. I think I grew up sort of incorporating those contradictions and saying, "Okay. Well, I'm going to do my best in church." I became church organist by the time I was 12 years old. That's what my mother wanted me to do. Some of the Baptist hymns were among the loveliest airs you could possibly imagine. "I Will Arise." These Appalachian, Celtic-derived tunes, which are so elegant and moving, sometimes even dark. "Jesus, Savior, Pilot Me." Some of these songs, you know, they are with me still. I will never kick them, because they get you at an early age, and you start singing these songs, and they are intertwined in your DNA after a while. But I think it worked out for me, because in my teens as a pop writer, I was pulling on some of that, particularly that Celtic influence, and I was incorporating it in my music. I was exposed to a lot of different kinds of stuff. My father played the guitar himself. He would sit and strum and play "Red Sails In The Sunset" and "Harbor Lights" and all the old World War II ballads. I know the music of my father's generation almost as well as I know my own. The primary, unresolvable conflict: How do you take the sexuality out of big-band music? That was the conundrum. How so you sanitize some of those songs? That's where the confusion is.
AVC: "Harbor Lights" was one of the first songs Elvis cut at Sun Studios.
JW: Yeah, I can hear [Elvis] singing it. He would have loved it, and he would have grown up with it like I did.
AVC: And he obviously listened to gospel music.
JW: Gospel quartets were Sunday-morning, full-blast blaring—guys like Jake Hess & The Imperials, who were big idols of Elvis and The Oak Ridge Boys. We used to go to all-day singing at the Oklahoma Civic Auditorium and listen to—and I use this word carefully, because I mean no racist connotation whatsoever—white quartet after white quartet after white quartet all day long until we were sick and tired of white quartets. [Laughs.] The music was very rhythmic, and it was like feel-good music, and it got people— I think the idea was to rejuvenate them in their faith and make them feel good about being Christian. So in a sense, it was positive. I picked up a little bit. I wish I had paid more attention to the way they played the piano. They had some really dynamite—Hovie Lister. That was The Statesmen [Quartet]. They were the kings. Hovie Lister, man—he was one hot piano player. I wish I could have picked up more. I was off in my classical world, studying Tchaikovsky and all this stuff. It doesn't seem so important now.
AVC: You seem to have written in many different genres and styles of music. Partly that's because so many different people have recorded your songs, and The Supremes don't sound a lot like Glen Campbell. But even your own versions span a wide range of styles. You don't have a particular allegiance to one kind of music over another.
JW: I have a great curiosity. It has served me well, in one sense, because I've had access to a lot of different—[jazz guitarist] Larry Coryell was one of my best friends. Mahavishnu Orchestra was one of my favorite bands, and the jazz community really loved my songs. Maynard Ferguson recorded them. Stan Kenton. All of a sudden they felt, "Oh, wow, here's a guy who writes tunes. We can improvise on these tunes." There were a lot of records from that group. So you go from a record of a recording of "MacArthur Park" by Stan Kenton, which was a hot record, man. Boy, I think those guys left some meat on the horns that day. You go from Stan Kenton's version to Waylon Jennings' version—Waylon Jennings recorded "MacArthur Park" three times. God only knows why. Once was Waylon Jennings', once was The Kimberlys, and once on an album with Willie Nelson called WWII. So you take a leap like that, you go, "Oh my God, that's pretty unusual." I look at my whole career and my whole catalog, and I see cross-pollination all over the place. It's everywhere. Father Guido Sarducci, Don Novello, did "MacArthur Park" as well, which was pretty fun. It was pretty good. Recently, Pat Metheny did "The Moon Is A Harsh Mistress." The record I remember as the first important recording of "The Moon Is A Harsh Mistress" was Judy Collins. But it was also recorded by Joe Cocker. From the very beginning, I got these wonderful—I say crazy, but crazy-wonderful—shifts and impacts from different genres. So that part of it has all been good and well.
The negative aspect of it, the downside of it, would be that I've never been a brand. I'm not sure I would want to be a brand. I have to tell you that quite honestly, that I'm really kind of a rogue. A self-designated, very proud—a rogue, and particularly proud of the fact that I've succeeded in not being penned into a corner, or shoved into a hole where I can be easily identified as one thing or another, which was one of the great fears of my young life. I could see it happening all around me. It made me uneasy. It was like, "Oh, so you mean after you're on a television show and you play a private eye, then you can't ever do anything else but play private eyes?" I was a TV kid. I could see this stuff happening. I had a sort of inbred or at least a learned distrust of branding. So I was able to avoid that, and only narrowly, and only by walking away from a great deal of money was I able to avoid being branded as a middle-of-the-road pop writer for people like Glen Campbell and Frank Sinatra and people like that. But in today's world, branding is everything. Branding is what you want. It used to be, "Go west, young man." Now it's, "Get branded, young man." And I still don't want to get branded. I prefer my ability to walk through walls and be in different rooms and commune with different groups of deeply committed musicians, just deeply committed to different things in different ways.
So that's something I treasure. That's a gift I've had. But obviously, it's hurt me economically, because I think I could have come up with a branding strategy for my career and said, "Okay, this is Jimmy Webb's stuff, and you know what you're going to get when you listen to this." Instead, when you listen to one of my albums, there was some guy who wrote years and years ago—I think it was probably some guy in Rolling Stone, smartasses who by and large have been very kind to me, I have to say. I wouldn't want you to print that the critics haven't been very kind to me. Au contraire. I just haven't sold any records. But this guy said—he was actually starting out to write a very nice review about one of my records—"It is a known fact that the only thing that will empty a room quicker than a Leonard Cohen album is a Jimmy Webb album." [Laughs.] And it was very clever, very funny. I mean, I should be crying, but it was funny.
AVC: You could be compared to worse people than Leonard Cohen. You've always drawn from different areas of music. On the live half of Archive + Live, a concert from the Royal Albert Hall from 1972, you do half an hour of your own ballads, then follow it with a cover of Frank Zappa's "My Guitar Wants To Kill Your Mama."
JW: It's like, "Life is like a box of chocolates." It's like a Jimmy Webb album. [Laughs.]
AVC: Speaking of unexpected influences, "The Moon Is A Harsh Mistress" takes its title from a novel by science-fiction writer Robert Heinlein. Was he a big influence on you?
JW: All science-fiction writers were. They were kind of my substitute for a truly broad-based humanitarian curriculum, because, as you know or as you do not know, there is a textbook problem, a kind of deliberately slowed-down and de-sophisticated content issue with textbooks. All the textbooks are printed in Texas. Texas. Textbook. Is there anything to that? I don't know. But a lot of people aren't happy with these textbooks. The kind of textbooks I grew up with would, to put it mildly, shade the truth on some issues like why the Civil War was fought, and things like that.
AVC: You mean the War Of Northern Aggression, of course.
JW: Yeah, exactly. I was innately suspicious of the education I was receiving right up to my last year of school in Colton, California. I thought the whole thing was kind of a joke. I know why kids just go nuts and say "Screw this. I ain't going to do this anymore. I can never use this information in my life. It's just not telling me anything." I think there are people who would be more entertained and interested in a more complex curriculum. They would be more comfortable on a college level, on a freshman college level, than where they are, particularly in the intellectual subjects—philosophy, religion, and those areas, where in textbooks today, you have a smudgy line between creationism and science. These are important issues, because this is the groundwork for your whole life. This is the way you're going to look at your world and at the people who live in your world. This man that's riding next to me on the train: Is he descended from chimpanzees or not? There's a devaluation of our educational system, because we dodge some of the important issues instead of meeting them head-on. That will not make big fans for me out there, certainly. But again, that's me. I don't brand. I just call it like I see it.
AVC: So science fiction was a way of broadening your horizons?
JW: It was a way of really stepping into a new curriculum, and it was full of imagination and truth and science, and science as religion, and in the work of Heinlein, the truth about politics. Probably the prettiest writer of all those guys was Ray Bradbury, who I really learned a lot from about writing beautiful prose, choosing words. I would sometimes find words and go, "Oh, that's a lovely word. I just don't have a clue what it means," and I'd get out my dictionary. So really, science fiction provided an impetus and an inspiration to get into the thesaurus and look at all these different meanings and similarities between words, and then to fall in love with the word game, as my friend Artie Garfunkel might put it, which is the greatest game of all. To me, that's what school should be about. So science fiction was really my way of circumventing that.
The Moon Is A Harsh Mistress is one of Heinlein's attempts at reactionary politics, almost tinged with a little communism. It's all about workers' rights. Do the workers on the moon have the right to create their own independent state? In some sense, it's kind of a pageant of the American Revolution, but it's set in the future, and the moon has become the American colony, and the Earth is now the fat cat, English barons and earls and kings who are holding them under their thumb, under this corporate banner. He didn't care much for corporations, Heinlein. But it was just more the title. It was this beautiful thing that wafted through my head, and I thought, "One of these days, I'm going to end up writing that. I wonder what I should do." I actually contacted his estate while he was still alive, and I said, "I'm a great fan of Mr. Heinlein's. I'm writing a song about love. There's nothing offensive about it. I love this title, and I'd really like to use it in the song. But I'd like to know that I'd have his blessing." He had kind of a reputation as a curmudgeon, and they called me back in a couple of days and they said, "He said, 'Do whatever the fuck you want to do with it.'" [Laughs.] So I just went ahead wrote it.
AVC: So you did whatever the fuck you wanted.
JW: [Laughs.] I tell you what, that's the breed I miss, though. Those are the guys I miss. We've become this nation of yes-men. It's tough. My album Twilight Of The Renegades was really dedicated to the demise of the snarky, horny, prickly individualist who would take anybody on. The Diamond Jim Bradys and the Howard Hugheses, you know? I think we lose something when we lose that character from our national fiber. It's not just saying "Oh yes, I guess it must be true, BP is doing their very best."
[pagebreak]
AVC: How is writing a song under your own steam different from when you get a commission from someone, like when Glen Campbell calls you up and says, "Write me a song about a town." Do they all end up being yours in the end?
JW: I could address that particular instance, because on that day, I said, "I don't know whether it would be about a town or not, but I'll try to make it geographic. I felt like it would be too much on my head to write it about—well, actually visiting another town, whatever. Hence "Wichita Lineman" came into being. It actually came into being on that day.
AVC: In a few hours, right?
JW: Yeah, a few hours. The fact is, 95 percent of the songs I've written in my life, I've written for myself. I haven't written for myself in the selfish way, "I'm going to go out onstage and sing this song." I've written them in the sense that I quietly question myself and write a song, and it came from me and from my feelings about things, and it wasn't tailor-made for another artist. I was fortunate in that I found a few of those artists who were interested in my songs. And so in some sort of strange "Which comes first? The chicken or the egg?" paradox, I became known as someone who could write songs for artists. But my terrible little secret is that I was never very good at writing songs for artists. I wrote a song for Waylon Jennings called "If These Walls Could Speak," and it ended up being recorded by Amy Grant. I would have been a fool to deny that I was capable of this modern-day alchemy—creating hit songs for their artists. "Wow, let's sign him up tomorrow!" But the truth was, I really wasn't very good at it.
I was lucky. I've never been very good at collaborating. I hesitate to go into that, because I think it has to do with the isolation of my youth, and the fact that I learned to live within my own body at a very early age, and put up my walls and defenses, and put them up extremely well in order to survive. My mother died when I was 16, and I went into a world that was essentially hostile. So I have my defenses in place. At this point in my life, it's very hard for me to sit down with someone I don't know and drop all that protectionism of who I really am and how I feel about shit. And in a half-hour, hour, just expose—you've got me thinking about it. I think there's quite a bit of protectionism involved. It's like "I know how to do this. I've learned how to do this. It wasn't easy to learn how to do this. I made many, many mistakes learning how to do this." And it's arcane knowledge. It's nothing you can really buy in a book—with the exception of my book, of course. [Laughs.] It's nothing you can really go in and purchase a guide to writing a hit, or even a good song. I try to help people as much as I can in my book Tunesmith, because they constantly come to me and want help with their songs. A lot of songwriters out there. Twenty-five or 30 years ago, it was estimated that there were 400,000 amateur songwriters in the United States. There must be 4 million now. So there's a lot of people. I think I've met most of them.
When it comes to collaboration, I think part of what I'm fighting with is protecting my own secrets, the things I've learned that I don't want to just give away. So there's a lot that prevents me from just being a commercial songwriter. There's nothing wrong with that. I'm not knocking it. I wish I could be, because that's where the money is. I wish I could go down to Nashville and crank out a few songs every month, and I wish that would pay the mortgage, because then life would be a lot easier. But for some reason or another, writing songs has been harder or more difficult. It's like the tectonic plates. It's like pressure builds up to a certain point where that song has to be written. "Paul Gauguin In The South Seas" was the last song on Judy Collins' new album Paradise, which came out the same day that mine came out. It's a relatively new song for me. Eventually, the hypocrisy and pollution and outright duplicity of modern civilization—it builds and builds and builds and builds and builds. And finally, in this character of Paul Gauguin, who I admired so much, who broke away from 19th-century or early-20th-century Paris and went to Tahiti—that's action, man. That's doing something about it. That's not just sitting around going, "Oh gee, I wish they wouldn't act that way." That's kind of what the malaise is.
You've got millions and millions of people sitting around like, "Gee, I wish these people wouldn't act so… I wish they'd tell us the truth. I wish they they'd tell us why we're really in Iraq." We don't hit the street. Nobody does anything. At any rate, when it reaches a certain breaking point, that song is born. It's almost a painful process to pour this all out, all this accumulated frustration. I think as I get older, moreso, I'm less enchanted with technology and how some little widget I can put in my head is going to change my life and make the world a better place. If you can believe that, I've got an oil rig I'd like to sell you down in the Gulf of Mexico. I don't believe it. I don't believe an iPad is going to make my life better. It's more basic than that, I'm sorry. It's more about the starving children in Africa. Is it going to make their life better? Because my life can't be better unless their life is better. I'm sure they would fire right back and say, "Well, it is going to make their life better," because that's their job, is to manufacture bullshit. And it's my job to say that they're full of it. That's where I'm headed with my next album. It's going to be all new music. It's going to be about the hypocrisy of our way of government and life. It may not sound very cheerful. It's really going to be loads of fun. [Laughs.]
AVC: The back-and-forth that you're talking between writing songs, which is a form of self-expression, and then not wanting to reveal too much about yourself, plays out in a song like "MacArthur Park." People have called it incomprehensible; they can't figure out what the cake is doing in the rain. But it's based on a place you went, a relationship you had, and things you saw. It seems like a lot of the details in it are fairly straightforward, at least to you.
JW: Sam, I thank you for that. You are a gentleman and a scholar. Yes, it is, for the most part, a quite detailed song that's very linear. It's just that there were a couple of lines that get under the skin of a certain group of people, and it rankles them, because they think I'm deliberately tampering with them. I'm not. I was just a kid. I was like 18, 19 years old, writing this thing, pouring it out, a victim of Dylan Thomas. Just pouring out these lyrics, hoping that somehow the end result would be greater than the sum of its parts, which is one of the great hopes of the poet, is that somehow this mess will magically organize itself into a great work of art. So much of poetry is that, and I think I was much more the poet then than I was the lyricist. If I had to go back and do it all over again, believe me, I would go back and change it to something else. But it's too late. Just the other day, I had a Ph.D. write me and say, "I would like you to know, Mr. Webb, that as much comfort as this may be to you, that I am a Ph.D. of Letters—" at somewhere. I'm not going to say the university. It was a big university. And he said, "I'm the head of the English Department. I am the Dean. I have been listening to the lyrics to 'MacArthur Park' since I was 6 years old. They have always made exquisitely perfect sense to me. Yours truly, Dean so-and-so." [Laughs.] It's like he just wanted to get his shot in. He just wanted to say, "Look, it makes sense to me." It's interesting. You know what? Sometimes I have felt badly about it because some people have reviled it so terribly—Dave Barry, among others. Somebody said he had recanted in his column. He took it back, and said, "Well, it wasn't the worst song in the world."
AVC: Another backhanded compliment.
JW: I don't care. It has made so much money for me. He should have a tiny percentage of the money that it has made for me. I still feel good about it. It's seven and a half minutes of classically influenced music that actually moved through several different movements and built to a cataclysmic ending, almost in the Russian romantic style. That was quite something to put on the radio in the '60s. You can quibble all day about the cake in the rain, but stand back and look at the record we made. I'm glad that we did it, and I'd do it again.
AVC: The lyrics to "P.F. Sloan" are especially poignant. You use Sloan, the writer of songs like "Eve Of Destruction" and "Secret Agent Man," as a flesh-and-blood metaphor for the transience of pop stardom. How did you end up writing about him?
JW: Well, I was writing about a friend. It's about a real person, and after I say that, I have to immediately address that probably in retrospect, I should have called him up and said, "Dear Flip, I'm writing a song about you. I hope it's okay." Either because I was stoned, or I was obsessed with creating this thing and wanted to hear it and see it out there, to my great embarrassment, I never actually got around to getting that phone call made, so I think he would have a legitimate claim to sue me. Don't give him that idea, because I have enough problems. But I don't think it's hurt him any, and it was meant as a song of praise for a great songwriter who had gone out to make one of the first singer-songwriter albums and had been seriously rebuffed by both the record company and the broadcasting establishment. The pioneers, the first guys that do things, always take the beating. You might say he was one of the first guys through the door. There was a certain sadness to it, "He turned the corner all alone," you know. He had become a recluse.
I can remember one time, I ran into him at the Troubadour in Los Angeles, and Randy Newman had played that night. I said, "Randy, do you want to come out to my house and play some pool?" And he said, "You're not going to play any songs, are you?" And I said no. [Laughs.] "Well, if you're not gonna play some songs, I'll come out." These are songwriters, this is inside songwriter stuff. Only a songwriter would say to a songwriter, "You're not gonna play any songs, are you?" Phil [Sloan] was there, and we said "Come on out and follow us," and we formed a little cortege in the alley behind the Troubadour. My car was in front, I saw Randy behind me, and I saw what I thought was P.F. Sloan behind us. I thought, "This will be great. Me, Randy, and P.F. Sloan. What a game of pool this is going to be." We drove all the way out to my house in Encino. It took an hour to get out there, a lot of twists and curves, a lot of bends, a lot of lights. And when we got to my house, we didn't have P.F. Sloan. We had Randy, but we didn't have P.F. Sloan. That was one of the last times I saw him in many, many, many years. There was some truth the line, "I have been seeking P.F. Sloan."
In this particular case, we had decided we were going to do this song. It was from my first album. It was a great favorite of Jackson Browne. I had heard Jackson Browne sit down and just play the damn song. He played all the piano licks, knew all these obscure words: "My old friend Trigger up and died / So now they've got him stuffed and dried / You know they've tanned his hide / He's crucified / He's starin' glassy-eyed / Out through the parlor door." That kind of stuff. Kind of Dylanesque. He knew every single lyric of it, so when we finally got down to recording it [on Just Across The River], it was such a nice-sounding track that I said, "Freddy, I think we ought to call Jackson, not for celebrity value, but I know he loves the song. I think we ought to call him and ask if he'd like a lick at one of these choruses." And he was into it. The next time he came to Nashville on tour, he was in the studio working on "P.F. Sloan." Every song on this new record of mine has a connection. If there is a celebrity involved, there is a connection that involves celebrity.
AVC: There aren't any cold calls on this album. These are people you know and have histories with. You lay that out in the liner notes.
JW: There's nothing on here but joy and friendship. Billy Joel and I are pretty close. He has always loved that song "Wichita Lineman," and in fact, he said he's deconstructed it a couple of times line by line, one night at the Songwriter's Hall Of Fame, where I thought I was just going to die. It was honestly so funny. It's so strange to hear one of your songs done backward line-by-line. I knew he would want to be involved in it. I was very, very hesitant to ask Linda Ronstadt, who's a close, close friend. Even though I know she loves this song ["All I Know"], she was always gonna do it with Aaron Neville. Aaron Neville, my understanding was, had health problems that were preventing him from working with her for a while. But I knew that if there was a way, she would want to be associated with this song. I told Freddy, I said, "Fred, I can't ask her." She had a press conference about a week before, and she had announced her retirement. I couldn't bring myself to call her up and say "Hey, wanna sing on my new album?" It just made me sick, and yet part of me knew she would want to do it, she would try to do it. And Freddy said, "Well, why don't we do this. We'll just send her the track," this beautiful guitar overlay track. Bryan Sutton is absolutely brilliant. He had done this exquisite thing. He had done all the parts, and it had no bass, no drums, just shimmering simplicity. So we sent this back to Linda, and it was real quiet for a couple of days, e-mails were flying between me and Fred. Then an e-mail came from her in San Francisco, and she said, "I love this track so much, I have to try and sing on this song. If you'll come out to San Francisco and book the session, I'll try to do it. I don't know if I can or not." It's like everything we did on the album had this poignant story attached. There's something in it. There's something attached. It's got soul. There's something powerful and emotional in it, in my opinion.
AVC: You've done a lot of scoring for film and television, ranging from the Rankin-Bass animated feature The Last Unicorn to Tales From The Crypt. Do you have memories of working on "Doc," the revisionist Western with Stacy Keach as Doc Holliday?
JW: It was a wonderful experience, I'll never forget it. [Director] Frank Perry came out to my house. I was living out in Encino, and I had this big hacienda with my studio built onto my house, and my buddies—Fred and my drummer and my bass player—we just all went into the studio and stayed there for a couple of days and watched "Doc." "Doc" isn't one of those fancy underscored Hans Zimmer type of things. We were basically just supposed to be a band in a saloon. Most of what we played was saloon music. There was a waltz we did for Faye Dunaway and Stacy Keach; there were some moving things. We did a lot of it on old Hollywood combinations of instruments, like a tuba and one violin and one clarinet and a piano. If you think about old movies and the scores, they didn't have huge orchestras at first. And then we would play a lot of it, especially this one thing, "The Missouri Waltz." We cut it onto an acetate, and we played the acetate, and we recorded what came out of the speaker, and it had all the cracks and pops and imperfections of an old, old, old Edison phonograph, and that's the way it appears on the soundtrack. That's the kind of thing I used to do. That's what I mean by not being branded. I'm prouder than punch of that. It's just exactly what I wanted it to sound like, and I just think it fits. It makes the whole thing sound like it's happening a hundred years ago.
So we finally did this. We drank a lot of tequila, because there was a lot of fast mariachi music. Frank was in and out of the thing, watching us and part of the whole thing, but I think he was glad when it was over. It's like one of those parties that don't end. He was such a good man and such a good filmmaker, and we lost him soon after. I remember the day he pulled up in the driveway, and I came out of the studio with these two big rolls of 16-track audio that weighed a hundred pounds, put them through the window of his car, and he took 'em. I said, "There's your score, Frank." [Laughs.] And he said, "And it's about time." It had been three days. I said, "Well, I hope it works for you." And he said, "It works, it works. Gangbusters," he said. "Goodbye, you crazy bastards!" [Laughs.] And he drove out like he was running from a fire. I'm glad you asked me about that, because I had forgotten about it.