In between showing up in every documentary ever made, John Landis stopped by a Halloween Horror Nights Q&A in Orlando, Florida last night, where he dropped an interesting tidbit about a galaxy far, far away. According to the American Werewolf In London director, the original theatrical cuts (i.e., no Jabba The Hutt in Docking Bay 94 and the return of the space werewolf to the Mos Eisley Cantina) of Star Wars, Empire Strikes Back, and Return Of The Jedi will be re-released by Disney…sometime, presumably in the near future. This information came from George Lucas, who, according to Empire Magazine, mentioned it to Landis the last time the two filmmakers spoke:
[You can also hear Landis' full comments here, beginning at 55:09, when someone asks him about George Lucas tinkering with his movies. -ED]
There have long been rumors that the original trilogy would be re-released for the first time since 1995, partially when Disney bought Lucasfilm. There was even a rumor (which was quickly debunked) that Han would shoot first in the digital Star Wars releases that came out earlier this year. However, this is (slightly) more substantial confirmation than usual, as Lucas and Landis are longtime friends. (Landis was one first people to see the original entry in Lucas' space opera, after which he immediately asked, "George, is everybody in outer space white?.") Lucas even made a cameo in Landis' Beverly Hills Cop III, although nobody can blame Lucas for that film's tepid response.
Of course, there's the issue of who has the rights to the films: As The A.V. Club reported earlier this year, Fox currently owns the rights to the original trilogy as well as the prequels, and will own the rights to the 1977 original forever. However, with the promise of getting the Star Wars faithful to purchase the movies (at least) one more time, it's not hard to imagine that the studios could reach a deal, especially amid the merchandising frenzy that has accompanied The Force Awakens, and will presumably accompany future Star Wars films.
G/O Media may get a commission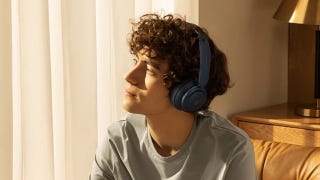 30% off
Soundcore Headphones and Earbuds
No word on See You Next Wednesday finally being produced.