Here's what's up in the world of TV for Tuesday, April 2. All times are Eastern.
TOP PICK
Justified (FX, 10 p.m.): Look, we understand that the whole Drew Thompson mystery may have been stretched further than the tensile strength of the episode could bear. But it did lead to a crackling final act to Justified's fourth season, culminating tonight with the Detroit mob and the conclusion to the most suspenseful furniture delivery in television history. Noel Murray peers through his fingers at what shall henceforth be referred to as "Yost's glider."
---
REGULAR COVERAGE
The Mindy Project (Fox 9:30 p.m.): Thanks to the second wave of Fox's Thursday-night colonization plans, this week brings twice the Mindy. Yet the scheduling is less hectic than when David Sims had to cover this and Happy Endings in a single evening.
Smash (NBC, 10 p.m.): There's a double dose of Smash on tap as well—though its second performance on Saturday is less a "How might this show fare on a different night?" affair and more like "Where can NBC get rid of this corpse in the most discreet fashion?" Noel Murray will not be joining the touring companies of Bombshell or Hit List, so please leave all roses and well-wishes in the comments.
Cougar Town (TBS, 10 p.m.): The future's more certain in the cul de sac, which is more than enough justification for an episode-long Breakfast Club homage. Don't mess with the Ryan McGee, young readers. You'll get the horns. (And none of his wine.)
G/O Media may get a commission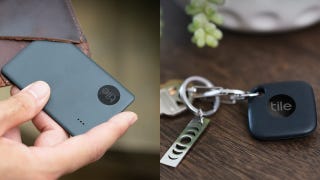 Up to 35% off
Tile Item Trackers
---
TV CLUB CLASSIC
The Shield (11 a.m.): "Cupid & Psycho" sounds like the title of a forgotten 1960s psych-rock classic (or a record by the generation of noisy '80s acts for which such tracks were a major inspiration, along with feedback and heroin use), which affords Brandon Nowalk the opportunity to make all sorts of "getting the band back together" jokes about a disbanded Strike Team.
Home Movies (1 p.m.): At last, the première of Starboy And The Captain Of Outer Space, the epic Brendon Small production where two interstellar heroes must protect the Earth from its mightiest foes: Annie Oakley, Pablo Picasso, and George Washington. According to this one online cartoon that Erik Adams has watched a lot, the 6-foot, 20-inch Washington ain't no one to fuck with.
---
WHAT ELSE IS ON
Beatles Biggest Secrets (BBC America, 8 p.m.): The story of the most popular rock band of all time has been told, retold, and re-retold in so many formats, it's hard to imagine what secrets those mop-topped Liverpudlians might have left. Unless John Lennon, George Harrison, and Ringo Starr were actually mop-topped Reptilians who killed off the real Paul McCartney in 1966 and replaced him with a cold-blooded replicant with a scarred upper lip.
New Girl (Fox, 9 p.m.): Did you miss New Girl's Big Kiss episode, "Cooler"? Did you somehow not catch up with it via Hulu, DVR, or somesuch extralegal manner? Well here's your chance to rectify that mistake!
The New Normal (NBC, 9 p.m.): Ryan Murphy's foray into half-hour comedy was't TV's finest attempt to reignite the passionate sitcom flames of the Norman Lear era—but it also wasn't the worst of the 2012-13 season. The New Normal closes out its first season of fleetingly potent satire with an hour-long finale.
The Agony Of The Ecstasy Of Phil Spector (BBC America, 9 p.m.): Now that David Mamet has had his say on the subject, this BBC-produced documentary from 2010 gets the story of the Phil Spector murder trial straight from the poorly toupeed horse's mouth.
My Left Foot (Flix, 8 p.m.): In which Daniel Day-Lewis portrays handicapped author and artist Christy Brown, a role that initiated his Meryl Streep-esque hoarding of Academy Awards.
Strangers On A Train (TCM, 8 p.m.): A little advice for everyday life, courtesy of Alfred Hitchcok (and with contributions from Raymond Chandler): Agreeing to murder a stranger's father in exchange for the murder of your unfaithful spouse juuuust might not work out in the end.
NBA Basketball: Knicks at Heat (TNT, 8 p.m.): Heading into this home game against New York, Miami is on yet another landmark pace, setting the record for Heat squads recovering from a broken 27-game winning streak with two consecutive wins.
---
IN CASE YOU MISSED IT
Regular Show: The question isn't "Will Mordecai, Rigby, and Benson be humiliated on a Japanese game show?," but rather "How will Mordecai, Rigby, and Benson be humiliated on a Japanese game show." For each incorrect answer, Alasdair Wilkins will have to spend another minute in our horrifying "Chamber Of Horseflies And Awful Scents."