Having announced his rebirth as a more mature artist by hatching two-dozen eggs on his neighbor's house, Justin Bieber symbolically raced into the future by racing along a Miami Beach strip, symbolically intoxicated on the Dionysian spirit, as well as on alcohol, marijuana, and prescription pills. Playing their part as the authority against which all true artists must rebel, police symbolically arrested Bieber by literally arresting him, charging him with DUI, drag-racing, and even resisting arrest for pelting officers with "a string of F-bombs" like so many word-eggs, as well as for refusing to take his hands out of his pockets. "I will remove my hands from my pockets when bureaucracy removes its hands from the citizen's," Bieber may have been trying to say, though the Miami Herald reports he was mostly just "babbling incoherently."
Bieber's arrest caps an eventful month that saw his late-night egging followed by a police raid of his home, during which Bieber and his entourage wisely made sure there were no damning eggs around—just two large cookie jars filled with weed, three bongs, empty codeine bottles, and Styrofoam cups Bieber reportedly likes to fill with "sizzurp," then make elaborate drawings on with markers (as an artist). At the time, only Bieber's friend, Lil Za, was arrested for possession of what police believed to be molly. The rest of the drugs and paraphernalia were reportedly ignored because they fell outside the scope of the search warrant, which was limited solely to the seizure of eggs and black people.
Bolstered by this triumph over the establishment, as all artists would be, Bieber spent the rest of the week on sabbatical in Florida—the Renaissance State—where he celebrated Martin Luther King Day in a strip club by sharing some $75,000 in $1 bills with all of God's naked children, regardless of color. The ensuing days were a "party spree" that culminated in the drag race along Miami Beach around 4:30 a.m., where Bieber's entourage used their own cars to block traffic to create a racing strip for Bieber and rapper Khalil Sharief. "Miami nights ridin thru yo city in that hot wheel," Sharief tweeted shortly before their arrest, ironically juxtaposing the toy cars that boys play with in their guileless youth with the toy cars men play with in their more manful reckless endangerment.
As "it was a cold night," Miami Beach Police Chief Raymond Martinez said, officers from miles away could hear the sound of Justin Bieber speeding toward adulthood, as well as feel the fiery glow of artistic freedom. So they "followed the sound of the revving engines" and found Bieber's Lamborghini. When stopped, he reportedly unleashed "a barrage of F-words." He told officers he'd spent the day drinking beer, taking anti-depressants, and smoking marijuana. He also didn't have a valid driver's license. According to the police report, Bieber immediately began a philosophical inquest into the very nature of authority: "Why the fuck are you doing this?" he said. "I ain't got no fucking weapons. What the fuck is this about?"
For this open denial of the acquiescence that gives authority its power—as well for reeking of alcohol—Bieber was taken into custody. He was then presumably given a shirt and asked to pose for the below mugshot, in which you can see the flushed, pockmarked face of the artist whose many provocations have at last earned the authoritarian reprisal necessary to make them meaningful.
G/O Media may get a commission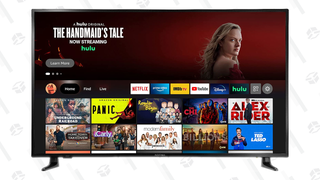 38% Off
Insignia 50" 4K UHD Smart TV
Justin Bieber reportedly faces up to six months in jail, which is another entirely abstract concept.