Like most of the albums Kid Rock has made since the turn of the century, Rebel Soul, his ninth, doesn't snugly fit into just one genre. It's a little bit country, a little bit rock 'n' roll, and even a little bit hip-hop on one track. And it's a whole lot of uneven songs crammed into an overlong album that tries hard to please the fickle country/rock-'n'-roll/hip-hop audience—but not too hard, because that's not Kid Rock's style.
Like 2010's Born Free, Rebel Soul (the Beatles-nodding title is the most clever thing about the album, by the way) drives pickup-truck-sized riffs right through the center of Middle America. There's a song about Rock's hometown—"Detroit, Michigan"—that name-checks pretty much every major city in the U.S. as well as some Motown artists and Rosa Parks, who moved to Detroit in the late '60s. The whole thing is punctuated by soulful horns that are supposed to give it some gravity. But like so many songs here, it's about as sincere as the strippers Rock likes to hang out with.
Whether kicking up some back-roads dirt ("Chickens In The Pen"), knocking back a few cool ones ("Redneck Paradise"), or throwing down with a rap-rock crew like it's still 1999 ("Cucci Galore"), Kid Rock wants to be everybody's best friend on Rebel Soul. He's the bro down at the bar, the buddy from the factory, and the dude from the trailer park whose mom will cook up some crawfish pie for supper on Sunday.
The thing is, it's hard to tell which Kid Rock is the real one. It may not be any of them. Ever since he found a way to mash up Lynyrd Skynyrd and Warren Zevon in "All Summer Long," he's become a human jukebox capable of switching tunes and genres at the drop of a dollar. He even pays tribute to a time when jukeboxes mattered in "Mr. Rock N Roll." And his idea of a meditative song comes in the form of maximum Auto-Tune and a cheap Casio drum beat on the ballad "The Mirror." It's all too much in the end, like an obnoxious drunk hoping to impress strangers with a dozen unrelated stories over one long, unbearable hour.
G/O Media may get a commission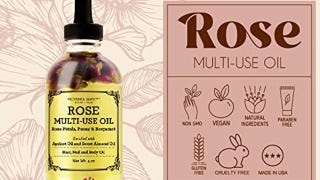 Provence Beauty Rose Multi-Use Oil