HBO's Flight Of The Conchords has a wealth of funny elements, perhaps none more potent than Kristen Schaal. On the show, Schaal plays Mel, the lone superfan/stalker of Bret McKenzie and Jemaine Clement's titular duo. She nails the role with such unnerving zeal that she steals virtually all her scenes. Conchords is littered with faces familiar to the indie-comedy world (including Eugene Mirman and Arj Barker), so it's unsurprising that Schaal was previously best known for stand-up and sketch comedy. She met McKenzie and Clement at the HBO U.S. Comedy Arts Festival in Aspen, where she won "Best Alternative Comedian" in 2006. The "alternative" designation is arguably dubious, but Schaal's act is tough to label: She's unafraid to try stranger, more conceptual material, which seems even odder when delivered via her high-pitched, youthful voice. Before some recent live appearances, Schaal spoke to The A.V. Club about the curse of kookiness, her many roles, and being ugly for Denis Leary.
The A.V. Club: Do you get a lot of reviews that have a condescending cutesiness, like, "Oh, she's so child-like"?
Kristen Schaal:
Oh yeah. In Edinburgh [Fringe Festival], you're reviewed by hundreds of people. Someone called me "The Kooky Monster." [Laughs.] It was in a nice way. But they're all just astounded by how quirky and kooky I am. The "queen of the zany people." But I'm fine; I do have a persona in the show. I never play myself—you never know what you're going to get. But if I'm quirky, I can do more jokes than "My kids! My kids!" No one knows who the real me is, so I can be a hundred different kinds of me.
AVC: Which is appropriate, too, because you've been in a lot of random things: Law & Order: SVU, a Starburst commercial, Mad Men, etc. What was the roughest gig?
KS:
When I first started out, one of the first jobs I did was to be in a Denis Leary promo on Comedy Central, where he was having a roast for him, and so I was supposed to play the foil. Basically, they panned the camera up on this model's body, and you see him getting excited, and then it's my face looking all… [Laughs.] But I had to show up at 6 a.m., and it was my first gig. I was so nervous that I decided that I had to drink a lot of coffee and soda and stuff to be ready for my big time to look ugly. And then they decided that they were going to shoot all of Denis Leary's stuff first. So I was basically drinking coffee on set for 12 hours. I was waiting and waiting, but wanted to be totally full-on. So I ended up just throwing up.
G/O Media may get a commission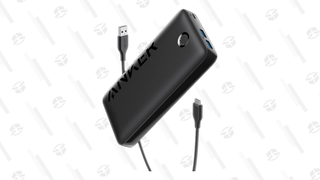 20% Off
Anker 335 Power Bank
AVC: In front of everybody?
KS:
No. They were driving me home in New York, going over a bridge in a random part of Chinatown, and I was like, "Bluh, I'm going to get out here." They were like, "Really?" And I was like, "Yes. This is my stop." That was a bad job. Then I did The Education Of Max Bickford, with Richard Dreyfuss. That was another one of the first times I ever worked. I was coming out of college, and I was so idealistic, and I just hated the writing so much. I just didn't understand how that stuff could get made. I had to do a rap to Richard Dreyfuss, because my character was eager—and loved to rap, I guess. It was terrible. It was just terrible. That was bad. I was in the movie Norbit, too—well, that wasn't so bad. It was only half an hour. Pretty much all of my acting gigs have been sweet.
But the Starburst gig. That's the one. We were in the jungle in Cancun, and this guy, at the beginning of the shot, would feed me a Starburst. And they wanted me to eat it. And there were no toilets or anything around. So I was like, "I just won't drink water," because if I had to go to the bathroom, they would have to drive me 20 minutes away, to this abandoned shed. It was intense. So I wasn't drinking water, and I was eating Starburst all day in the sun. Totally dehydrated. Then we sat down for the lunch break, and they put this ceviche in front of me. So I got up, started wandering into the jungle, because I just needed to be alone in case I had to puke. The whole crew freaked out, and ran into the jungle. I was like, "Jesus Christ, I just want to be alone."
AVC: That Denis Leary thing seems tough, though, to find out "Okay, you're going to be the ugly face for the body."
KS:
Yeah. It's so funny, too, because at the time, it didn't even register. I just knew I made a pretty funny sexy face.
AVC: You've done some writing too, like for Human Giant, and you're in L.A. right now working on South Park. Doing punch-up, or what?
KS:
No, I was a consultant. They hire new people to come in and out all of the time. I was there for a month, I gave them my two cents, and they kept the change. Then I left. It was cool. I really look up to Trey Parker and Matt Stone. But it's not punching up. They come in, and they present us with what they want the show to be about, and then we try to work on the story. It's a very improvised feeling, too; you go and jump on other people's ideas. And Trey, as soon as he thinks he has a story, he'll just like walk out of the room without saying anything. So we're like, "Oh… okay, I guess we're done?"
AVC: Did you write at all for Flight Of The Conchords?
KS:
That was strictly performance, but I went to the readings, and they are really loose about when you improvise during your lines. But I didn't write. They asked me for storylines once, and I sent Jemaine a number of storylines, and then he never wrote back. [Laughs.] And I would try to bring it up! But my storylines were crazy. I was like, "You guys go on a tour, but you go to this ghost town in Maine, and everybody's ghosts!" I didn't know what the show was going to be like, because they hadn't made it yet. [Laughs.] In hindsight, that would have been weird, I guess. "I just won't respond." You know when you don't want to engage someone any more, so you just give 'em the radio silence? I got that.
AVC: Do you have a preference between writing and performing?
KS:
Performing is easy. Writing is so hard. [Laughs.] I prefer writing for myself to perform, I guess. But if I had to choose, I'd rather perform in someone's movie than write a movie for someone else. I don't think I'd ever want to sit in a sitcom environment in a room like that, trying to think up B-stories, or wondering, "What we were going to do in this office now?" You're either in an office, or a bedroom, or this bar with these characters. That's what so exciting about South Park, is that anything goes. I guess I like both. But I would never want to not do the other. I'd hate to pick one over the other. I'd hate to be a writer forever and never perform, and I'd hate to perform and not write. I get sad if time has passed and I haven't written or made anything. Yeah, I'm an artist. [Laughs.]
AVC: Has Flight Of The Conchords changed things for you much?
KS:
Oh yeah. It's like night and day. Yeah, it's really, really weird. I mean, it's great. It's just like sometimes, people who have seen the show will see me on the street, and they'll recognize me, which is just something I'm not used to. It's opened so many doors now. Now I can get auditions for a thing here or there, but not just for the ugly girl's head on top of the model's body.