Here's what's up in the world of TV for Friday, July 5, and Saturday, July 6. All times are Eastern.
TOP PICK
Life's Too Short (HBO, 10 p.m., Friday): Hey, remember this show? The red-headed stepchild of Ricky Gervais and Stephen Merchant's series, Life's Too Short wraps up its four-hour run with an hour-long special tonight, one that HBO has situated at 10 p.m. on the day after Independence Day, because it's just so excited to show it to you. Erik Adams isn't going to be able to tackle it like he handled the first season, so we're tossing things over to the ever-capable Josh Modell, who will let you know if life is, indeed, still too short and what comes of Warwick's plans to mount a sequel to Willow.
---
REGULAR COVERAGE
Borgen (LinkTV, 10 p.m., Friday): It's not Independence Day weekend in Denmark, so Todd VanDerWerff is working today. Of course, he's also conducting a walkthrough with Hannibal showrunner Bryan Fuller, so it's not like he's going to have a rough time of it. Don't cry for him, comments section.
---
TV CLUB CLASSIC
The Twilight Zone (1 p.m., Saturday): Zack Handlen is so eager to move on to season four's one-hour episodes that he's one of only two TV Club Classics running this weekend, the better to finish out the last episode of season three so we can get to season four next week. Good on you, Zack!
G/O Media may get a commission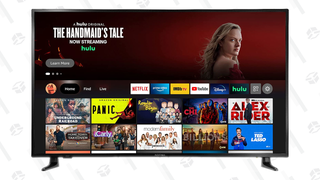 38% Off
Insignia 50" 4K UHD Smart TV
---
WHAT ELSE IS ON
Waking The Baby Mammoth (National Geographic, 8 p.m., Friday): This special originally aired in 2009, and as we all know from the fact that we had to wipe Moose Jaw, Saskatchewan, from the map, waking the baby mammoth was a terrible idea. Relieve the terror with this special rebroadcast of the program.
The Cleveland Orchestra In Performance: Boulez Conducts Mahler (PBS, 9 p.m., Friday): Hey, did you know that Cleveland has an orchestra? And that they're good for playing Mahler and not just (presumably) accompanying Drew Carey in the various theme songs from his eponymous TV show.
Warlocks Rising (Discovery, 9 p.m., Friday): This is on Discovery, and as we all know, Discovery would never air something of specious factuality. So we can take one message from this: Warlocks are here, and they are rising! Unless this show is about Florida's Warlocks motorcycle club, but… nah. Couldn't be.
King (Reelz, 10 p.m. Friday): Will Harris watched all eight episodes of this Canadian cop drama's first season over his Independence Day, so we'll be excited to hear what he thought of it and if his family forgave him for forgoing their annual Fourth of July Sacrifice in order to make a few extra bucks.
My Cat From Hell (Animal Planet, 8 p.m., Saturday): A cat gets so pissed off at the idea of a couple sharing a bed that they're no longer able to do so, the better to survive kitty's capricious whims. C'mon, guys! Just kick the cat out of the bed! It's not that hard! You can do it with your feet. We do all the time!
Bizarre ER (Discovery Fitness & Health, 10 p.m., Saturday): The docuseries opens its fifth season with episodes named "Near Fatal Slam Dunk" and "Freaky Finger." While that former one sounds enticing, we mostly just want to find out how a mother and daughter swapped fingers. That sounds pretty freaky.
The 400 Blows (TCM, 8 p.m., Friday): Get some culture this weekend with this, the first in Francois Truffaut's Antoine Doinel series. Truffaut would follow the fictional boy from early adolescence to adulthood over 20 years, and the whole journey begins here, in one of the best films ever made.
Undercover Brother (IFC, 8 p.m., Friday): Or you could just watch this. We sort of thought it would be cool if the title character from this film were followed over the course of two decades, aging and changing with the times, but alas. It is not to be. Ah well. We still think this Blaxploitation spoof is funny.
Schindler's List (Sundance, 8 p.m., Saturday): This movie has a reputation for being rather punishing, and, yes, the subject matter is hard to take, and, yes, there are some horrifying moments throughout. But it's also deeply involving and moving, with great performances and direction from Steven Spielberg.
Boxing: Alvarez-Green (light heavyweights) (ESPN2, 9 p.m., Friday): Eleider Alvarez is undefeated over 12 bouts, but Allan Green has recorded 22 knockouts over a long career. And that is literally all we know about this, because we just read the TV Guide summary about the fight. Thanks, TV Guide!
MLL Lacrosse: Charlotte at Boston (ESPN2, 8 p.m., Saturday): The United States still has a major lacrosse league?! And ESPN is going to broadcast it over this long weekend?! We just learned about the "Charlotte Hounds" and the "Boston Cannons," then learned New York's team is called the "Lizards."
---
IN CASE YOU MISSED IT
Being Mary Jane (Tuesday): The holiday knocked out much of our content this week, so why don't you take a look back at Ryan McGee's review of this Gabrielle Union vehicle on BET from Tuesday night. He wasn't too taken with the film as a whole, but he thought Union has what it takes to be a TV star.