Here's what's up in the world of TV for Wednesday, March 25. All times are Eastern.
Top pick
Big Time In Hollywood, FL (Comedy Central, 10:30 p.m.): So what is the show that's taking Broad City's place (for now) all about? Big Time In Hollywood, FL is a serialized comedy about two "delusional" brothers (who just so happen to fancy themselves "film-makers") who have to fend for themselves once their parents kick them out of their house. Of course, they don't get the hint and instead form an "elaborate ruse" to get back under their parents' financial aid, only for it to all blow up in their faces. In a hilarious way, of course! Erik Adams' pre-air review of the pilot calls the series "a big swing for Comedy Central," but will it be a swing and a miss? You obviously have to watch to find out.
Also noted
Arrow (The CW, 8 p.m.): This week's Arrow is a Diggle episode, and you know what that means: road trip! Er, we mean: Suicide Squad! Diggle and Lyla are finally getting remarried, but here comes the Suicide Squad to crash their honeymoon with a new mission. Classic Suicide Squad. Meanwhile, Oliver, Ray, and Felicity have a love triangle. That's an abridged version of their plot for the episode, but make no mistake—that is legitimately their plot for the episode. Alasdair Wilkins just wants Felicity to pull a Kelly Taylor and choose herself (or the Suicide Squad), so this is a very difficult time for him.
G/O Media may get a commission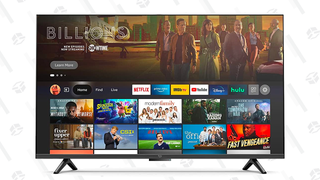 22% off
Amazon Fire TV - 50" Omni Series 4K - Early Access Deal
Modern Family (ABC, 9 p.m.): In "Spring Break," Modern Family takes a dark turn with its homage to Harmony Korine's Spring Breakers. Don't believe us? Just take a look at this episode description: "Haley wants Alex to let loose and have a fun Spring Break, but will she do too good of a job?" See? Gwen Ihnat is having a lot of trouble handling this, but if this is the direction Modern Family wants to take, she'll be along for the ride. Spring Break…
Regular coverage
Survivor (CBS, 8 p.m.)
The Middle (ABC, 8 p.m.) / The Goldbergs (ABC, 8:30 p.m.)

Black-ish (ABC, 9:30 p.m)
Broadchurch (BBC America, 10 p.m.)
Workaholics (Comedy Central, 10 p.m.)
The Americans (FX, 10 p.m.)
TV Club Classic
Lost (Classic) (1 p.m.): Season three Lost (Classic) coverage sees Myles McNutt take on "I Do" and "Not In Portland," two episodes that's titles make up a pretty curious situation when put together. McNutt actually refers to the pair of episodes as "the season's strongest episode thus far," which makes us excited to see just how much Nikki and Paulo there was. All signs based on that quote point to: a lot. (Your friendly, neighborhood What's On Tonight contributor will never stop caring about about N & P Island Factory. Never.)
What else is on?
Full Circle (DirecTV, 8 p.m.): Full Circle returns for its second season—"Chicago Payback"—with an all-new, all-star cast: Stacy Keach, Kate Burton, Rita Wilson, Terry O'Quinn, Brittany Snow, Chris Bauer, Calista Flockhart, and Patrick Fugit. In his review of the first season, Brandon Nowalk called the series format "a keeper" as DirecTV described it as "La Ronde meets My Dinner With Andre." However, this second season will no longer have Neil LaBute at the helm and is switching up the format of the 30-minute drama. Honestly, all of this sounds like an elaborate hoax, but there is a possibility of this being a real show. Tune in to find out.
The Mysteries Of Laura (NBC, 8 p.m.): In "The Mystery Of The Intoxicated Intern," Laura crosses over with Bones, and the entire universe explodes. At least, that's what we're assuming just based on the episode title. Let us have this one, Mom Cop (Cop Mom) fans.
Hot Grits (VH1, 8 p.m.): First of all, Hot Grits sounds like a girl band with a diner gimmick from the '80s, and we're into that. But that's not what it actually is. It's VH1's newest reality series, and it iss described as "a down-home reality series that puts the focus on seven Southern Belles." Really, everything about the series' descriptions tells you all you need to know about the general vibe, and for that, we are endlessly grateful: "In the premiere, the gals gather at the lake, but Sarah's ex sours the sweet time. In other events, Ratchet hosts a barbecue; and the gals try to get Emily to eat raccoon meat." Grits and raccoons—that's what Southerners eat, you know? Reality! Girl bands!
Supernatural (The CW, 9 p.m.): It has, surprisingly, taken 10 seasons for Supernatural to have an episode titled "Paint It Black," but now they can finally tick that one off of their checklist. Here, Sam and Dean "investigate a string of suicides committed by people with little in common other than the identical, grisly method of death - slow, self-administered disembowlment." That's one way to bond.
Little Women: LA (Lifetime, 9 p.m.): The best part of reality shows are the reunions, and because of that, more and more of these reunions are being split into multi-part extravaganzas. So here is part one of this series' season two "Reunion Special."
Nashville (ABC, 10 p.m.): This isn't just Nashville. It's Nashville: On The Record 2. This is another behind-the-scenes special, taking place at the Grand Ole Opry and featuring Reba! Speaking of, Rayna James' life kind of is like Reba's life in the hit sitcom Reba when you squint and think about it to an insane degree. She's a survivor! And Teddy is a total Brock. Barbra Jean!

Mission: Impossible—Ghost Protocol (FXX, 6 p.m. & 9 p.m.): Ghost Protes! Ghost Protes! Ghost Protes!
Lucha Underground (El Rey, 8 p.m.): Sorry, real sports! We don't care how you do it (which is probably not the best thing to say, but this is very important), but please go out of your way to watch last week's main event, the Grave Consequences match, in its entirety. You're probably thinking, "But I don't want to watch a casket match!" Yes, you do. You'll want to watch this match. This is the type of match that you need to watch. It's incomparable. Just watch it. We'll wait.
WWE NXT (WWE Network, 8 p.m.): Watch this and just hope that the episode repeats that moment over and over again.
In case you missed it
Kroll Show: Kroll Show is over. If you'll excuse us, we need to take a moment.