Ahead of all the thematically appropriate programming this holiday season, Mariah's World arrives this weekend as an early gift to viewers looking for a bit of escapist fluff. The docu-series follows the world-class singer as she balances motherhood, her now-broken engagement to a billionaire, and an entire troupe of dancers and personal assistants. Like a true diva, Carey has forbidden the use of the term "reality show" in regard to the series. That phrase lacks cachet for Carey, who's promised audiences more than just a look at her everyday routine. She delivers on that in the premiere, which is both a chaotic and controlled affair.
Footage for Mariah's World was shot in the lead up to her Sweet Sweet Fantasy Tour, an international trek that took her back to Europe for the first time in nearly a decade. That period also covers part of her engagement to James Packer, an Australian investor and media scion. These two undertakings tug Carey in different directions throughout, as she must decide between scheduling tour dates and her wedding date. She wisely opts to focus on the tour, because dress fittings are nice, but they pale in comparison to a blown last-minute rehearsal the night before the tour begins. And though her stage presence is sometimes wanting, Carey is prepared to put on a real show for E! viewers.

But before the premiere can find a single moment alone with Carey, there's a look ahead at the rest of the series. There's plenty of story to be told beyond the pending tour and nuptials, which again, have already seen their offscreen conclusion. Apparently, the road ahead will feature pot brownies, a questionable crush, and Nick Cannon. (The episode's light on singing, but viewers should hold their concerns until docu-series Carey makes it to a venue.) Most importantly, there will be plenty of Carey commenting on the mayhem from behind the scenes while expertly arranged on various plush chaise lounges. Talking heads are not good enough for the hit maker—she wants her full body in the frame. These rests are supposedly the shelter from the storm, but Carey's idea of slipping into something more comfortable involves a basque and six-inch heels, or assuming an alter ego (Bianca Storm, who appeared in the "Heartbreaker" video), so the absurdity continues throughout.
Well-informed fans already know how the tour and relationship worked out (the latter didn't), so most of the tension comes from watching as Carey's camp deals with a couple of new additions. A prodigal dancer, Bryan Tanaka, pursues Carey throughout despite her engagement. They're now rumored to be dating, which puts a new spin on their protestations that they're just being friendly. But if there's a real antagonist—aside from a skeptical public—it's probably her manager, Stella Bulochnikov, a gruff Brooklynite who's there to oversee business matters and whittle down the entourage. Bulochnikov has reportedly been the source of off-camera drama, too, which makes her decision to bring on the obviously unqualified Molly as her own personal assistant feel a bit contrived, which is a rarity for the show.
G/O Media may get a commission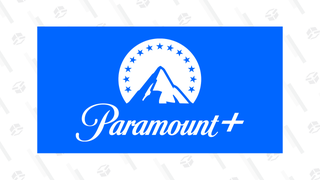 One month free
Paramount+ One-month Free Trial
Though it may seem counterintuitive, the docu-series does offer a candid view of the singing sensation. The tapes have presumably passed rigorous screening before making it onto the E! network, but there's still a spontaneous quality to the proceedings. Carey's very conscious of the camera, almost relying on it as a mirror at times. But that awareness is precisely what keeps her from being at its mercy. She may rearrange her hair and stance repeatedly, but it's to her standards, not any director's. And those are exacting standards, but the same doesn't really apply to some of the editing. After the sensory overload of that intro, it's hard to get a sense of when and where the next shots take place. Title cards and chaise-fessionals clue us in, but a little fine tuning in the editing bay wouldn't hurt.
Speaking of those admissions, Carey cops to having doubts about her likability, which she's not sure will be bolstered by Mariah's World. She's been living up to the diva moniker for years now, but suddenly, being inaccessible is working against her. With Mariah's World, she's trying to take control of that narrative, one diamond-encrusted, booze-fueled night at a time.