Honestly, the most alarming thing about Amityville: The Awakening, the long-delayed 18th (!) film in the Amityville Horror series, is the name "Weinstein" splashed all over the opening credits. That's just one of the ways time has worked against this film, though. It was originally supposed to come out in January 2015, before being pushed to April 2016, and then January 2017, and then June 2017 before finally being quietly released into the wilds of Google Play earlier this month. (Its limited theatrical run begins this week, the Blu-ray following quickly behind.) All that would seem to indicate a complete disaster of a film, a cinematic mishap so embarrassing, none but the most loyal (and forgiving) of horror fans even need to know it exists. But is it really that bad? Short answer: Not really.
Half-hearted direct-to-video sequels like this one come out all the time, and most of those don't have nearly as many famous names in the cast as Amityville: The Awakening. Whether they're utilized properly is another story: Jennifer Jason Leigh seems mildly sedated throughout the entire film, as though she just took some NyQuil and is heading to bed, and Bella Thorne remains remarkably level for having recently learned that she's living in a house that drives its residents to murder. Thorne is playing a disaffected Goth-ish teen, though, so that makes some sort of sense. (One would think that, as a young woman with a morbid streak, she'd be into true crime and already know about the house.) Leigh's role as a widowed mom desperate to save her comatose son, meanwhile, could have used a bit more juice.
The script is just as lazy as the acting, leaning on a fitfully applied, Scream-esque meta subplot to justify why the hell we're all here in the first place. At the beginning of the movie, Belle (Thorne); her mom, Joan (Leigh); her younger sister, Juliet (Mckenna Grace); and her brother, James (Cameron Monaghan) move into the infamous Amityville Horror house. Belle only realizes that it's the Amityville Horror house when kids at school start mercilessly teasing her for it—except for her new friend Terrence (Thomas Mann), a Jamie Kennedy-in-Scream type who gifts Belle a copy of the original film, suggesting that they and fellow sarcastic teen Marissa (Taylor Spreitler) watch it at Belle's house at 3:15 a.m. That's when the demons come out. Didn't you see those other movies?
G/O Media may get a commission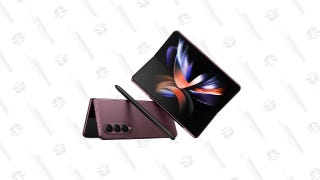 Save Up to $300
Galaxy Z Fold4
This wink at the audience is hard to accept, though, when it's surrounded by unironic horror clichés. Every one of the horror sequences in this film has a faint smell of mothballs to it, from the mirror scares to the angelic little blond girl in the floor-length nightgown finding out that the monsters in her closet are very much real. The one thing that is different—downright weird, even—is the plot line about Belle's twin brother, James, who's been in a coma for several years after falling from a third-story balcony defending Belle's honor against a guy who sent out nude selfies of her to her entire school. For some reason, everyone, Belle included, blames Belle for this violation of trust, a slut-shaming, victim-blaming premise that feels out of touch with the current cultural climate. (A lot has happened in the last few years, to be fair. But even in the America of 2014, it would have read as insensitive.)
Once they move into the scary demon house, James' condition improves rapidly; he transforms from an emaciated mannequin twisted into grotesque shapes (see above) to a lithe young man who looks like he's going out for a Riverdale audition. This is thanks to the influence of the evil house, specifically the infamous satanic "red room" in the basement, which just so happens to be directly below James' makeshift hospital setup in the living room. No one believes Belle when she articulates this idea, though, leaving her solely responsible for liberating her brother's soul from the infernal forces that have possessed his body.
This might all sound like silly fun on paper, but in practice, it lands like a clump of wet newspaper on concrete. The dialogue, characterized by blunt statements like, "My family already has demons to deal with, we don't need fictional ones too," doesn't inspire much enthusiasm. Nor does the cinematography, which appears to cover everything in a fine dusting of baby powder. But mostly, it seems like the key creative players, including director Franck Khalfoun and the female leads, were sleepwalking throughout the entire production. Maybe the title is more of a suggestion than a promise.