DISC OF THE MONTH
They Might Be Giants
Here Come The 123s
(Disney)
It's no great surprise that They Might Be Giants have become favorites on the kiddie-music scene, but it's still been a pleasant development for parents who want their kids to appreciate TMBG's brand of pop-addled whimsy—the kind that has always connected up the best family-friendly entertainment, from Schoolhouse Rock to The Muppets. Even more impressive is how John Flansburgh and John Linnell have taken advantage of the simplicity already built into their musical style to deliver memorable, semi-educational songs—and, on the accompanying DVDs, to find images to match. The 2005 CD/DVD Here Come The ABCs had a thrown-together quality, evident in its low-tech puppets and computer animation, as well as in its surreal songs, which often barely referenced the alphabet. In the three years since Here Come The ABCs became a surprise hit, TMBG have been given the luxury—and apparently the money—to spend a little more time on Here Come The 123s, and while the new project doesn't have the ramshackle charm of the previous set, it hangs together better both as an album and as a collection of short films.
The main appeal of both ABCs and 123s is the way they treat numbers, letters, and geometrical figures as weird little creatures with their own inner lives and adventures—much how kids often imagine them. On Here Come The 123s, the slicker production values allow They Might Be Giants and their team of animators and puppeteers to create a variety of different looks, expanding their symbolist universe to include all manner of finely drawn number-critters. And the two Johns match the multiple visual styles with eclectic music, shifting on a dime from country to new wave to techno-pop to arena-rock. The songs also feature the TMBG approach to factoids, which has them explaining the concept of "everything" by singing, "We share the same omniverse / Please clean your room," and explaining the concepts of odd and even numbers by singing, "You like French fries / but you don't like French fries." —Noel Murray Grade: A-
ALSO AVAILABLE
Early in the Tad documentary Busted Circuits And Ringing Ears (MVD), a fan of the Seattle proto-grunge act describes seeing Tad for the first time and realizing that the band's colossal fusion of punk and metal was so exciting and innovative that it was "clearly… what you want to be hearing." When music writers first started spreading the word about the grunge scene at the end of the '80s, a lot of what they promised had already been realized by Tad, a puckishly ferocious high-volume act led by the pudgy, darkly charismatic Tad Doyle. ("He was the last guy you'd want to see stage-dive," another Seattle scenester reports.) Busted Circuits And Ringing Ears may not convince neophytes of Tad's genius—no matter how many Sub Pop employees the filmmakers trot out—but it succeeds in making Doyle look like a sweet guy with skill and vision, who gave grunge its gravity… A-
In the booklet for Pelican's live DVD After The Ceiling Cracked (Hydra Head), the instrumental metal band notes that on its 2005 UK tour, "the beer flowed" and the group "ate too much chocolate." Not a bad hint for any home viewing of the first part of this DVD, which captures seven songs from a London show. Pelican's records reliably load up the senses, but this footage, complete with pristine audio recorded by Justin Broadrick of Jesu, gives a clearly massive set too much distance. Yes, the cameras get right into the fretboards of guitarists Laurent Lebec and Trevor de Brauw, but they don't get the weird ambience that makes live music fun. So maybe a few drinks or snacks are necessary to even out the stimulation. (Then again, maybe a band like Pelican deserves a big, glossy live document.) Don't skip the DVD's other half, which rounds up a few years' worth of scattered live videos. It's much more impressive to watch Pelican maintain its intensity at a small club in Youngstown, Ohio, through audible crowd chatter, rougher sound quality, and the distraction of a prominent ceiling fan… B
Arizona indie-pop band The Format—currently on indefinite hiatus—tried hard to maintain its integrity and make commercial rock during its seven years of existence, in spite of troubles with major labels and difficulty breaking through with the cool crowd. The Format's DVD Live At The Mayan Theater (The Vanity Label) records a big concert the band staged last year for its hometown fans, with guest musicians and a set list that runs well past two hours. It's like The Last Waltz, except that the big stage and the extra personnel freezes The Format a little, rendering its bright pop songs somewhat staid. That said, those songs remain likeable, and it's hard not to admire the ambition of a band putting on a big show like a bunch of platinum-level superstars, even though their popularity has always been largely regional… B
Some bands make more sense live than they do on record. Example: Metric, the Canadian dance-rock act that has thus far released three overly rigid, occasionally shrill LPs, and has now topped them all with Live At Metropolis (Last Gang), a well-shot, well-edited concert DVD that puts Metric's sound in a vital visual context. Onstage, the dapper, necktie-festooned boys in the band flank frontwoman Emily Haines, who with her short, shiny dress, silver high-heeled shoes, and fashionable hairdo, looks she just stepped off the catwalk. The contrast between the band's tony look and its bruised, synth-fueled pop makes for a dynamic show, which builds as the set progresses until the "Metropolis" of the title starts to feel less like a nightclub and more like a Fritz Lang film… A-
San Francisco drone-punk legend Flipper is another band that snaps into focus in concert footage more than on any album it's made. The Live: Target Video 1980-81 (MVD) DVD captures a couple of live performances from the early '80s, when rakishly handsome, soon-to-be-dead lead singer Will Shatter—with his short hair and preppy clothes—led his mates through shambling, way-out-of-tune songs designed to assault the audience with sonic violence. There's more sludge here than melody or dynamics, but then long, low rumble always was the major weapon in the Flipper arsenal… B
The double-disc set Duke Ellington At The Cote D'Azur With Ella Fitzgerald and Joan Miró / Duke: The Last Jam Session (Eagle Eye) is pretty much as invaluable as it sounds. The casual jamming of The Last Jam Session will appeal mostly to Duke devotees, but anyone can enjoy the concert sequences of the first disc. Duke and Ella are magic together, but the best stretch features Duke's trio playing in a courtyard surrounded by the sculptures of Alexander Calder, Alberto Giacometti, and Joan Miró while Miró looks on appreciatively. The 20th century needs no further reason to exist… A-
During the increasingly synthetic '80s, the electric blues of Stevie Ray Vaughan sounded refreshingly "authentic," though the concessions he made to the recording style of his era now makes his music sound too heavily produced and technocratic, at least in comparison to what came before and what's come after. Since Vaughan died so young, he never had the chance to grow beyond his fairly simplistic version of roadhouse blues, or to use his considerable skills as a soloist with the kind of imagination he applied to projects like David Bowie's Let's Dance. What we're left with are a few overly polished studio albums, some relatively bombastic live material, and the mostly goofy music videos on the Pride And Joy collection (a VHS staple, now available on DVD from Epic). There's a lot to groan at on Pride And Joy, including Vaughan's abominable cover of Stevie Wonder's "Superstition," the grotesque harpy in the ZZ Top/David Lee Roth-style "Cold Shot" video, and the corny survey of world tensions in "Couldn't Stand The Weather." (Hey, Democrats hate Republicans! Arabs hate Jews! Cyndi Lauper types hate father figures!) But Vaughan's version of Jimi Hendrix's "Little Wing"—and its video, which pays homage to guitar-makers and guitar-players—is downright moving… C+
Fans of experimental cinema will probably want to skip Dan Deacon and Jimmy Joe Roche's conceptual music-video project Ultimate Reality (Carpark), which is more kitschy than avant-garde. Over a fairly snappy Deacon-performed three-part electro-pop suite, Roche smashes together images from Arnold Schwarzenegger movies, altered with video effects to make them look reasonably trippy, albeit not quite mind-bending. The DVD doesn't bother with a menu screen. Pop in the disc and the program starts right up, with footage of Schwarzenegger as Conan, filtered and doubled. Is this some kind of comment on the pervasiveness of militaristic images in popular culture? The problem with Ultimate Reality is that it doesn't seem to have much to say about that—or about anything—over its half-hour running time. Once the viewer has said, "Wow, neat," the fun is more or less over… C
VIDEO OF THE MONTH
The Radar Bros., "When Cold Air Goes To Sleep"
The Radar Bros. are a great band, but their slow, plodding music can be decidedly uncompelling to watch performed. To work around the problem, director Bradley Beesley—best known as The Flaming Lips' in-house documentarian—comes up with the neat trick of eliminating real music altogether. Surly frontman Jim Putnam shows up in cowboy gear, while the rest of the band puts on Kiss makeup and plays air instruments. It helps that "When Cold Air Goes To Sleep" is one of the band's most (relatively) rockin' songs; between the excellent tune, Beesley's patented WTF-factor, and the weird fact that bassist Senon Williams looks freakily like Sid Haig with his makeup on, this is an endearing clip for a band that needs all the viewer sympathy it can muster.
CLASSICS ILLUSTRATED
Death Cab For Cutie, "Styrofoam Plates"
In this scene from the tour documentary Drive Well, Sleep Carefully, Ben Gibbard reveals the origins of one of Death Cab For Cutie's most powerful songs. In the mundane setting of a potluck supper at a church fellowship hall, following a funeral, a man rises to eulogize his father and ends up pissing all over the old man's memory. The performance shows off what a tight live act Death Cab For Cutie can be, feeding off each other in the instrumental sections and trying to accompany, not overwhelm. That is, until the climactic kiss-off, when everyone cuts loose and just vents. It's a cathartic moment for anyone with daddy issues—which is just about everyone.
G/O Media may get a commission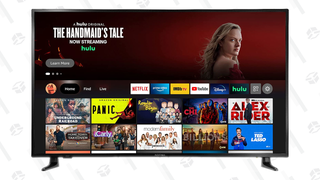 38% Off
Insignia 50" 4K UHD Smart TV