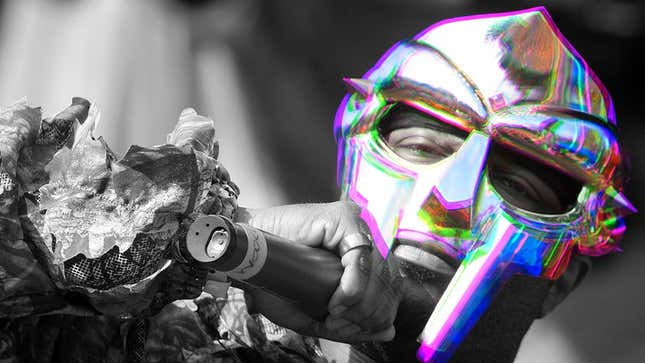 A lot of people organize the mysterious history of MF Doom around Madvillainy, his 2004 album-length collaboration with Madlib. This is fair enough: It's a stone-cold classic, with a gauzy ambience culled from Madlib's fathomless crates, Doom's typically funny, surrealist lyrics, and that shadowy, instant-classic cover (which was secretly inspired by Madonna's debut). In 2004, when it was released, Doom seemed to be going everywhere at once. The wacky, comic-obsessed rapper who spit from behind an old wrestling mask seemed to be split between a billion different projects: MF Doom; his alternate alias, Viktor Vaughn; his old group, KMD (where he rapped as Zev Love X); his other old group, Monsta Island Czars (where he rapped as King Geedorah); plus rumored collaborative albums with Ghostface and Dangermouse, each of which saw him adopting other mysterious names and mythologies. Madvillainy came out right in the midst of this madness, a relatively user-friendly introduction to his world. It's self-contained—there is no follow-up, no lore to consume. It makes sense to organize around it, as time has gone on.

Taylor Swift went on a date with an NFL player and is now both cheer captain and on the bleachers
But there's also an argument to be made in favor of thinking about his discography through the prism of the three core MF Doom records: 1999's Operation Doomsday, 2004's Mm.. Food, and 2009's Born Like This. The first captures Doom's early appeal in crystallized form, still alive to the possibilities of the villain conceit and endless collages of old movie samples. The second captures him at his gonzo best, and features many of his finest individual tracks. The slept-on third is a portrait of him growing exhausted, fracturing in the record's back half into experimental planetoids of rap. It's a mystifying release—its cover shot somehow equating Doom's mask with a Cuneiform tablet about Gilgamesh—yet it all holds together in its own weird way, and it feels like a fitting conclusion to his most prolific chapter. Since then, Doom has only showed up on record sporadically, engaging half-heartedly with his prodigious talent. Between the poles of 1999 and 2009, however, he created enough work to last—one of the richest stretches of underground hip-hop ever heard, a funhouse of personas, canonical bars, and blasted old-school production.
Part of the appeal is the easygoing nature of it all. Doom's got a lumbering flow full of wiseass asides, plus a fondness for fuzzy, high-on-the-dial cable TV. He seems to be consuming old cartoons and horror flicks and golden-age hip-hop alongside the listener, only doing so better and more productively, somehow able to transmute all that scuzzy input into an output of timeless hip-hop. This implies a certain amount of couch-locked bong-passing, but profiles of Doom (and his lyrics) reveal a preference instead for good, old-fashioned beer, which almost adds to his sense of scruffy charm. He's a genius on the mic, burping between bars, a Bukowski or Robert Pollard or rough-around-the-edges Joe Swanberg sort of figure. Other aspects of his persona have gained equally mythic status: his appearance before the Senate as a 19-year-old; his friendship with Tupac; his brief period of homelessness following KMD's disbandment; his claims to have voted for John McCain in 2008; the rumors that his shows are actually performed by masked impostors. You're never quite sure what the joke is or who it's on. And if Doom reappeared next year with a masterpiece, it'd make just as much sense as him vanishing forever.
Doom's records are full of Golden Age ideals transmuted to backpack aesthetics that nevertheless sound totally out of sync with their era and still totally relevant today. Doom had a reputation throughout the '00s as your favorite rapper's favorite rapper, the dude doing something no one else could in his low-key, off-the-beaten track way. (Today, that role is played by Danny Brown.) Translating this polymathic and elusive talent—he was also a prolific producer and visual artist—into a digestible hour might seem impossible, and given the way people individually identify with the various permutations of the Doom mythos, that hour will probably not feature some of the individual favorite Doom tracks of individual Doom fans. (Those fans will probably also be upset that Doom's name isn't spelled here in all caps, as he demands on the track "All Caps," but he has been overruled by The A.V. Club copy desk.)
But this is, at the very least, a representative hour of Daniel Dumile rapping his metal face off—about sci-fi, race, rap, beer, getting laid, literature, physics, money, food, death, snakes, and being a villain in all its many manifestations. Grab a shitty beer or 10.
1. Doom: "Gazillion Ear," Born Like This (2009)
Doom typically starts records with an eminently skippable collage of old-movie samples followed by an absolute banger. On Born Like This, "Gazillion Ear" is that banger, four minutes of blackout emceeing that he somehow makes seem effortless. Spend a minute with the lyrics on this one, full of instantly quotable lines like "Villain since an itsy-bitsy zygote" or "Later for the date than the Hadron collider," as well as assonant tongue-twisters like "Time is money, spend, waste, save, invest the fess / The 10 case of cave a chicken chest, S." The track's hilariously analog trip through the Echoplex ("DILLA, DILLA, DILLA") is a nice bit of foreshadowing for the postmodern suite that closes out the record.
2. Madvillain: "Money Folder," Madvillainy (2004)
Madvillainy arrived about a half-decade before "Gazillion Ear," and there's a density to his emceeing here that's a lot more immediately impressive, along with the prerequisite shout-along quotes ("Egads / He got enough style to start three fads"). Part of this is the drums, which are much more sprightly than the type Madlib usually prefers, and the way that Doom goes in on them to create one of the album's most conventionally hot tracks. About 40 seconds of audio montage close things out; get used to it.
3. KMD: "What A Nigga Know?," Black Bastards (1993; released in 2001)
The story behind Black Bastards—and KMD itself—could be its own book. Black Bastards was the second album from Dumile, then rapping as Zev Love X under the KMD name, the group he formed with his brother, Subroc. It was originally shelved in 1993 by Elektra for its Dumile-drawn cover art, which featured a Sambo being lynched. Shortly after its completion, Subroc was fatally hit by a car, ending KMD's nascent career. Dumile roamed around for a while before reemerging a few years later, rapping from behind a pair of pantyhose—which then became a wrestling mask, and then the gladiator mask he wears today.
Since Black Bastards was finally released in '01, it's gone on to take its place as a classic of early-'90s rap, as playful musically as De La Soul but as clear-eyed in its concerns with race as anything by Brand Nubian. "What A Nigga Know" was ostensibly the single; that's Dumile on the first verse, playing around with vowel sounds ("Buds like figs pick out sticks and twigs") over an amber-hued beat he made along with Subroc. The two had the sort of shared chemistry you can't recreate; that his loss required Dumile to reinvent himself is no surprise.
4. MF Doom: "Rhymes Like Dimes," Operation: Doomsday (1999)
"Rhymes Like Dimes" was the sound Doom came back with in the late '90s, skipping lightly over a corny old Quincy Jones loop. The bars are absurd, delirious fun, the sound of a man rediscovering his love of rapping after a few dark years. Dumile has given many explanations for the mask over the years—all of them are probably true—but the short version is that by obscuring himself, he was able to start rapping again after Subroc's death. Since the invention of the Doom persona, he has developed a habit of referring to himself in the third person (as a "villain"; as "him"), which creates distance even as he kicks elaborate, track-length narratives that are often very personal. On Operation: Doomsday, you can hear how much fun he's having with this rebirth on "Rhymes Like Dimes," which includes a delightfully insane outro by Bobbito: "What are you supposed to say on the end of records?" he yells. "I dunno! Mashed potatoes! Apple sauce!"
5. JJ Doom: "Retarded Fren," Key To the Kuffs (2012)
In the 2010s, Doom's most noteworthy projects have been a pair of collaborations: the 2012 Jneiro Jarel collab JJ Doom and the 2014 Bishop Nehru collab NehruvianDoom. They're illustrative of where Doom is today—on NehruvianDoom, he seems to barely even want to be involved, popping up to rap in just a few places. JJ Doom is by far the superior effort, and "Retarded Fren" is a Tim Duncan throwback game, thanks in no small part to the adventure-serial sense of wonder of this beat.
6. MF Doom: "Beef Rap," Mm.. Food (2004)
Mm.. Food is the food-obsessed middle part of the Doom trilogy, providing another conceit he uses to focus his wordplay. "Beef Rap" plays on rap beefs and comes loaded with weird jokes about high blood pressure and meat consumption. At the time, a lot of people didn't quite know what to do with it, though today, it fits seamlessly into his greater discography.
7. DangerDoom: "Crosshairs," The Mouse And The Mask (2005)
DangerMouse's 2005, Adult Swim-funded collaboration with Doom is no one's favorite, but an exception must be made for "Crosshairs," released at a period when Doom was firing off verses quicker than anyone could keep up with. He seemed biologically incapable of phoning something in, here tossing together more food jokes with a third-person getaway narrative fueled by LaBatt Blue.
8. Madvillain: "Accordian," Madvillainy (2004)
Is it cheating to include this track, or is it mandatory? "Accordian" is less than two minutes, featuring one of the most unlikely samples in all of rap, and it is one of the 100 or so pieces of American music that should be sealed in a bomb-proof capsule in order to show future civilizations that our society was capable of creating works of transcendent beauty. The triumph of Madvillainy is its breeziness, the way Madlib would cook up a beat the same day that Doom would spit a verse over it. Their geniuses coalesced in strange ways, but never with brighter results than on "Accordian."
9. King Geedorah: "Fastlane," Take Me To Your Leader (2003)
Despite all the well-deserved praise lavished on Madvillain and the three proper MF Doom records, King Geedorah may actually be his best guise. The 2003 record is the place where Doom's skills as a curator, producer, and proper-album artist are on clearest display, a dazzling sound collage that's his most experimental and his most poppy at the same time. Doom doesn't even rap on "Fastlane," giving that honor instead to his sometime-collaborator Biolante, but its sweeping, theme-song beat shows a flair for the dramatic that doesn't fit the more dour stomp of most Doom productions. Its first 10 seconds are perfect, a term not used here lightly.
10. MF Doom: "Potholderz," Mm.. Food (2004)
Here's another great example of the sort of unfussy genius of Mm.. Food, on which Doom brings old buddy Count Bass D to toss the mic for a few easy bars of grumbling about being the last real rappers alive. There was a lot of this in underground rap in 2004—people were debating, with increasing fervency, about real hip-hop—but these two keep it funny, loose, and hot enough to scorch your hands, hence the title.
11. KMD: "Peachfuzz," Mr. Hood (1991)
This is off KMD's debut from '91, Mr. Hood, a loosely conceptual effort that stands up nicely next to contemporary efforts by 3rd Bass or some of the tighter West Coast stuff of the era by The Pharcyde or Souls Of Mischief. That's Dumile taking the first verse, and it sounds like pictures of Doom around the era look: He's young, smiling directly into the camera, and rapping here from a charming, first-person angle that seems to directly incite the ASMR giggles of the hook. The KMD records are essential listening on their own, but they also work as prologue stories to Doom's greater supervillain storyline. It's reductive to simply equate the end of KMD (and Subroc's death) with the creation of the Doom persona, but there's no doubt that this sounds like the work of someone in a very different emotional space.
12. King Geedorah: "Fazers," Take Me To Your Leader (2003)
Again, this record is phenomenal. This is one of the few tracks featuring Doom himself—here, rapping as King Geedorah, a.k.a. the snake-headed antagonist of the Godzilla universe. Just go with it.
13. MF Doom: "Gas Drawls," Operation: Doomsday (1999)
Doom released "Gas Drawls" just before Doomsday, meaning that this easygoing Steely Dan flip was part of his reintroduction to the rap world. It nods, in its lyrics and title, to his first-ever recorded appearance on 3rd Bass' 1989 single "The Gas Face," the video for which you should watch if you're interested in seeing an extremely young Doom as well as a Gilbert Gottfried cameo. "Gas Drawls" shows the sort of scrappy exuberance of the era, laced over a sample that would cost the GDP of a small nation today.
14. MF Doom: "Angelz," Born Like This (2009)
This is the best existing sample of the long-rumored, long-delayed DoomStarks collaboration between Doom and Ghostface Killah. Originally announced over a decade ago, when both emcees were still close to the peak of their artistic powers, it held the promise of two deeply witty storytellers with a taste for abstraction and old-soul samples going head-to-head for a full album. The album has been in the final stages of being released every year since then, and the occasional tracks that have trickled out, frankly, show diminishing returns. It'll probably never get a proper release at this rate, but "Angelz" offers a tantalizing hint at what might have been, as well as the hope that there's still a classic hiding in the vaults somewhere.
15. Viktor Vaughn: "Can I Watch?," Vaudeville Villain (2003)
There isn't much of an overarching conceptual bent to the Viktor Vaughn records released in '03 and '04, but they provided yet another way for Doom to channel his talent during the span when he couldn't turn the damn thing off. The production on both records is a lot more contemporary—including some almost electronic beats—meaning that a lot of it has aged worse than his other stuff around the era. The bluesy, moonlit romance of "Let Me Watch" is an exception, an evergreen story of some dickhead ruining his chances with a girl, and it features a great guest turn by Apani B as Doom's teenage paramour. The moment when he finally utters the title of the track is a masterstroke of low-brow boor comedy; Judd Apatow would be proud.
16. King Geedorah: "Next Levels," Take Me To Your Leader (2003)
It says something about Doom that, while he's an all-time great lyricist, he's also one of those producers (like, say, Kanye) capable of bringing out the very best in all of his guests. You've never heard of a lot of his collaborators before or since, but he sustains an all-encompassing mood that favors each guest spot, even dropping the sample out as a rapper named, um, "Stahhr" shreds it for a few bars. For all his world-class talent as an emcee and producer, listening to Doom records is also about listening to him work with others, and you can hear him do that beautifully on the tracks where he doesn't utter a word.
17. Monsta Island Czars: "MIC Line," Escape From Monsta Island! (2003)
Monsta Island Czars was a broader collective with a few efforts to its name, including 2003's Escape From Monsta Island! It's where Doom met a lot of those collaborators he would cycle through on other projects, though you'll hear none of them on "MIC Line," which is three minutes of classic Doom, including one of his many subliminal thesis statements: "Too many freaks not enough circuses / Only a true geek could peep how much work this is." This was a decade into his career; 15 years later, he's still turning listeners into those true geeks, and we're still marveling over how much work he put in.
18. MF Doom: "Rapp Snitch Knishes," Mm.. Food (2004)

Just as MF Doom can't seem to figure out how to end his career, we don't know how to end this playlist. Uh… Mashed potatoes! Apple sauce!