Six major film studios are suing the now-defunct online piracy site Megaupload, seeking a piece of the $175 million earned by the site's founders (allegedly) by sharing copyrighted material. That's in addition to the $500 million estimated cost of enabling large-scale copyright infringement.
The suit doesn't specify how much the studios want to collect in damages, but Paramount Pictures, 20th Century Fox, Disney, Universal, Columbia Pictures, and Warner Bros. argue they are entitled to $150,000 per infringement, plus the profits from each infringement. As Megaupload operated on a massive scale, that number translates into millions of dollars very quickly.
The suit could have broad ramifications for online copyright law. As Jon Healey at the Los Angeles Times observes, it makes the argument that online companies like Megaupload are responsible for enforcing that law.
Megaupload was shut down by the FBI in 2012 for criminal copyright infringement, among other charges. The suit filed yesterday is a civil suit that names, among others, the company's now notorious founder, Kim Dotcom. Dotcom earned $42 million from Megaupload in 2010 alone.
Dotcom responded to the suit at length on Twitter. In between arguments about the inner workings of Megaupload, he had this to say:
G/O Media may get a commission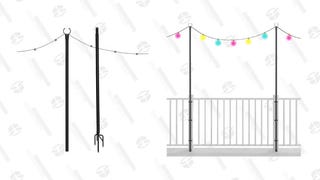 Up To 49% Off
Holiday Styling String Light Poles
The full claim can be seen here at the MPAA website.