Who is Miley Cyrus? To much of the public, she's a tongue-waggling, sexed-up former child star who writes dumb songs about Americans' right to party. And actually, that might be exactly who she is. On the other hand, she could be a 20-year-old kid who's lived hard and fast without many rules and is probably going to do some stuff she regrets, stuff that will live online forever. As a 20-year-old, she's also going to make some art that, like any long-lasting artist, she may absolutely abhor years from now. That's what being young is, though: believing that every single thing you do is right and realizing years later how ill-conceived it all was.
That kind of youthful exuberance and "I do what I want, when I want" attitude is what makes Cyrus' new album, Bangerz, a solid success. The record's two big singles—"We Can't Stop" and "Wrecking Ball"—have already torn up both the radio and video worlds, though the success in the latter field is probably because of the titillating videos. Separate the songs from the lick-happy clips, though, and they're solid ballads. "We Can't Stop" is a call-to-arms for a younger generation, a reminder to older people that, fortunately or unfortunately, life is like an ever-flowing river; these kids with their Molly and their pasties will be our age soon, just as we were once where they are. And "Wrecking Ball" is a modern day "My Heart Will Go On," a song about love lost and found, but also about—again—the idea of youth burning hard and fast and then fading away.
The concept of fleeting youth runs the length of Bangerz. Though Cyrus may act older than 20, lyrics about the time she was "drivin' so fast" she was about to "piss on [herself]" ("4x4") and copious text-message references in songs like "SMS (Bangerz)" or "FU" belie her age. While she might be young at heart, though, Cyrus is a bit of an old voice. Her pipes are solid throughout Bangerz, and on the rare occasions that producers overlay her vocals with Auto-Tune ("My Darlin'"), it weakens the material. The former Hannah Montana star can belt with the best of them, as evidenced on tracks like the Kelly Clarkson and Pink-reminiscent "Maybe You're Right" or the aforementioned "Wrecking Ball." (That being said, Cyrus absolutely cannot rap, as horrifyingly evidenced by her Kreayshawn-like turns on "SMS (Bangerz)" and "Do My Thang.")
Cyrus (or her managers or producers or mom or whoever) is also great at song selection. While the singer didn't solely write any of the tracks on the album, each song is still perfectly tailored to her personality and musical range. The Pharrell-produced "4x4," for instance, is progressive in its beats and reminiscent of Scale-era Matthew Herbert. Rather than get too heady, though, the lyrics take the song in a silly Bonnie-and-Clyde direction, complete with a contribution from Nelly. While "#GETITRIGHT," another song from Pharrell, could go in a really adult direction, what with lines about how Cyrus is "feeling like [she has] no panties on," the whistling choruses and whimsical sing-alongs make the song perfectly appropriate for an early-twentysomething, albeit one who has no problem with nudity. Even the EDM-aping "FU" seems perfect for the album, rather than just thrown in to stay with the times.
G/O Media may get a commission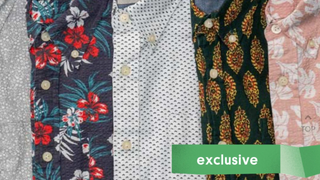 Grab three styles!
JACHS NY Summer Pack
There are weak points on Bangerz, but not very many. The bonus tracks—"Rooting For My Baby," "On My Own," and "Hands In The Air"—are all pretty boring and the Mike Will-produced "My Darlin" samples Ben E. King's "Stand By Me" for no real reason. Still, those stumbles are few and far between for a record that could be so easily dismissed by the holier-than-thou public and their side-eyed glances at Cyrus' "Wrecking Ball" sideboob. With its fresh, smart takes on youth, heartbreak, and modern culture, Bangerz is a record that could very well legitimize Miley Cyrus.