Russell Crowe has a long history of being an asshole. It seems every few years there's a new tale detailing fists thrown, curses shouted, or phones thrown. According to a new memoir by musician and producer Moby, we'll now have to add "shrieking at people in bathrooms for no reason" to Crowe's list of offenses.

According to a summary in the New York Post, Moby was accosted by Crowe in the bathroom of a bar in Australia where the musician was enjoying a post-show drink with Ewan McGregor. After using the urinal next to him, Crowe inexplicably pushed Moby up against a wall and started bellowing at him. "Uh, we've never met. Why are you yelling at me?" Moby replied. Crowe offered no explanation, spilling more curses before sniffing blood elsewhere.
Moby relays the altercation as one crummy night in a string of them in the midst of his alcohol addiction. For Crowe? Just another Tuesday. When the musician told McGregor what had happened, the actor brushed it off and said not to worry about it, adding, "He yells at everyone."
It sounds like Moby's forthcoming memoir Then It Fell Apart is peppered with bizarre, sad stories like this. There was the time Andy Dick tried to shit on the vegan cake in Moby's green room; the time he fell off the wagon drinking Crown Royal with Dimebag Darrell and a bunch of Hell's Angels; and the time he drunkenly threw a knife at author and Bored To Death creator Jonathan Ames.
G/O Media may get a commission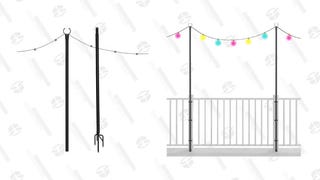 Up To 49% Off
Holiday Styling String Light Poles
Still, one lesson rings louder than the others: Russell Crowe should only hang out with horses.
Send Great Job, Internet tips to gji@theonion.com