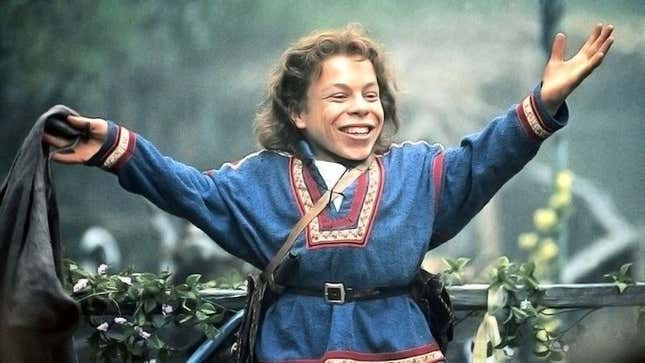 Willow is a unique cinematic experience, a family-friendly fantasy that opens with a woman being ripped apart by wild boar-dog creatures before inundating us with bubbly, upsetting animal transformations. Despite such (or, knowing you weirdos, because of it), the film has sustained a strangely persistent fanbase, one that perseveres more than three decades since its release. Well, your fan art and podcasts worked, because Ron Howard is "in discussions" with Disney+ about bringing it back.
Poorna Jagannathan and Richa Moorjani on "Never Have I Ever," Mindy Kaling, and more
Joining Howard is Jon Kasdan, son of Lawrence and co-writer of Solo. Per Howard, Kasdan has an "inspired take" that would serve as a continuation of the original film. "There are some really serious discussions going on with Jon Kasdan, who was one of the writers of Solo, who kept hounding me about Willow the whole time we were shooting and also hounding Kathy Kennedy," Howard said on an upcoming episode of the Happy, Sad, Confused podcast. "We're in discussions about developing a Willow television show for the Disney+. And I think it'd be a great way to go. In fact, George [Lucas] always talked about the possibility of a Willow series, and it'd be great and more intimate, and built around that character and some of the others. And Jon Kasdan has, I think, an inspired take on it and it could be really, really cool."
Howard also confirms that, should the project take off, it would include the return of Warwick Davis as the title character, an opportunity that would be very exciting to the version of himself he played on HBO's Life's Too Short. Howard says the series would explore a "more mature Willow," adding that Davis "is so cool and so good and he's such a good actor that I really hope we get the chance to see the mature Willow in action."
It's unclear, however, if we'd see the return of Joanne Whalley's Sorsha or Val Kilmer's Madmartigan—or if they'd even be around, this being a continuation—though, hey, there's one Marvel actor would leap at the latter role.