For the second episode and second morning in a row, Frank tries to apologize. The problem is, he sucks at it. After the somber soul-searching all of the Murphys (save Bill) were seen engaged in at the close of the last episode, Frank thinks some scrambled eggs and a story about turning over the sweat-soaked couch cushions he'd slept on will get things right back on track again. Even after their screaming, vicious fight at Maureen's school, where Frank and Sue let fly with every buried resentment and grudge they'd been holding onto for their entire marriage, Frank—his uncombed couch-head testifying to his sleeping rough—seeks to breeze past their problems. "Now we can move on with a fresh start and have a great weekend!," exclaims Frank, once he's gotten the powdered eggs and apology out of the way.
After all, he apologized, and he's set in motion a plan to get his old job back. I mean, what more could Sue want than a return to the way things were? When the exhausted Sue claims, "Frank, you can't make everything disappear by just saying sorry," Frank explodes, yelling, "If anything's gonna lead me to an early grave it's this shit!" F Is For Family, delving even deeper into the heart of suburban disaffection this season, has at times forgotten to bring the funny. But all through "F Is For Fix," the episode finds the balance between comedy and misery, lines like Frank's knee-jerk attack on Sue's plan for a church-sponsored marriage retreat eliciting a big laugh without losing the dramatic thread. ("Aw, Christ, Sue, what does a priest know about marriage? He's married to God. He's invisible and he's happy as long as you show up once a week to eat his son!")
Unlike, say, The Simpsons, where the immutability of the family status quo is part of the joke, there are real risks that F Is For Family isn't going to follow Frank's quick-fix blueprint back to stability. (Or what passes for stability in the Murphy home.) When Frank shows up to the couple's negotiated lunch date, it's with the swaggering, blithe confidence that he's, once again, about to take control as head of the household. Brushing aside Sue's carefully written list of discussion topics, and her obvious concerns, Frank crows about how, once he has his job back at Mohican, all will be fine, asking Sue, "When have I ever disappointed you?" When Sue complains that they'd arranged this lunch to talk about their problems, Frank snaps, "I am talking. You're just not listening," and launches into a tale of how his actions have paved the way for life to go back to the good old days, as they exist in Frank's rosy memory. When Sue reminds Frank that she wasn't actually happy then, Frank, his feel-good momentum thwarted, is incredulous. "You were ecstatic!," he roars, before heading out for a smoke, patronizingly telling Sue to use the time to pull herself together.
G/O Media may get a commission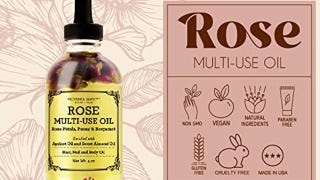 Provence Beauty Rose Multi-Use Oil
The obstacle of one spouse ignoring the other's feelings is standard sitcom stuff, but Frank's tunnel vision here fits perfectly with the man the show has presented all along. Another flashback to 1958 shows the young Frank handling the weeping Sue's pregnancy news with shock, but optimism. He resigns himself to working full time at Mohican, but tenderly assures Sue that their individual dreams (him being a pilot, her finishing college) are still in reach, just delayed. When he reads Sue's list outside the restaurant, he sees that she's quoted young Frank's lovely metaphor of them being "co-pilots" in their life together, and realizes just how badly he's fucked up. By then, it's too late, as Sue, catching a waitress' attention while dejectedly fiddling with her Salad Tosser prototype, has a rapt audience of people dying to have bone-dry leafy greens. (My dark horse pick for laugh of the episode is the patron who dramatically asks, "what about… romaine?") Frank, again, tries to apologize, but it's Sue's turn to snap, sending Frank on his way with a curt, "You had your chance. I'm busy."
Frank grudgingly learned to accept Sue taking a job outside the home last season, but the merest glimmer of hope that he can—with one crazy plan involving flying the unstable Scoop up, up, and away on a Mohican plane—reclaim his birthright as provider and man shows how tenuous his understanding of his wife's needs really is. But Sue, whose malaise at her stagnant existence edged into full-blown depression before her Plast-a-Ware job, isn't looking to him for security any longer. Lessons learned and then forgotten find the Murphys' marriage so obviously shaky that Bill and Maureen have a resigned ritual to drown out their parents' constant fighting. Maureen, being driven to computer club, parrots her mom's lies about the Murphys' marital stability by quoting an overheard Frank rant about being "too poor to get divorced," concluding with a knowing, "Does that make you feel better?"
It doesn't. When Sue comes home, she walks past the dejected Frank without a word, and locks herself in the bathroom for a smoke. When Frank slips the brochure for the church retreat under the door, it's what Sue wanted, but her face doesn't register hope or gratitude so much as weariness at the thought of another probable disappointment. When the couple heads off the next morning in the flower-painted VW bus of the chipper Father Pat, neither evinces much hope. At least their simpatico groans of disdain when they see that the tiresome Ginny and Greg will be in attendance show they still have that in common. At this point in the Murphys' marriage, F Is For Family posits that they'd better hold onto any common ground they've got left.
Stray observations
Jimmy's back from "Catholic military school." Sure, it's mainly because his father's check bounced, but he's still hell bent on making amends to all those he's wronged. Jimmy's still not my favorite, but his alphabetical list of all the insults he needs to apologize for is a funny bit ("ass butt, ass dick, ass eater, ass fuck, ass gasser…"), as is the very specific roster of places on Bill's mom he had threatened to crap on.

A couple of finely deployed sign gags this episode: Jimmy's window-slapped "You R Ded" on the terrified Bill's window after Jimmy discovers that Bill framed him, and mobbed-up union boss Lou's scribbled instructions to Frank when he think they're being bugged while Lou plots to kill Scoop.

Before Jimmy's arrival puts the fear back into him, Bill's transformation into a mean little creep was proceeding apace, with just the slightest adjustment of his face drawing him closer to Jimmy's ugly sneer.

The "robot bear sex pizzeria" Captain Chucklethrust's, where Frank and Bob meet with the Mohican personnel to plot Scoop's exit is funnier for how gradually the show reveals the joke. Taped-over window signs reveal it to have once been a family-style pizza place called "Captain Chucklecrust's," complete with Chuck E. Cheese-style animatronic bears. The bears have been retained and… repurposed.

Still, the show's continued insistence that an overweight, overage stripper (the same hooker that freaked out Kevin and his friends) is a laugh riot isn't getting any fresher. That she has to take her kid to the same computer club meeting Maureen is going to does serve to add to Frank's mounting anxiety, though.

The last item on Sue's complaint list is "scent."

Bill and Maureen are watching a parody version of the inexplicable, vaguely racist Harlem Globetrotters cartoon series from around this time period, complete with repetitive animation, jive-talking dog sidekick, and celebrity guest stars, this time, Colt Luger. (The original did have a funky theme song, at least.)

Kevin's escalating fear and guilt over sleeping with [sigh] Cutie Pie sees him actually contemplating asking his dad for advice. Frank, assuming it's just about Kevin's band, just shines the boy on before rushing off to work, leaving Kevin to call after him, "You picked a great time to be supportive, you dick!"

But Kevin and Frank are more alike than they'd like to admit, as Kevin, too, loses his composure in the face of praise he knows he doesn't deserve. As the supportive (and stoned, sure) Vic beams, "You're pure man. You're honest. Not one ounce of bullshit," Kevin sweatily contemplates his earlier observation, "You know when you really, really want something, and you can't stop thinking about it, but then you get it and then you hate yourself?" That may as well be the Murphy family motto.