Emanating every January 4th from the Tokyo Dome, Wrestle Kingdom is one of the biggest pro-wrestling shows of the year. For New Japan Pro Wrestling, Japan's most successful promotion, it's the culmination of 12 months' worth of story lines and grueling battles. Rivalries come to a close—or, as is usually the case, an indefinite hiatus—new directions are written, and stars are born. But there was a grander theme hanging over this year's show, Wrestle Kingdom 11, that had as much to do with NJPW's wrestlers as it did with the company itself.
After losing some top stars to WWE in the days after Wrestle Kingdom 10, many asked whether 2016 was the beginning of the end for NJPW's new golden age, a consistent run that has churned out peerless wrestling events over the last five years. But rather than licking its wounds, the company has set its sights higher than ever. After a slow, quiet global expansion—you may remember we published an introduction to the company's specific brand of violent spectacle after the launch of its worldwide streaming service and on the eve Wrestle Kingdom 9—NJPW's owner, Takaaki Kidani, is making those ambitions known and taking aim at WWE as it stands on the verge of scooping up and locking down wrestlers the world over. More explicitly than ever in recent years, the future of NJPW and determining the figures who will lead the company into that uncharted territory was the focal point of Wrestle Kingdom.
The lineup of champions going into the show largely represented that new guard—Kazuchika Okada, the company's golden boy and ostensible top star; Tetsuya Naito, the ascendant radical with a chip on his shoulder; Kushida, the heir to the promotion's legendary Junior Heavyweight division; Katsuyori Shibata, once deemed a brash traitor to the company, now a humbled link between its past and present. Their challengers were a mix of new faces looking to mold the company's evolution in their own image and old stars serving as the gatekeepers to those prestigious positions. For the most part, the results carry the sense that New Japan and its wrestlers have finally reached an exciting new chapter. Outside of the still under-loved tag-team scene, the company has emerged from Wrestle Kingdom 11 free of the stagnation it spent 2016 shaking off.
The show itself was your typical New Japan supershow. It started slow, with a handful of matches that never threatened to be anything more—or less—than entertaining and breezy. But once things hit the Junior Heavyweight championship match, it kicked into high gear and delivered a suite of four fantastic matches, all with varying styles, goals, and stories. You can watch the whole of Wrestle Kingdom 11 by subscribing to New Japan World, the promotion's globally accessible streaming service. With all this introduction out of the way, let's get to the results and reviews for each of the show's matches.
G/O Media may get a commission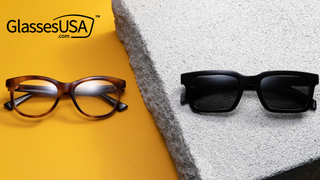 60% off frames
GlassesUSA.com Back to School Sales
The New Japan Rumble
As WWE fans might be able to guess, this is the Wrestle Kingdom version of the Royal Rumble. It's typically a fun bit of fluff for diehard fans, an informal battle royale and a chance for mainstays and surprise entrants alike to make an appearance on the big show. Highlights from this year's Rumble include the entry of Scott Norton and Hiro Saito, who were reunited with their nWo Japan stablemate Hiroyoshi Tenzan. All three men were eliminated by Michael Elgin, who was making his return after being injured several months and, unsurprisingly, was the match's star and winner. Naturally, the win gave Elgin a launching pad to challenge for a future Intercontinental Championship match against Tetsuya Naito, the man who took his title and literally broke his face. [Matt Gerardi]
Tigermask W vs. Tiger the Dark
This was a crisp, professional opener but disappointingly short at 6:35. Expectations were high that Tigermask W (Kota Ibushi) and Tiger The Dark (ACH) would tear the house down—especially given Ibushi's last match at Tokyo Dome against Shinsuke Nakamura—but this felt like an NXT TV match. Of course, this isn't Ibushi wrestling, but as Tigermask W, and he wins with a Tiger Driver into a sitdown powerbomb. [Kevin Pang]

IWGP Junior Heavyweight Tag Team Championship: The Young Bucks (c) vs. Roppongi Vice
The Young Bucks, indisputably one of the best tag teams on Earth over the last several years, tend to steal the spotlight in every match. In terms of the sheer in-ring action, that was the case here, but Roppongi Vice held their own and, really, their story was the heart of this match. The Bucks did what they do best: running and flipping all over the place, kicking their opponents in the head, and taking the occasional break for some puerile shenanigans. It was a back and forth bout until Barreta, of Roppongi Vice, went for a Tope Con Hilo over the ropes and to the outside of the ring and hit nothing but floor, a horrific looking spill that also happens to be one of the most memorable moments from his stint in WWE.
With Barreta laid out, Rocky Romero—who put in a great, firey performance here—was forced into a two-on-one situation and fought to fend off the Bucks. He eventually picked up the win once his partner stirred back to life and helped stave off a double-team move. In a great example of some long-term storytelling, this is a bit of redemption for Romero. He spent months losing matches for Roppongi Vice while Barreta did all the work in capturing their wins. But on NJPW's biggest stage, Rocky had to do it largely on his own, and he finally came through. If this bit of Twitter beef is anything to go by, though, the team's personal troubles may not be quite over. [Matt Gerardi]
NEVER Openweight 6-Man Tag Team Championship: Satoshi Kojima, Ricochet, and David Finlay (c) vs. Los Ingobernables De Japon (Bushi, Evil, and Sanada) vs. Chaos (Yoshi-Hashi, Will Ospreay, and Jado) vs. Bullet Club (Bad Luck Fale, Hangman Page, and Yujiro Takahashi)
This was conducted under "gauntlet" rules, meaning we started with two teams of six facing off, and once there was a pin/submission, that team was eliminated and the next set of competitors made their way to the ring. There are a couple of huge flaws with this format that I'll never be okay with. First off, how in the hell is it fair for anyone in the initial pairing to be thrown against fresh wrestlers after they basically fought—and won—a match? Second, the breaks between matches, as the next team makes its entrance, are a serious momentum killer, especially at a big pomp-filled show like Wrestle Kingdom where drawn out introductions are the norm.
The latter was especially troublesome here, slowing down this elongated contest even further as it trudged along. Things began with Chaos and Bullet Club, the latter of which proved to be, perhaps predictably, a serious drag on the action. Naturally, the match and the crowd sprung to life when Will Ospreay, the British high-flying wunderkind, hit the ring. His exchanges with Adam Page were an early highlight, but unfortunately, Chaos was eliminated first, denying everyone the chance to see Ospreay spar with Ricochet on a Wrestle Kingdom stage. Los Ingobernables entered next and, thankfully, made quick work of Bullet Club, setting up the final showdown with the champions. Here, this match finally kicked into high gear, essentially becoming the three-on-three battle it should have been all along. Finlay and Ricochet hit the ring with ferocity, but both were eventually put down and Kojima, the tenacious ring veteran that he is, was left to make a valiant, but ill-fated, stand against all three Ingobernables. It was hard to imagine this match ending any other way, and the Ingobernables win was the right call. Hopefully there's a rematch between LIJ and the former champs coming down the line, because if this little taste was anything to go by, it could be a real treat. [Matt Gerardi]
Juice Robinson vs. "The American Nightmare" Cody
A battle of two WWE wrestlers who left voluntarily. Both men looked motivated, especially Cody, who's so much more charismatic as a Bullet Club heel. The Story of the match is Juice Robinson's left knee, exacerbated by a nasty chop block from Cody. There were a few botched moves (Cody's drop kick from the middle rope misses terribly), but Cody finishes with the Cross Rhodes, the move that dare not be named. This was a short, solid TV match, but not up-to-par for a match at the Tokyo Dome. [Kevin Pang]

Ring Of Honor World Championship: Kyle O'Reilly (c) vs. Adam Cole
There's been a lot of speculation about both of these wrestlers' futures in Ring Of Honor. The rumors of O'Reilly heading for greener pastures may have been answered, as he lost the ROH title to Adam Cole, who captures the championship for the third time—a first-ever achievement. This turned out to be an intense, Japanese-style match. Kyle O'Reilly looked especially great, with his hard-hitting strikes and his almost Katsuyori Shibata-esque mannerisms. Cole regained the title with four superkicks to the head and his Last Shot finisher. [Kevin Pang]
IWGP Heavyweight Tag Team Championship: Guerrillas Of Destiny (c) vs. Great Bash Heel vs. Toru Yano and Tomohiro Ishii
This was one of the odder dynamics on the card, as Great Bash Heel (GBH), the team of Togi Makabe and Tomoaki Honma, earned their shot at the championship, while Yano, NJPW's resident prankster, and Ishii sauntered into the match without reason. Both other teams resented them for being there, and until they end, they were mostly a non-factor. Bullet Club's Guerrillas Of Destiny (GOD) have really come into their own since a horrid debut last year, and they largely carried this match, which also featured an insane amount of English curse words. Of course, Togi Makabe's great fear about Yano and Ishii being involved and costing them the championship came true, as GBH had the victory sealed until Ishii broke up their pin. While the ending was predictable and groan-worthy, GOD and GBH managed to turn this into a surprisingly fun match with some great high-intensity sequences before Yano finished things off with a pair of nutshots and a quick pin. It'll be fun to see Ishii clearing house in title matches going forward, but Yano's brand of crotch-based chicanery isn't exactly what the stale and under-utilized tag-team division needs to find new life. [Matt Gerardi]
IWGP Junior Heavyweight Championship: Kushida (c) vs. Hiromu Takahashi
This match had a special air about it before the bell even rang. Takahashi, in his first major singles match since setting the wrestling world on fire with his all-time-great feud against CMLL's Dragon Lee and returning to New Japan late last year, strolled to the ring like the grimy rockstar that he is. Kushida, in turn, was not his usual lively self. His slow, cautious walk to the ring set the tone and says everything you need to know about the madman he's about to go up against.
The champion came out of the gate with some fire and death-defying moves of his own, showing the reckless Takahashi that he's willing to play at his own game. The result was a sloppy stuntfest with a handful of very scary moments. It was hard to watch, but that danger added an extra dimension to the action and played right into Takahashi's wildman character.
That Takahashi owns that persona as well as he does is really the secret to this match's success. He's the polar opposite of Kushida: inelegant, unbridled, and brutal. Like the best of foils, he brings those same traits out of Kushida, who's otherwise the virtuous star of the Junior Heavyweight division. Takahashi's uncontrollable tornado of violence was too much for the champion here, and with his loss, NJPW lays the groundwork for what could very well be another legendary feud for the former Kamaitachi. [Matt Gerardi]
NEVER Openweight Championship: Katsuyori Shibata (c) vs. Hirooki Goto
This was a tremendous match. For any neophytes to Japanese Strong Style watching Wrestle Kingdom 11, I'd direct them to fast forward to this match. Shibata and Goto mesh so well together. Shibata's "Is that all you got?" facial expressions when Goto stiff kicks him in the chest were superb. The crowd seemed to be picking up during this match as well. It all ended in a fantastic finishing sequence—a flurry of headbutts and forearms, culminating with Goto hitting the GTR to capture the NEVER Openweight Championship. Even though Shibata took the loss, I'd love to see him graduate to the Intercontinental and Heavyweight title picture. [Kevin Pang]
IWGP Intercontinental Championship: Tetsuya Naito (c) vs. Hiroshi Tanahashi
Tanahashi came out to his much-hyped new entrance music. This one features a singalong—"Go Ace!"—and I'm not feeling the "Love & Energy" motif. Naito's entrance is leagues above in awesomeness: Through lasers and thumping EDM beats, he saunters out in an aubergine suit, not giving the least fuck.

This was another classic Tanahashi Tokyo Dome match and certainly main event caliber, even if it's second-to-last on the card. Even more so than the NEVER Openweight match, this had great psychology and great selling, and it's also the loudest I've ever heard a Tokyo Dome crowd. Tanahashi pulls out all the stops once again, with a slingblade to the apron followed by a high fly flow to the outside early on. Naito is a certifiable badass in his anti-hero role, alternately intense and indifferent. What a great character.
The finishing sequence saw a dragon suplex from Tanahashi, followed by a high fly flow, but a second attempt is met by Naito's knees. Naito goes for a Destino from the top rope, which would've been a great finish except Tanahashi's kick out was questionable. So he hits a second Destino and gets the pin.

With this loss, there are lots of questions surrounding Tanahashi's future. Could a heel turn be in the works? Is that even fathomable? [Kevin Pang]
IWGP Heavyweight Championship: Kazuchika Okada (c) vs. Kenny Omega
The expectations for this match were perhaps impossibly high. Okada is the star of New Japan, "the man entrusted with wrestling's future" and, ever since finally overcoming Hiroshi Tanahashi at last year's Wrestle Kingdom, the ace at the top of heap. He's been involved in several of this century's greatest matches, and he had an especially good 2016. Kenny Omega, on the other hand, shot to the top of New Japan last year, filling the void left by AJ Styles' departure to WWE. In terms of imagination and technique, he's as good as, if not better than, Styles, and with his performances in the final matches of last year's G1 Climax tournament, his victory in which assured him this spot at Wrestle Kingdom, he finally put everything together and assembled two of the best bouts of 2016.
The trouble with astronomical expectations is that they make it easy to be disappointed—even when the object in question is still, by all measurements, spectacular. This match was a monster, 46-minutes long and bursting at the seams. On a show where we saw Hiromu Takahashi and Kushida nearly (actually) kill themselves in their attempts to (fake) kill each other, Kenny Omega went even wilder, pulling out stunning and terrifying-looking moves. You really get the sense he was trying to destroy Okada with these spots, and with a couple of nasty landing and kicks to the champ's dome, it's a miracle he didn't do that for real. But while the first 15 to 20 minutes of this match were impressive, technically sound, and filled with a few moments of shocking spectacle, it felt like these two were hovering below their top gear and killing time until they were ready to deliver an all-time great closing stretch.
And make no mistake, that's absolutely what they did. The final 10 minutes of this match were incredible, a merciless flurry of high-impact moves and counters upon counters. One sequence stands out in particular: Omega hoists Okada up for his finishing move, the champ escapes while clutching his wrist and reels him in for a half-strength Rainmaker. He doesn't go for the pin, though, and just like in his 2016 matches against Tanahashi, he holds onto Omega's wrist as the two men rise and starts blindly attempting Rainmaker after Rainmaker, each one of which Omega blocks with a sickening kick. But through all that punishment, Okada never lets go of Omega's wrist. He just keeps swinging away and holding on, until he finally nails that clothesline and sets about finishing Omega off. This exchange encapsulated everything this match was trying to accomplish. Kenny Omega was the better man. Okada did his part perfectly, as always, but this was undoubtedly Omega's match and yet another stellar performance for him. Throughout those 46 minutes Omega was relentless, superior, and sadistic, but Okada was indestructible. [Matt Gerardi]