New York has made the cover of plenty of albums, from The Freewheelin' Bob Dylan (161 W. Fourth St.) to Led Zeppelin's Physical Graffiti (96 St. Mark's Place) to the first New York Dolls album (131 Second Ave.). The corner of Rivington and Ludlow is home to another: Paul's Boutique, the landmark 1989 album by the Beastie Boys.
There never was a Paul's Boutique on this corner; the name came from a place in Brooklyn that had closed down by the time the album came out. But Beasties Ad-Rock, Mike D, and MCA pilfered their own apartments—and made a Paul's Boutique sign—to dress up this corner for the 360-degree photo taken by Jeremy Shatan, a friend of the band and our guest for this segment.
After the album became a phenomenon—Capitol infamously dropped it after a sluggish start to focus on a new Donny Osmond record—the space at 99 Rivington St. became a restaurant called Paul's Boutique. It switched owners several times over the years and eventually changed its name to Three Monkeys. In January of this year—a few months after we shot this segment, our first for Pop Pilgrims—a fire gutted the restaurant, and it hasn't reopened since.
The whole area has changed considerably since Shatan took the photo, and so have the Beasties. Two decades of respectability later, it's hard to remember a time when the Beastie Boys weren't considered legitimate artists. But that was most certainly not the case leading up to Paul's Boutique. At the time, the New York trio was basically considered a novelty act, three goofball white boys who "rapped" lightweight songs about partying and girls. They performed with a giant inflatable penis when they toured with Madonna, for crissakes.
After the success of their debut, Licensed To Ill, the Beasties retreated to California and emerged with Paul's Boutique, and incredibly dense, sample-heavy album that elicited the surprising descriptor of "opus." Twenty-one years later, sampling laws have changed so drastically that Paul's Boutique could never be released by a major label today. Kembrew McLeod and Peter DiCola's book Creative License: The Law Of Culture And Sampling, estimated that sample clearances would push Paul's Boutique $20 million into the red in today's climate, even if it sold 2.5 million copies.
G/O Media may get a commission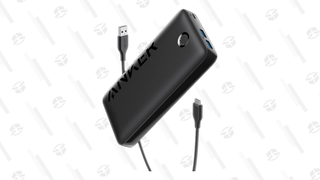 20% Off
Anker 335 Power Bank
But back in '89, the Beasties could even get away with repeatedly sampling the biggest of the big, The Beatles. In Alan Light's Beasties biography, The Skills To Pay The Bills, Mike D tries to reassure a nervous label executive by saying, "What could be cooler than being sued by The Beatles?"
Well, how about commercial success and critical praise for the next 20 years? That seems pretty cool. And getting away with making an album that could never be duplicated—at least on the major-label scale—is pretty awesome too.