Every day, Watch This offers staff recommendations inspired by a new movie coming out that week. This week: Jim Jarmusch's new film, Only Lovers Left Alive, is a great "hang-out movie." Here are five other pictures that keep company with likable types.

Highball (1997)
Noah Baumbach's Highball is the rare hang-out movie that seems to have resulted from actual hanging out. After wrapping Mr. Jealousy, most of that film's cast—including many ensemble players from Baumbach's debut, Kicking And Screaming—stuck around for an experimental comedy, allegedly shot in six days on leftover Jealousy film stock. Baumbach has all but disowned the movie, calling the version that was eventually released on DVD essentially unfinished—a failed experiment, in his eyes. This is why the film's directorial credit is "Ernie Fusco," while the script, actually by Baumbach along with co-stars Carlos Jacott and Christopher Reed, is credited to "Jesse Carter."
Baumbach's name remains in the credits, however—as an actor. He has a supporting role in the movie (as does fellow director and Jealousy supporting player Peter Bogdanovich, showing a talent for female-alienating impressions), which contributes to the feeling that this is a group of real-life loose-knit friends playing the group of fictional loose-knit friends we see on screen. Highball doesn't have a plot to speak of; instead, it has threads that run through a trilogy of parties at the same apartment, covering a birthday, Halloween, and New Year's. The three segments are a little over sitcom length, but they play more like well-observed sketch comedy, mixing slapstick (the hapless Miles, played by John Lehr, fumbles through Halloween in a giant lizard costume) with verbal wit and non-sequiturs. Baumbach is a particular master of dropping fragments of conversation into his soundtrack for a big, intentionally context-free laugh—a technique integrated into the punchy editing of Frances Ha.
Highball isn't nearly so honed as Frances, but it may actually be even funnier. Jacott, so neurotic in Kicking And Screaming, gets a chance to play a sour misanthrope as Felix, subject of the birthday party thrown by his self-styled best friend Travis (Reed), seemingly against the will of both Travis's wife Diane (Lauren Katz) and Felix himself. Travis's devotion to Felix—he even pens him a birthday song that circumvented the "Happy Birthday" copyright before Tenacious D or Futurama—gives the movie some sharp edges, as do the rough patches in Travis and Diane's marriage. Baumbach, of course, would push the more lacerating side of his work starting with The Squid And The Whale in 2005. In retrospect, Highball plays like a farewell to the brief first phase of his career—an awkward but hilarious goodbye party.
G/O Media may get a commission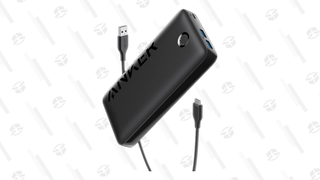 20% Off
Anker 335 Power Bank
Availability: Somewhat improbably, Highball remains in print on DVD, though it doesn't seem to be available via Netflix. It can also be rented or purchased through a number of digital sources.