Let's start with the best. French writer-director Bertrand Bonello's oblique, transgressive treatment of terrorism in Nocturama (Grade: A-) positions his film as a modern-day answer to Weekend and the culmination of an informal trilogy that began with his opium-dream portrait of a fin de siècle brothel, House Of Pleasures, and continued with the anti-biopic Saint Laurent. With no ideology to speak of, Bonello's teenage terrorists wage an obscure war against a modern, materialist world that they are clearly a part of, retreating after their spree of assassinations and bombings into a massive department store, where they plan to wait out the night. Holed up in this consumerist dream space, they play dress-up, host a dinner, are visited by ghosts, watch coverage of their attack on display model TVs, and act out fantasy lives—only to have it all come to a halt when Nocturama reveals itself as the bleak, desperate genre movie it's been all along. It's only in retrospect that the influence of the likes of Assault On Precinct 13 and Dawn Of The Dead becomes clear.
No contemporary filmmaker makes more arresting use of music than Bonello, whose soundtrack choices here range from Hector Berlioz to Chief Keef to John Barry's theme from The Persuaders. (Let's just say I'll never be able to hear Willow Smith's earworm "Whip My Hair" the same way again.) In every respect, Nocturama is a bravura feat of filmmaking, from the trancelike first hour, in which seemingly insignificant actions and movements through the streets and subways of Paris fall together into a planned attack, to the sobering finale. The question of what it all means would take more space than I can give myself here. Bonello is using his talent to powerfully evoke belonging, liberation, and seduction in a dark vision. Nocturama doesn't so much recognize contradictions (sympathy and horror, abstraction and believability, a symbolic attack with no rational motive, etc.) as locate meaning in them.
The provocative example set by Nocturama does no favors to Snowden (Grade: C), Oliver Stone's Hollywood-ized biopic of National Security Agency whistleblower Edward Snowden. The ideal candidate for this material would be David Fincher or perhaps Steven Soderbergh; Stone's corny, indiscriminate direction recasts Snowden (Joseph Gordon-Levitt) as the brooding, fist-clenching hero of a bogus spy movie, complete with a couple of fictional mentors played by Rhys Ifans and Nicolas Cage. (The latter nods approvingly at the TV after the documents leaked by Snowden hit the press and says, "He did it. The kid did it.") Incapable of visualizing digital-age surveillance outside of wall-sized screens and close-ups of cameras, Stone collects all of the silliest clichés about computing in a grab-bag aesthetic that tries every kind of pointlessly filtered or grainy look, but can't seem to fake a convincing webcam shot.
What makes the real Snowden relatable to a lot of folks (myself included) is his ordinariness: He looks like every other community college, public sector IT guy in America. Stone's version achieves the opposite of what I assume was the intended effect. Told in cumbersome flashback as the onetime NSA contractor relates his story to journalist Glenn Greenwald (Zachary Quinto) and Citizenfour director Laura Poitras (Melissa Leo) in a Hong Kong hotel room, the movie paints him as a more familiar type of righteous protagonist; in the process, it divorces itself from anything an audience might recognize as present-day reality without offering the juicy pulpiness that would at least qualify it as a "fun" Oliver Stone movie. If it's meant as a polemic, then it's a failure. But, despite itself, Snowden becomes compelling whenever it focuses to Gordon-Levitt's vocal impression, letting him simply deliver information to an assortment of useless viewer surrogates in a thoughtful monotone.
G/O Media may get a commission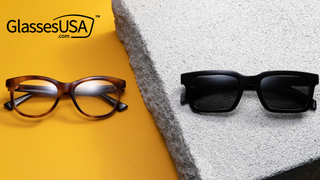 60% off frames
GlassesUSA.com Back to School Sales
Is it possible to imagine a more literal representation of how creatively bankrupt Wim Wenders has become than The Beautiful Days At Aranjuez (Grade: D-)? A turgid adaptation of a French-language play by Peter Handke (the co-writer of some of Wenders' best movies, including Wings Of Desire, though not that you can tell here), Anarjuez presents an impossibly vague dialogue between a man and woman in a garden outside of Paris. Occasionally, it cuts to the author character responsible for writing this wretched thing ("And up there, the wild geese of autumn are now flying south," "So what did you see in the cabin of the lost salt field?" etc.) as he stares dully at his typewriter or shuffles out to an adjacent hallway to put on some music on his Wurlitzer jukebox. It's shot in 3-D, features a cameo from Nick Cave, and seems to exist only to prove that Wenders can do worse than Every Thing Will Be Fine. I have walked out of better films.
Three or four regular readers of The A.V. Club's TIFF coverage may remember The Sky Trembles And The Earth Is Afraid And The Two Eyes Are Not Brothers, a film with an ungodly long title that I wrote about last year. It was an adaptation of a Paul Bowles story, shot partly behind the scenes on the set of Oliver Laxe's Mimosas (Grade: B-), the film that I ended up catching after The Beautiful Days At Aranjuez. Two men promise to carry the body of an elder known only as the Sheikh to a proper burial ground across the mountains and are soon joined by a holy fool played by Shakib Ben Omar, a disruptive presence on par with Bruno S., the star of Werner Herzog's Stroszek and The Enigma Of Kaspar Hauser. Laxe, a Franco-Spanish filmmaker based in Morocco, goes for handmade, faux-naive primitivism, mixing eras as he follows his rag-tag crew (eventually joined by a nomad and his mute daughter) on their quest. Mostly, I was impressed by this very low-budget production's use of a mountainous landscape—a "location, location, location" approach that's in keeping with the film's non-professional cast. In the unadorned and unprepared, it seeks myth.
Plus: Like A.A. Dowd, who wrote about it yesterday, I saw and enjoyed Denis Villeneuve's Arrival (Grade: B+). The narrative may have its clunky moments, but the central conceit of the Ted Chiang short story from which it's adapted carries the movie through, as does Amy Adams' lead performance, which surprisingly reminded me of Sigourney Weaver.