There's a lot of music out there. To help you cut through all the noise, every week The A.V. Club is rounding up A-Sides, five recent releases we think are worth your time. You can listen to these and more on Spotify.

Note: We'll take a look at Ariana Grande's Thank U, Next (also out today) in a featured review soon. For now, we've got some other great releases to recommend.
---
Panda Bear, Buoys
[Domino Recording Co., February 8]
Noah Lennox, a.k.a Panda Bear, has a propensity for the celestial, gravity-defying tracks that lather guitar strumming in reverb and stack vocals to echo endlessly. On Buoys, Lennox's sixth studio album, he's teamed up with record producer Rusty Santos on their first Panda Bear collaboration since 2007's acclaimed Person Pitch. Buoys' baked-in psychedelia is given new context this time around, submerged in a warm and frothy bath to facilitate a deliberate formlessness, each song dunked into saccharine-sweet suds before delivery. Opener "Dolphin" casts us into a vast ocean as Lennox's voice sprawls out over the rippling waves. The title track serves as a bubbly and infectious midpoint, a high-water mark. A few sonic techniques of the album do eventually begin to bleed together and overlap, but the shapeless whimsy mostly feels charming, hypnotic even. Whether you want to call it cacophonic hodgepodge or a kaleidoscopic masterpiece is up to you. Either way, it's nice to know that leaving the terrestrial plane is as easy as hitting play. [Adam Isaac Itkoff]
---
Jamila Woods, "Zora"
[Jagjaguwar, February 5]
Jamila Woods channels iconoclast Zora Neale Hurston on "Zora," the first single off her upcoming Legacy! Legacy! album. With honeyed vocals buoyed by a bouncy synth, Woods sings from the Their Eyes Were Watching God author's perspective, thwarting negativity and criticism with brilliance ("My weaponry is my energy") as well as empathy: "You will never know everything, everything / I will never know everything, everything." Woods' talent, like Neale Hurston's, is undeniable. But "Zora" reminds us that, no matter how much of their work we've consumed, appreciated, or maybe even derided (this writer is not in that camp), there's so much more to both artists. "Zora" is an invitation like no other—welcoming but still reminding people to act right—and we can't wait to hear the rest of Legacy! Legacy! [Danette Chavez]
G/O Media may get a commission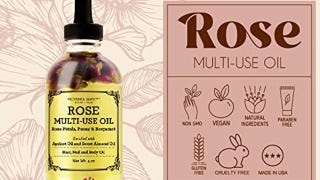 Provence Beauty Rose Multi-Use Oil
---
[Partisan, February 8]
When Bobbie Gentry abandoned the music industry in 1978, she left behind a catalog of astonishing genre and songwriting experiments we're still trying to make sense of. One of the richest collections of these is sophomore album The Delta Sweete, a spiritual follow-up to her 1967 Southern-noir mega-hit, "Ode To Billie Joe." Here at the album's 51st anniversary, indie-rock experimentalists Mercury Rev have erected a monument to Delta Sweete with Revisited, teasing out its proto-psychedelia with iridescent orchestral arrangements and highlighting Gentry's wide influence downstream with an all-star roster of guest singers. The features by Slowdive's Rachel Goswell ("Reunion"), Stereolab's Laetitia Sadier ("Mornin' Glory"), and Phoebe Bridgers ("Jesseye 'Lizabeth") are especially inspired, as is the Marissa Nadler-led "Refractions" (using what sounds like a theremin on a Bobbie Gentry song was a brilliant move). But things really come together when the reinterpretations tap into the earthiness, the soulfulness, of Gentry's originals, and this is felt most strongly in Norah Jones' "Okolona River Bottom Band" and particularly the visceral closing performances by Beth Orton ("Courtyard") and Lucinda Williams ("Ode To Billie Joe," from Gentry's debut). [Kelsey J. Waite]
---
We're collecting our A-Sides recommendations over on a Spotify playlist updated every Friday. Tune in and subscribe to the 2019 list here.
---
[By The Time It Gets Dark, February 1]
Certain bands and records just sound like youth. Not necessarily youthful musicians, but rather the idea of youth, a sort of conceptual sense-memory of adolescence delivered in three-and-a-half-minute bursts of sound. That's the immediate feeling conveyed by Spielbergs' debut record, This Is Not The End. For anyone who's ever fist-pumped to distorted guitars and sing-along refrains, this record captures a joyous anthemic howl, a primal scream of rock 'n' roll born in the cauldron of '80s indie-rock immediacy and filtered through the sound of '90s alt-rock fuzz, with the attendant arena-ready trappings of a thundering rhythm section. (And yes, there's more than a hint of early Fall Out Boy in the shout-out-loud vocal delivery, but not in a bad way.) The only missteps involve venturing outside that sweet spot, such as the unnecessary acoustic interlude of "Sleeper," which detract from the pulsing triumph of tracks like opener "Five On It" or "4AM." It's a record for driving around, windows down, and not giving a fuck—sure, it can't last, and it may seem silly later, but in the moment, it's cathartic as hell. [Alex McLevy]
---
[Secretly Canadian, February 1]
Stuffed & Ready is already the third album by the young L.A. band Cherry Glazerr, a three-piece led by Clementine Creevy, who unfurls themes of feminism and sexuality over layers and layers of guitar-fuzzed pop. She's not afraid to shock, as in the religious-themed video for the gripping "Wasted Nun" or the startling lyrics to the haunting "Daddi" ("Who should I fuck / Daddi, is it you?"), a ferocious rant against the patriarchy. Glazerr falls into a bit of a repetitive pattern over the course of this new album (playing softly, then building, then raging), but Creevy's ethereal vocals and angry, shredding guitar lines expertly steer listeners into the depths of her angsty psyche—which is right where she wants you. [Gwen Ihnat]