Here's what's up in the world of TV for Friday, October 9, and Saturday, October 10. All times are Eastern.
Top pick
Paul F. Tompkins: Crying And Driving (Comedy Central, 11 p.m., Saturday): When one of the best standup comics in the country has a new comedy special coming out, it's a top pick. Deal with it. Former Mr. Show supporting player and host of Best Week Ever Tompkins has become, over the years, a podcast superstar, natty dresser, and master raconteur (in some order), so the fact that we're getting his new standup special for free is kind of a cool little present from the universe. Or from Tompkins, or Comedy Central. Anyway, watch and enjoy, you lucky so-and-sos. (Dennis Perkins will be handling the review.)
Also noted
Red Oaks (Amazon, 12:01 a.m., Friday): Erik Adams brings us his TV Review of this bittersweet 1980's coming-of-age dramedy series, which he compares, not unkindly, to the likes of Caddyshack, Fast Time At Ridgemont High, and the John Hughes oeuvre. In it, a sensitive college kid (Craig Roberts) spends his last summer navigating the snobs and slobs at a country club run by Paul Reiser (continuing the Reiseraissance). And his mom is played by Jennifer Grey, who knows something about bittersweet summer romances. Look for Molly Eichel's daily reviews, too!
G/O Media may get a commission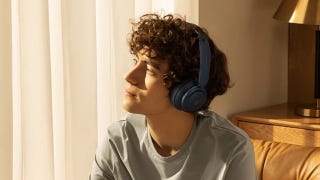 30% off
Soundcore Headphones and Earbuds
Be Cool, Scooby Doo (Cartoon Network, 7 p.m., Friday): When all of world culture crumbles to dust, there will still be another new Scooby Doo reboot somewhere in development. At least this newest incarnation still has voice acting legend Frank Welker back as Scooby and Freddy, plus it imports Matthew Lillard from the live action Scoobyverse, and the always-welcome Kate Micucci taking over as Velma. Kevin Johnson is on hand to review the first week of the new series.
Reign (CW, 8 p.m., Friday): Genevieve Valentine takes up reviewing duties, starting with tonight's third-season premiere, where Mary (Queen of Scots, to you) readies for trouble, as her enemies unite against her. Assessing Reign's sometimes-shaky storytelling, Genevieve says, well, that's still going on:
…sometimes the show seems so afraid of losing viewers to a quiet week that it would rather race past ten plots instead. "Three Queens, Two Tigers" has an added burden of being a season opener after a sea-change finale, so it's scrambling to set up a new status quo. But apparently, a main lesson it learned from last season's love-triangle mud pit was to move through everything so fast you can't possibly be bored.
Guardians Of The Galaxy (Disney XD, 9:30 p.m., Saturday): Gamora and Drax face off in a gladiator pit! Kevin Johnson loves gladiator pits—although he's still watching this animated version of the spacefaring Marvel super-team find its way.
Doctor Who (BBC America, 9 p.m., Saturday): In the second half of last week's "underwater ghosts in a nuclear reactor" two-parter, The Doctor is dead! Alasdair Wilkins, disregarding decades of evidence to the contrary, is pretty broken up about it, but he'll review the new Doctor-less Doctor Who nonetheless. A trooper, that Alasdair.
Blunt Talk (Starz, 9 p.m., Saturday): When Celia screws up, Walter is thrust back into the public spotlight for all the wrong reasons. Since it's Patrick Stewart who's going to be doing the squirming, Brandon Nowalk says, "I'll allow it."
Survivor's Remorse (Starz, 9:30 p.m., Saturday): Cam tries to take Allison out on a romantic, private date. Which—no, that's not going to happen. Joshua Alston continues to convincingly explain why the problems of a millionaire professional athlete are, in fact, worthy of our sympathy in this underdog TV success story.
The Last Kingdom (BBC America, 10 p.m., Saturday): Vikings! To be clear, not Vikings (that doesn't come out 'til 2016), but definitely Vikings in this BBC America series based on the historical novels by Bernard Cornwell about a young English nobleman (Alexander Dreymon) captured by the invading Norsemen and raised as a—you guessed it—Viking! In his TV Review, Vikings reviewer Dennis Perkins says these Vikings are equally worth a look. He also says that, like Vikings, there's a major Viking character named Ragnar, although not Vikings Ragnar. (Oh, and his son is also named Ragnar, but he's also not Vikings' Ragnar.) It's all really very simple. Kyle Fowle will handle the weekly reviews—he's pretty sure he's got it all straight.
Saturday Night Live (NBC, 11:30, Saturday): Sure, last week's Miley Cyrus-hosted season premiere was something of a bummer, but Dennis Perkins is brimming with hope that comic powerhouse Amy Schumer will liven things up. Let's all just call it a mulligan on the premiere, okay?
Elsewhere in TV Club
We here at the A.V. Club love shiny things, you all know this. In this week's AVQ&A, your favorite A.V. Clubbers confess to the things they bought based on the pretty, pretty packaging alone. Shiny! Then, check out Will Harris' Random Roles with character actor Richard Kind, who spills the beans on his new series Red Oaks, Mad About You, and being everyone's favorite Bing Bong. (You know what we're talking about.) And then, hopping over to the Film section (it's okay, they're nice there), for Alex McCown's interview with real life marrieds director Eli Roth and actress Lornenza Izzo about how love bloomed on Roth's cannibal flick The Green Inferno and their second collaboration Knock Knock. Love born of cannibalism and murder is always a good sign.
What else is on
The New Mr. Peabody And Sherman Show (Netflix, 3:01, a.m., Saturday): In the second of the weekend's ancient animated series reboots, Chris Parnell takes over voicing duties of everyone over 50's sort-of favorite smarty-pants dog.
Undateable (NBC, 8 p.m., Friday): The third season starts off with a one-hour premiere where Chris D'Elia's Danny decides he needs to break up Brent Morin's Justin and Bridgit Mendler's Candace. The synopsis doesn't mention Ron Funches' scene-stealer Shelly, so here ya' go:
The Amazing Race (CBS, 8 p.m., Friday): The contestants tramp all over San Antonio de Areco, Argentina which, one hopes, at least gets a nice new gazebo for the trouble.
Last Man Standing (ABC, 8 p.m., Friday): When Nancy Travis' Vanessa decides to support a woman for president, Tim Allen's Mike registers his displeasure, presumably with a series of grunts and territorial urination.
Dr. Ken (ABC, 8:30 p.m., Friday): After Ken Jeong's Dr. Ken is typically rude to a coworker, he's forced to attend sensitivity training which, we can probably all agree, is not a terrible idea.
Hawaii Five-O (CBS, 9 p.m., Friday): McGarrett and the gang investigate a scuba diver shot by a gun he funds underwater—that was already used in another murder! Underwater second-hand gun murders are a huge problem in Hawaii. Actually pretty much any tourist-friendly island with a successful underwater sports industry.
America's Next Top Model (CW, 9 p.m., Friday): Sneak peek of tonight's action:
Shark Tank (ABC, 9 p.m., Friday): A couple invents a sock of the month club and are on TV for some reason.
Unity: The Latin Tribute To Michael Jackson (PBS, 9 p.m., Friday): Jon Secada, Judith Hill, Jean Rodriguez and Jennifer Peña perform "latin-infused" versions of Michael Jackson songs, which sounds pretty catchy, actually. Sheila E. hosts.
The Hispanic Heritage Awards (PBS, 10 p.m., Friday): Following Sheila E. might be a hard gig, but if anyone can do it, it's ageless EGOT-winner Rita Moreno who's hosting this awards ceremony celebrating the achievements of Hispanics in such fields as education, the arts, STEM (science, tech, engineering and math), sports and innovation. Hey, they should really throw one of those at Rita, too. She has all the others.
Z Nation (Syfy, 10 p.m., Friday): The survivors of the zombie apocalypse stumble upon a Mennonite community trying to hold off both that whole zombie thing and an outbreak of anthrax. Man, that is some bad luck right there.
Strike Back (Cinemax, 10 p.m., Friday): In the season finale, Scott and Stonebridge fight mercenaries all the way up a Swiss Alp in pursuit of the traitor, which, to be fair, is the sort of thing they seem to enjoy.
Blue Bloods (CBS, 10 p.m., Friday): A pushy reporter dons cop gear to go on a ride-along with Will Estes' Jamie, only to be targeted by a killer. When will reporters learn that only those who have sprung from Tom Selleck's loins are fit to wear the uniform of the NYPD?
Black Jesus (Adult Swim, 11 p.m., Friday): Black Jesus tries to make some money, although not by starting a cable network and bilking people who believe in him. That's why he's Black Jesus.
Continuum (Syfy, 11 p.m., Friday): "Kiera pushes Carlos' patience to the limit as she pressures him for more time," which, considering that everyone seems to be a time traveler on this show, shouldn't really be a problem, but who knows.
Triptank (Adult Swim, 11:59 p.m., Friday): The new generation's Liquid Television! Liquid Television? Anyone?
The Unauthorized Melrose Place Story (Lifetime, 8 p.m., Saturday): These cast pictures really free up writers from making jokes. So thanks, Lifetime. And, in case you don't get enough Melrose Place from this TV movie, check out the Beyond The Headlines special about how everyone on the show hated each other right after.
Ominous (Syfy, 9 p.m., Saturday): In this Syfy original movie, a couple makes a deal with a mysterious stranger to bring their dead child back from the dead. No doubt, everything turns out juuuust fine.
Prophet's Prey (Showtime, 9 p.m., Saturday): No-doubt disturbing documentary about Warren Jeffs, charismatic leader of a fundamentalist offshoot of Mormonism who did the typical things fundamentalist religious leaders are invariably accused of. Narrated by and with a soundtrack from Nick Cave, of all people.
Harvest Moon (Hallmark, 9 p.m., Saturday): A wealthy lady loses her fortune and has to rely on her family's one remaining asset—a pumpkin farm—to take her back to the top. Luckily, a hunky farmhand asks, "Have you ever thought of adding…spice to your pumpkin?" Problem solved.
Playoff baseball!
Rangers At Blue Jays (MLB Network, 12:45 p.m., Friday)
Astros At Royals (Fox Sports 1, 3:45 p.m., Friday)
Cubs At Cardinals (TBS, 6:30 p.m., Friday)
Mets At Dodgers (TBS, 9:30 p.m., Friday)
Cubs At Cardinals (TBS, 5:30 p.m., Saturday)
Mets At Dodgers (TBS, 9 p.m., Saturday)
College football!
There's so much college football, you guys. Just flip on your TV to any other channel this weekend. You'll find it.
In case you missed it
The League: Shelby Fero takes on a solid episode about bullying—and, like parents Kevin and Jenny, tries to choke back giggles at the phrase "chode juggler." That's professionalism right there.