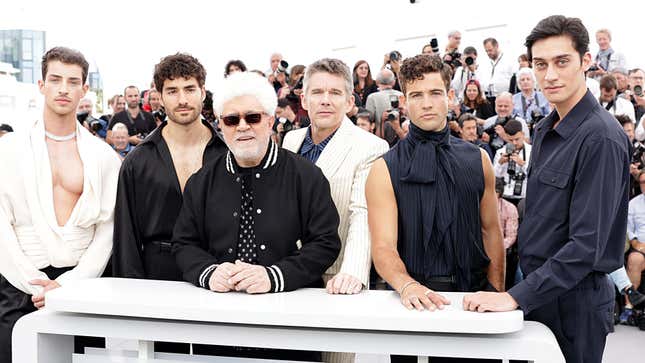 Woe on the Riviera! In what The Hollywood Reporter describes as a "mini riot," eager audience members were denied the chance to see Pedro Almodóvar's new short film Strange Way Of Life, known colloquially on the Internet as the gay western starring Pedro Pascal and Ethan Hawke. A ticketing mix-up with the digital booking system saw dozens ("perhaps even hundreds") of people waiting to see the premiere turned away. Understandably, those people were displeased with being shut out of the gay western, and "Many of them then descended upon security officials minding the gate," according to THR.
Why Robert Rodriguez still loves "Spy Kids"
What uncouth behavior at the Cannes Film Festival! Security officials reportedly offered no explanation as to how the theater reached capacity with ticket holders still waiting outside, though at least one of them acknowledged that the situation was "unacceptable." Meanwhile, inside, the audience that did manage to get a seat was treated to a film that Variety praises as standing "proudly next to some of [Almodóvar's] most audacious movies such as Talk To Her and Volver."
Almodóvar and Hawke were present for a press conference to promote the 31-minute movie, with the filmmaker crediting Jane Campion's recent The Power Of The Dog as inspiration for his project. In that film, "[Their] sexuality is very ambivalent. They never talk about desire and, of course, they never fuck," Almodóvar said (per Deadline).
Strange Way Of Life also isn't necessarily explicit with its intimacy. "The film is full of these moments that are erotic without being explicit sexually or having to do with any kind of physical nakedness," Almodóvar recently told IndieWire. "There's a certain intensity, these pauses, that are very erotic and carnal for me."
Instead, the film features a discussion between the two reunited lovers making the bed (perhaps "the first time in the history of a Western where you see two men" doing so, suggests Almodóvar) after an "orgiastic night" together. "I wanted to make a classic western in which we talk about the desire between two cowboys," the director explained (per Deadline). "Normally in classic Westerns, women always have secondary roles and we never talk about the desire between two men. That's what I wanted to do.
Per Variety, Hawke mused that filmmaking itself is an act of love. "You are saying these people are important enough to care about. It's always about love, in some capacity," Hawke said. "I just like to be wanted. And if happens to be an extremely attractive man…I just like it." Lots of the people lined up for the premiere probably would have liked it too, but alas...