Humans and machines don't exactly function the same way; for one, they require different kinds of motivations to operate. The Machine and Samaritan go online with the flip of a switch, but people are a bit more complicated. To face the adversity that life tends to bring, people adopt certain mantras: "My efforts I make help others," "a greater power has a bigger plan for me," "life is worth living if it's lived for family," "survival itself is reason enough to wake up in the morning." The fourth-season premiere of Person Of Interest features characters looking for direction, as well as those who think they've found it. It's no wonder that a person's sense of purpose is explored so heavily in this episode. After last season's epic, provocative, and challenging finale, our heroes have been scattered to the winds, forced to abandon their work and retreat now that a second machine, Samaritan, is hot on their heels.
The brink of war with a seemingly invincible form of artificial intelligence is as great a time as any to take stock of one's priorities. The beginning of the episode sees a Finch who is no longer interested in trying to save people, because he fears that he's hurt more people than he's helped through his work with the Machine. Numbers are meaningful to Finch, and the numbers don't look good. Finch has experienced a crisis of faith—in the Machine and in himself. This crisis is partly driven by guilt, since he created the Machine.
At some point, the opposing attitudes toward do-gooding exhibited by Reese and Finch reversed. Finch's sense of responsibility inconveniences his team, but it also makes him look all the more human when contrasted with a senator's insistence on claiming plausible deniability when working with John Greer. Having given up, though, Finch determines that survival is the only purpose worth working towards. Root challenges Finch's attitude, only to argue against volition itself. Root attempts to convert Finch to her cause—the Machine's cause, rather. Like Greer, Root believes that the only way to retain any control during wartime is to submit to powers greater than oneself. Never mind that the true nature and purposes of these new god-like specimens of artificial intelligence remain a mystery.
Every mature series that depends on strong relationships among a core ensemble must evolve and reinforce its characters' bonds simultaneously. As a result, many of this episode's beats are fairly familiar: The music changes, the band splits for one reason or another, and the band gets back together, having changed—supposedly. All of these shifts also took place over the course of an episode and a half, to be generous, so the reunion doesn't feel completely earned. Reese is now serving as a police officer alongside Fusco—a fun pairing—meaning that he's still taking the law into his own hands. Finch is teaching, but has decided to remain a part of the team. Shaw and Root still have an interesting relationship—that's currently playing out at the mall. The library has been destroyed, but seems to have been replaced by a new lair already. The status quo is a comfortable, familiar place. It'll be interesting to see what might impact the direction of the show most, be it the threat that Samaritan poses, the new group dynamics, the impersonator of a Homeland Security officer, or whatever Shaw experienced after she drove off in that van.
G/O Media may get a commission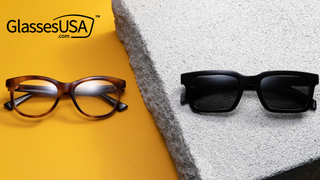 60% off frames
GlassesUSA.com Back to School Sales
"Panopticon"'s case of the week is fairly standard, serving as more of an excuse to provide the team with a private phone network and viewers with more welcome Elias scenes than anything else. Still, the story about an Egyptian small business owner, his coercion into illegal activity, and the kidnapping of his son has its moments and dovetails nicely with the episode's exploration of purpose. Reese meets a family man named Ali who is being harassed by a group of criminals, The Brotherhood, who are trying to create a private phone network that the police can't infiltrate. He's driven to fight back against The Brotherhood himself because he doesn't trust the police to do their job and defend him. Despite the unfortunate circumstances, he rises to the occasion in a way, fooling the criminals by cooperating then bombing them during what was thought to be a simple exchange of a phone battery. Ali pays the price for his act of retaliation, though, when his son, Ben, is kidnapped and his family's store is destroyed. Reese saves the day, of course—but most importantly, the rescue brings Ali and Ben closer together. Ali assures Ben that they will continue to be self-sufficient, despite the challenges they face, because the storefront isn't their livelihood—they are. Family is what motivates Ali to get up in the morning; it's his purpose.
An ambitious season finale is a tough act to follow, and "Panopticon" seems safer and more tepid in comparison. While Person Of Interest should never try to be something it isn't, it could use a little of the audacity demonstrated by the season premiere of Sleepy Hollow, a young and hungry show at this stage in the game. But a newer series hasn't earned the patience of its audience like a veteran of Person Of Interest's stature. A long network season often requires a slow burn and deliberate pacing; the series' efforts to challenge itself and expand its scope season after season suggest that those involved know what they're doing.
The fact that Person Of Interest experienced many changes last season is also important to note. When an organization experiences mission drift, it becomes especially vulnerable, and staff members have to revisit their priorities in order to get back on track. Similarly, a show and its relationship with its viewers can start to collapse when major changes take place, such as cast turnover. As it is with Root when it comes to the Machine, however, Person Of Interest fans know they're in good hands.
Stray observations:
I'm Alexa Planje, and welcome to this season's reviews of Person Of Interest! I'm a big fan of the show, Phil Dyess-Nugent's reviews, and these enthusiastic comment sections; it's an honor.

Reese, a bar full of thugs, a broken window, and a grenade launcher: Person Of Interest is back and it feels so good.

Hey, there's an interesting Wikipedia article on the term that the title references, Panopticon, but I won't quote from it directly because I'm a professional! (And it's a fairly long entry.)

I appreciate the introduction of a new player to the game but it was obvious from the beginning that the British blonde from the cold open was up to no good. She apparently gets her kicks by impersonating a Homeland Security agent and shooting people. But really, who doesn't?

The return of Person Of Interest's unique brand of self-aware humor is a welcome one. The writers tend to lean a little too hard on the "watch Shaw do something girly" jokes, but it's clear that a scene involving her and Root among the perfume counters was too good to pass up. And positivity seminars are always funny; I don't care who you are.

With its focus on topics like national security and artificial intelligence, Person Of Interest is as relevant as the terrorism-related numbers that the Machine spits out. With Ferguson in mind, Ali's experiences with the police are especially chilling.

Reese sitting down at Carter's desk made me a little verklempt. Gone but not forgotten.

Per usual, the episode ended with a beautiful, atmospheric song. Person Of Interest is a great resource for new music. I love that the co-creators act as the music supervisors. A bad experience with the music on Cold Case apparently drove them to take control of their shows' soundtracks from there on out.